Make this apple burrata salad with your favorite fresh sliced apples. We toss arugula, golden raisins, cherry tomatoes, red onions, and chopped pistachios with a simple dressing and top the whole salad with burrata cheese. It is the perfect side salad with any occasion.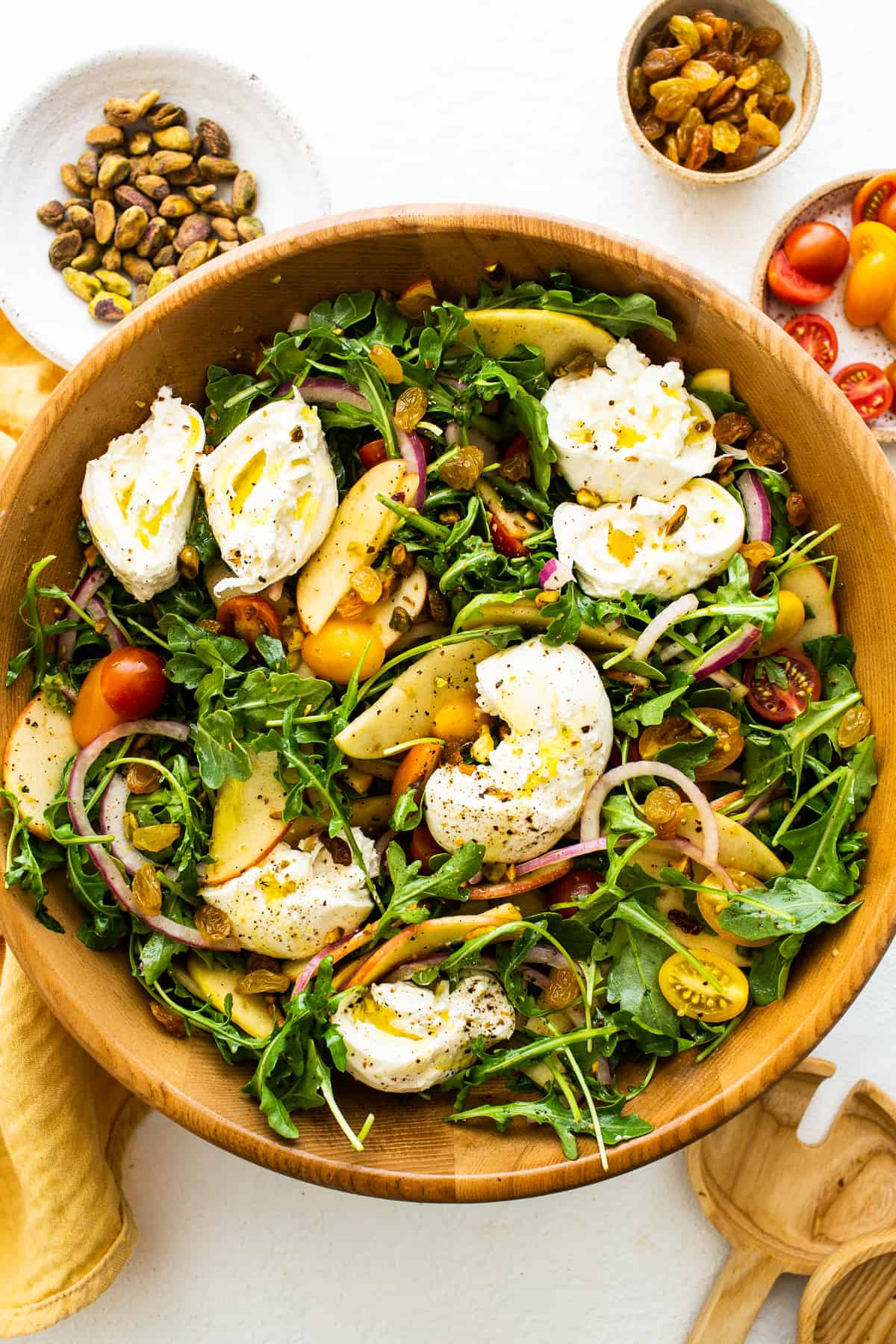 Simple Apple Burrata Salad
This apple burrata salad is delicious all year round, but especially during the fall during peak apple season. We toss fresh apple slices, dried fruit, nuts, onions, and a simple dressing that goes with every ingredient.
Why you'll love it!
Reasons why you'll love it.
It is a great side salad to any meal.
This apple burrata salad is the perfect fall salad with apples and dried fruit.
There are easy substitutions for many ingredients in this salad.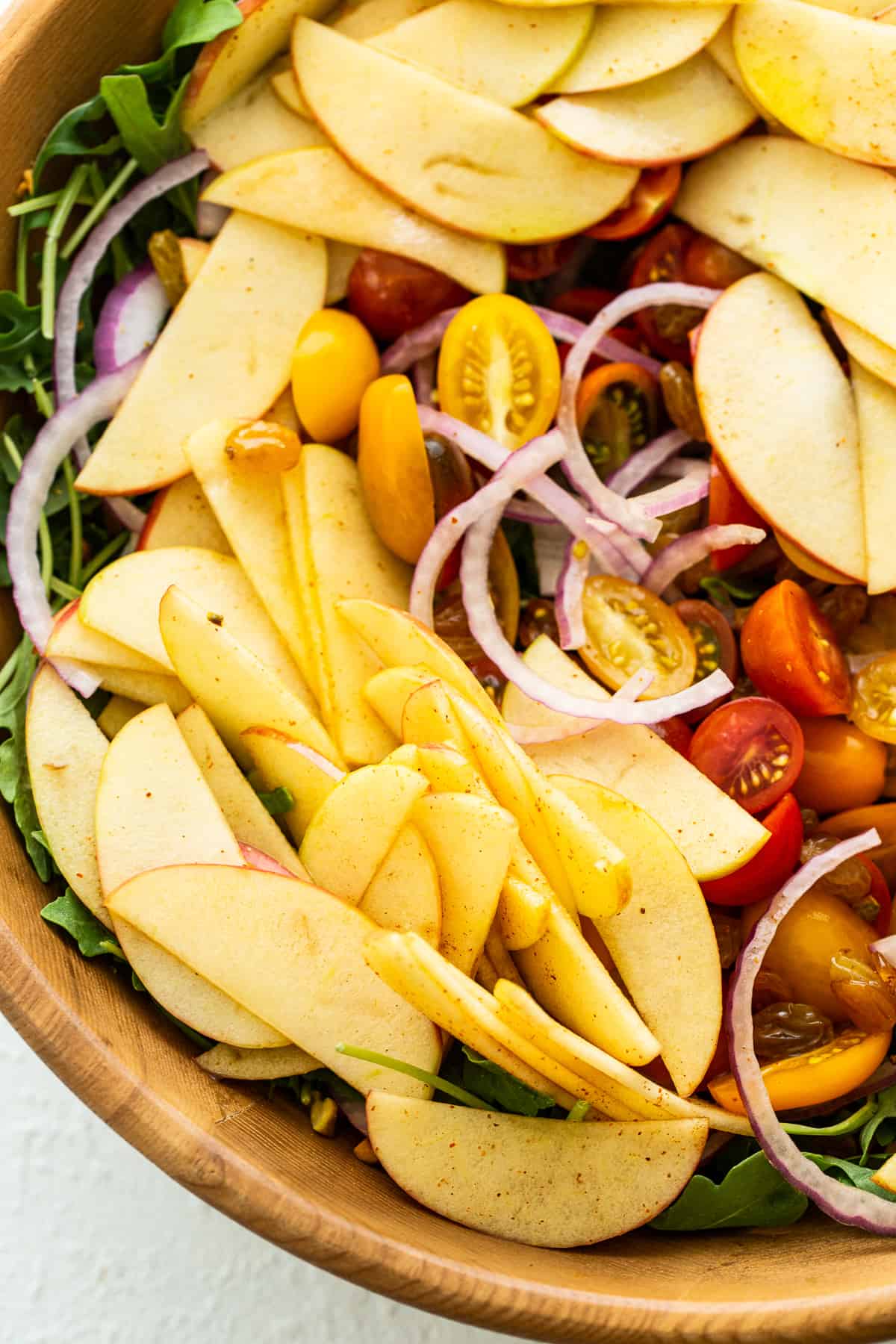 Featured Ingredients
Apples: we are big fans of honey crisp apples in general, but they are especially delicious in this salad. They are crisp, juicy, and fruity. If you have a favorite apple go ahead and use it!
Burrata: you add the burrata salad to the top of this delicious salad. Burrata cheese comes in a few different sizes, 8-oz. large balls and 4-oz. small balls. We use 2 8-oz. balls but you can also use 4 4-oz. balls.
Golden raisins: golden raisins are bits of sweet delight. We love the sweet and tangy bite that they offer that is just a bit different than regular raisins.
Pistachios: salty and meaty pistachios make everything better.
Red onion: the only onion we recommend for this salad is a thinly sliced red onion. It is the right amount of sweetness, flavor, and crunch.
Arugula: this is a green salad and we use arugula as our greens. If you are not an arugula fan, you can use your favorite greens, too. A spring mix would be delightful.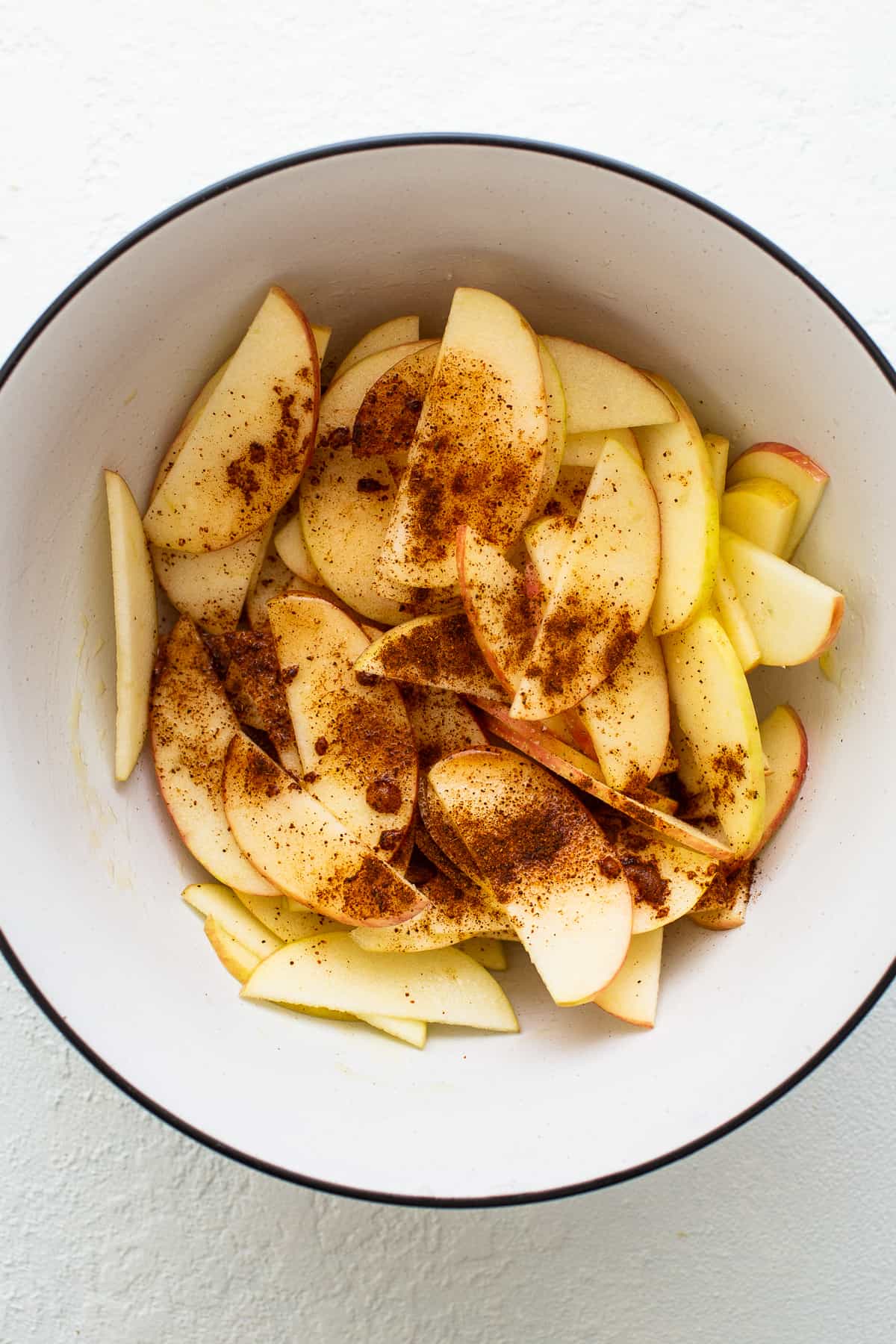 Simple Instructions
Prepare the apples. Drizzle honey over the apples and the add the lemon juice, chili powder, salt and pepper. Toss the apples so they are coated. Let them rest for 10 minutes.
Assemble the salad. While the apples are marinating, add the arugula to the salad bowl and then the rest of the ingredients. Hold off on the burrata right until the end.
Add the apples to the salad. Once the apples have sat for 10 minutes add the apple slices and the liquid at the bottom of the bowl to the salad and toss. Drizzle the olive oil, white vinegar, salt, and pepper over the salad and toss again.
Top with burrata. Rip the burrata balls in half so that the creamy middle oozes out and place the burrata on top of the salad. Drizzle with a bit more olive oil to make it beautiful and serve.
Top Tips
Don't skip the apples resting. Part of the dressing is letting the apples rest so that some liquid is extracted from the apples. That excess liquid adds delicious juices adds to the dressing!
Don't toss this salad until right before serving. All of the ingredients for this salad plus the arugula will make for a soggy salad if it is left out for too long. Be sure to toss this salad right before serving and not a moment sooner.
Get creative. Many of the ingredients for this salad can be substituted. If you don't have pistachios, use walnuts or toasted pine nuts. If you aren't a fan of arugula, use a spring mix.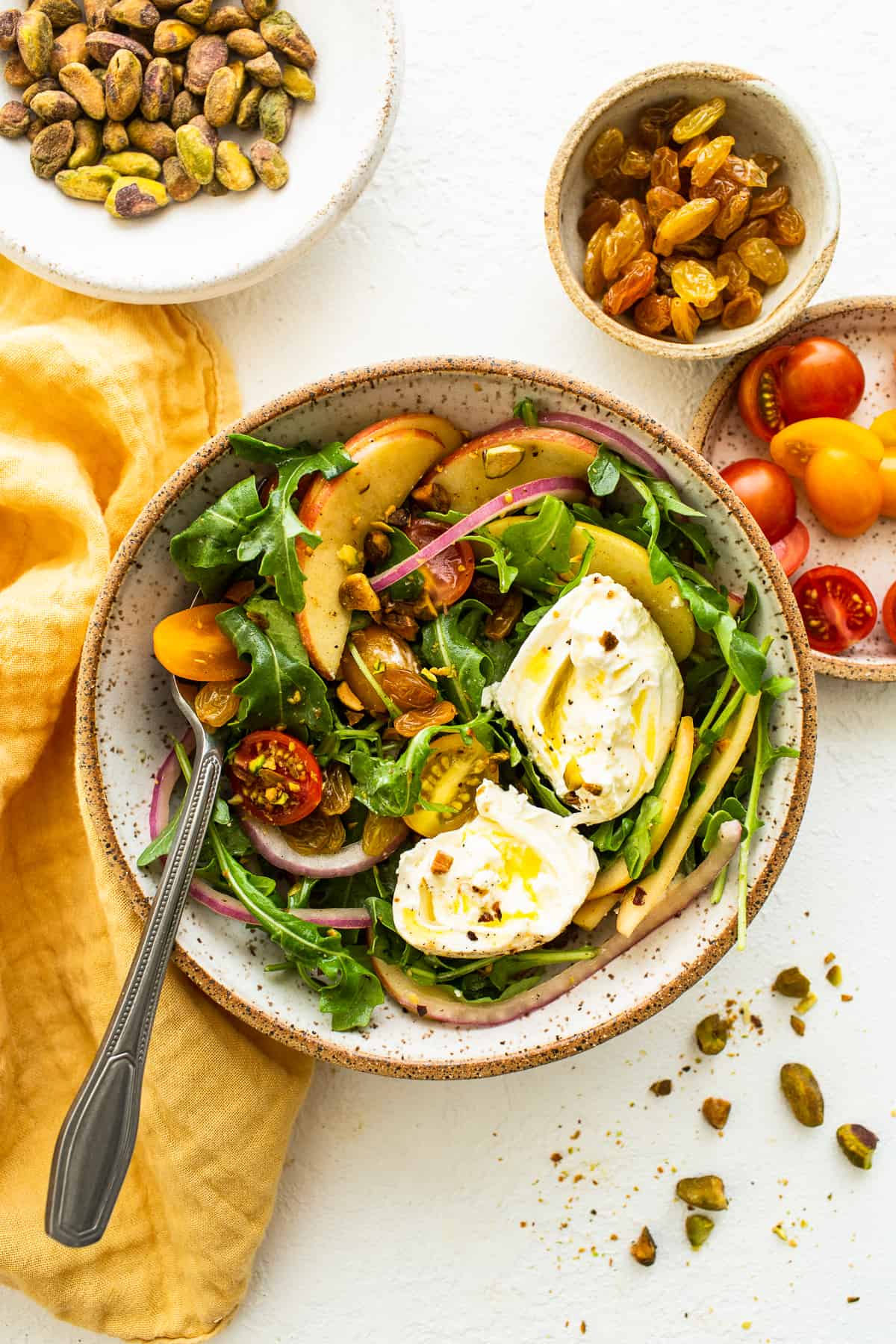 FAQ
What is burrata cheese?
Burrata is an Italian cheese made from mozzarella and cream. The outer part of the cheese is a solid mozzarella texture, while the inside is creamy and soft. This combination makes it perfect for this warm burrata and roasted tomatoes recipe.
What does burrata cheese go well with?
Burrata is a very versatile cheese that goes with a variety of fruits, greens, breads, and even all on its own.
Storage
We do not recommend storing this salad dressed. If you are preparing this salad for another day, we would recommend preparing all of the ingredients separate and tossing the salad right before serving.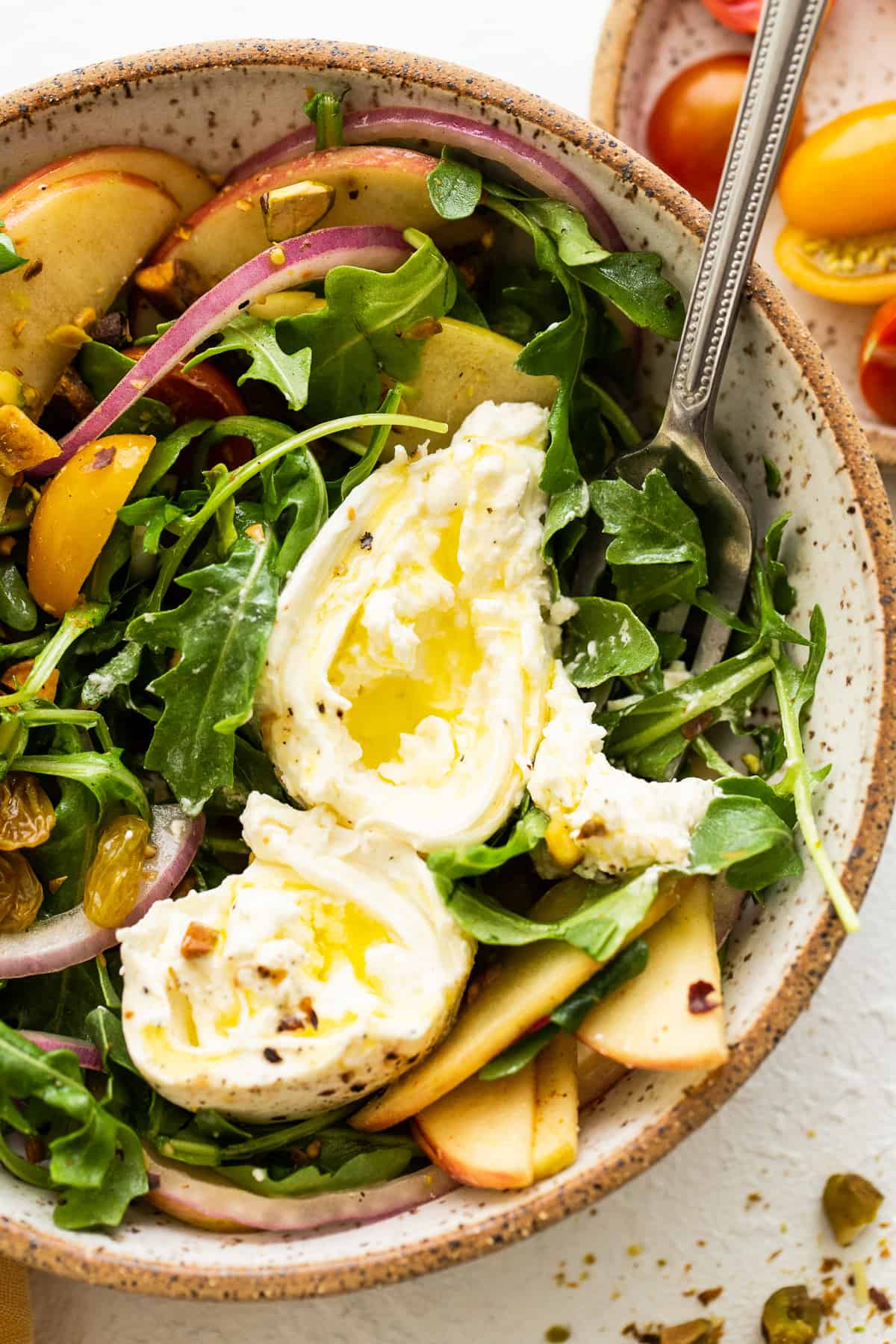 Photography: photos taken in this post are by Ashley McGlaughlin from The Edible Perspective.