Want a healthy, protein-packed snack on the go? These no bake peanut butter bars will be your new favorite treat! They're crunchy, sweet, salty, and ridiculously easy to make.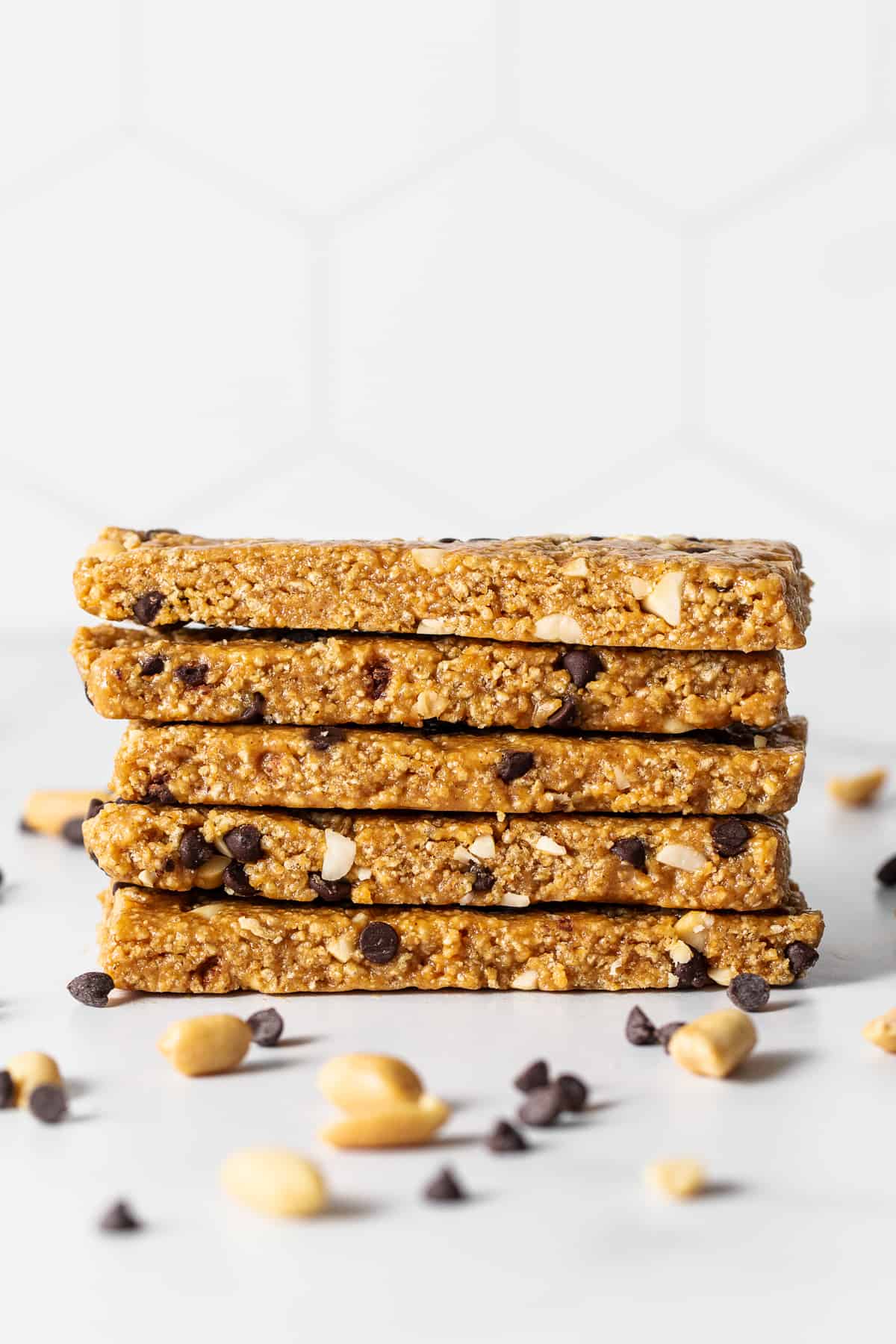 Easy Peanut Butter Bars
Trying to snack healthy on a busy schedule is hard, but these chewy peanut butter bars are here to save the day. They make for an easy, no-bake meal that all you have to do is prep, set, and forget!
This simple recipe uses all-natural peanut butter and mini chocolate chips for an irresistible peanut butter-chocolate flavor, along with Rice Chex cereal and roasted peanuts for a satisfying crunch. Kids will obviously love them, but so will you!
Whether you whip them up for meal prep or serve them for a large crowd, they won't disappoint.
Why you'll love 'em!
Great for those who want to satisfy their sweet tooth in a healthy way.
It's a super easy recipe to follow. Just prep, freeze, and serve! No baking is necessary.
A meal prep-friendly recipe that will give you lasting energy every day of the week.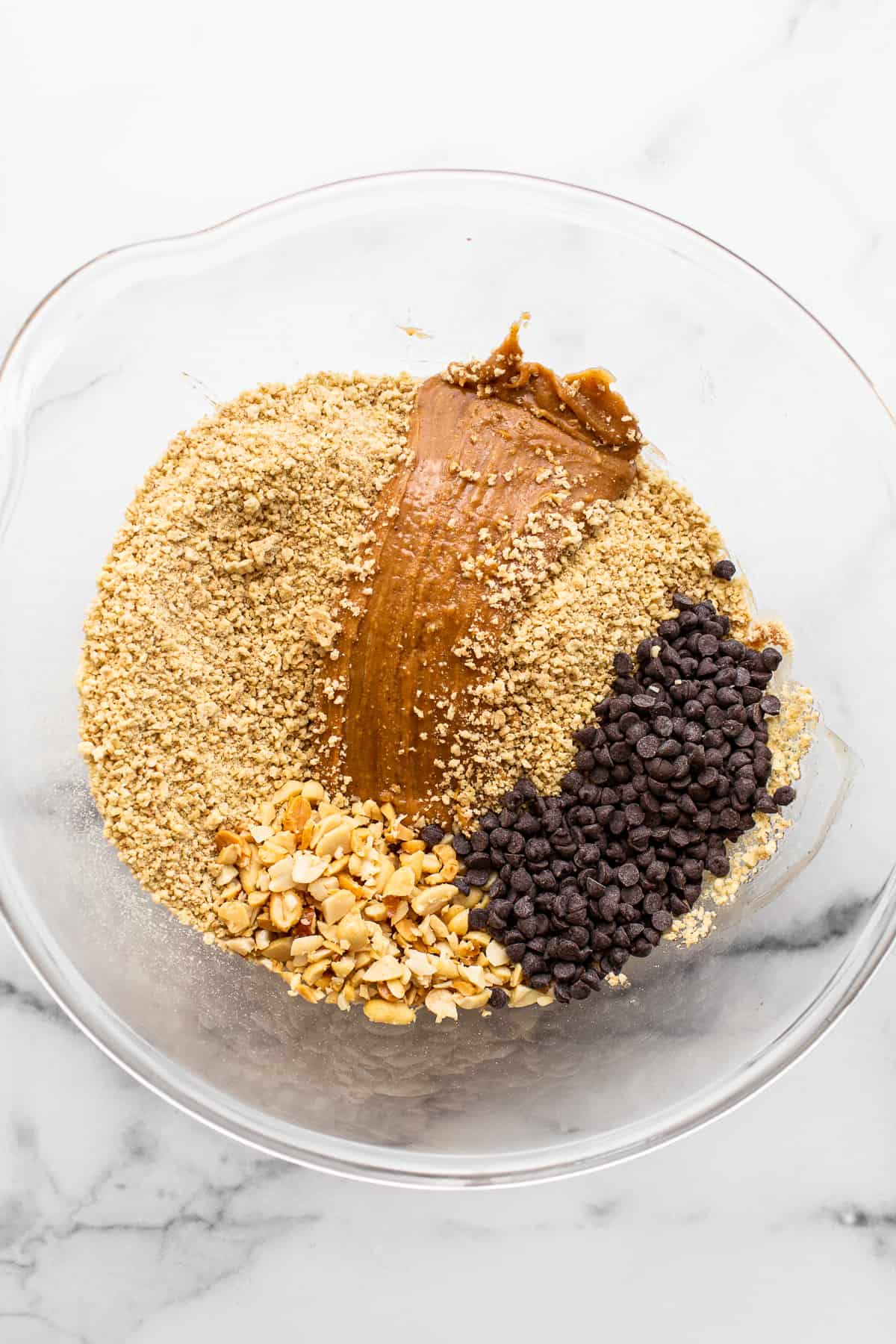 Ingredients You Need
Rice Chex: this popular cereal gives these peanut butter bars a satisfying crunch without adding too many additional calories or sugar.
Peanut butter: drippy peanut butter is essential for this recipe. We use all-natural creamy Smuckers or Trader Joe's brand. If you don't have drippy peanut butter, you may need to add a few teaspoons of melted coconut oil to the peanut butter. 
Brown rice syrup: brown rice syrup is a vegan and low-glucose sweetener for making perfectly sweet no-bake dishes.
Honey: is great as a natural sweetener for a sweet treat that is both healthy and delicious.
Peanuts: we recommend using roasted and salted peanuts to make bars with a yummy sweet and salty flavor. Plain peanuts will taste, well… plain.
Mini chocolate chips: chocolate chips will up the decadence of your bars. We used mini chocolate chips as they only take up a little room.
Kosher salt: salt makes these no-bake peanut butter bars the perfect amount of sweet and salty.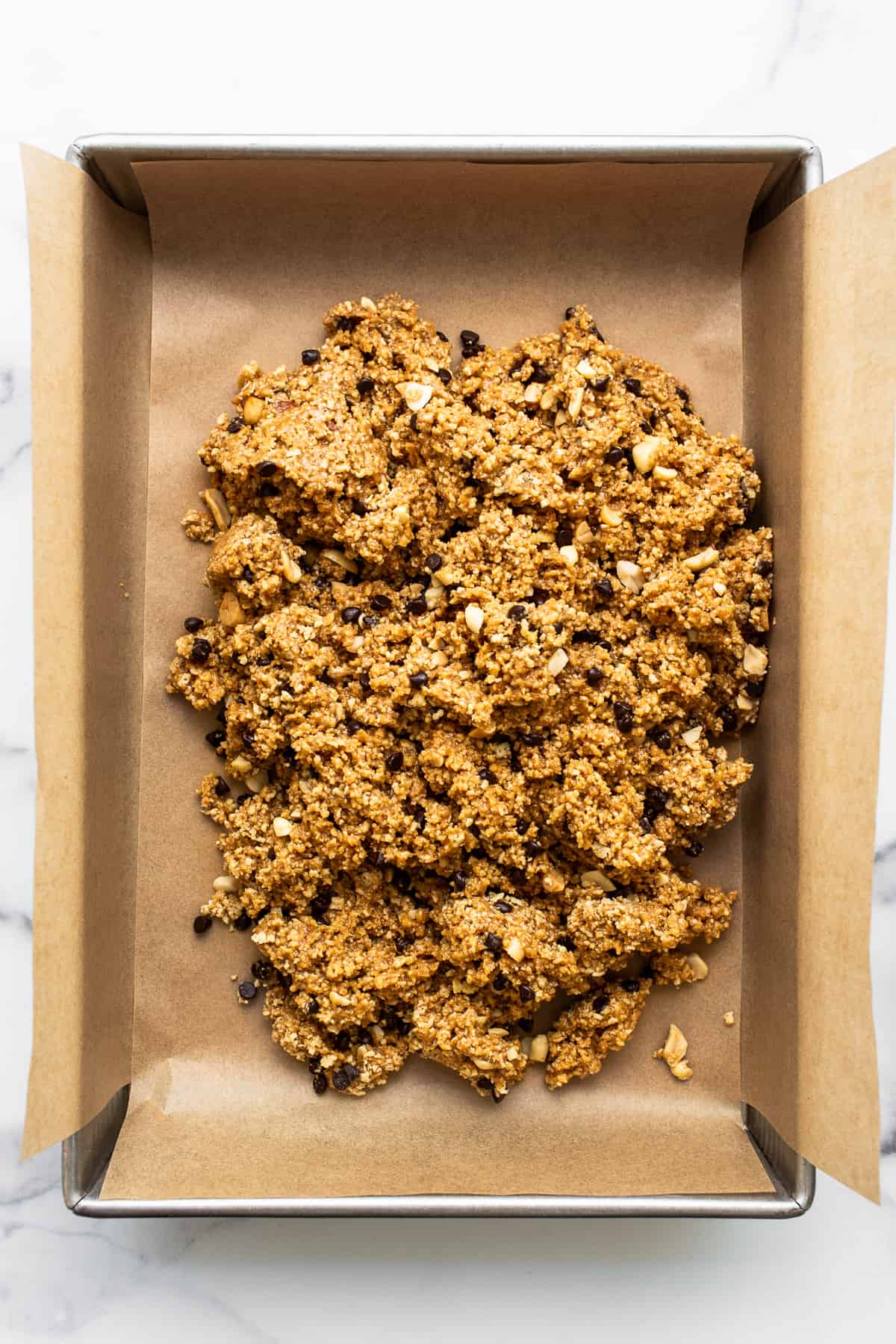 How to Make No Bake Peanut Butter Bars
PREP YOUR DISH
Line a 9×13-inch casserole dish with parchment and set aside. 
BREAK UP THE CHEX
Add the Chex to a food processor and pulse until they break up into small pieces.
*Don't have a food processor? Then place the Chex in a gallon-sized bag and break them up with your hands.
MAKE YOUR "BATTER"
Next, add the peanut butter, brown rice syrup, and honey to a large bowl and mix until combined into a batter-like consistency. 
Then pour the Chex pieces, peanuts, and chocolate chips into the peanut butter mixture and mix until all ingredients are thoroughly coated. 
*Pro Tip: Wet your hands before mixing to ensure everything is thoroughly coated.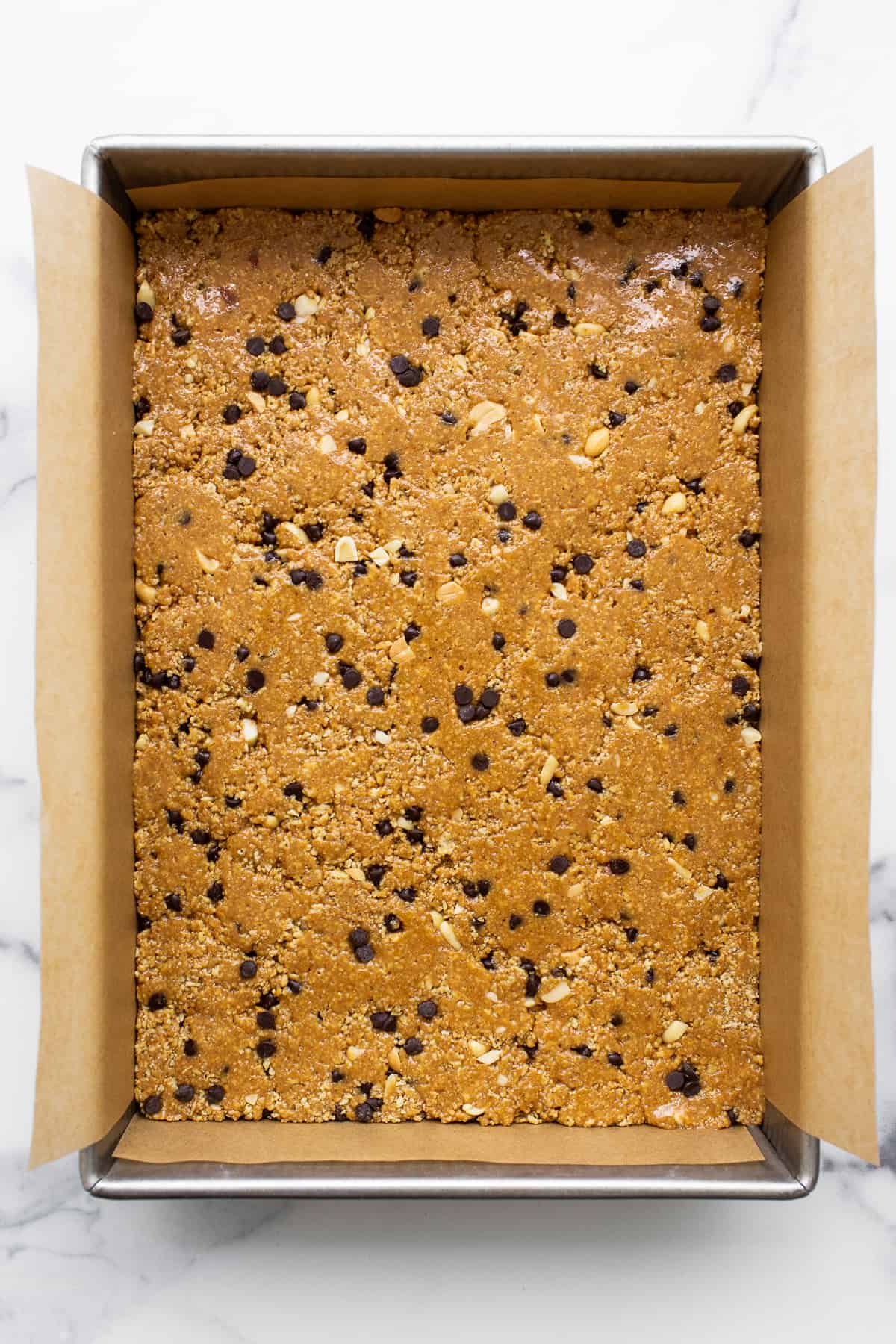 TRANSFER + PRESS
Pour the peanut butter mixture into your casserole dish, using your hands or a spatula to spread it evenly along the bottom of the pan. Be sure to really press the mixture down, so everything sticks together.
ALLOW BARS TO SET
Next, place the dish with the bars into the freezer to set for 1-2 hours. Once set, remove the casserole dish and gently lift the bars from the dish with parchment paper.
CUT, SERVE, + ENJOY! 
Place the bars on a large cutting board and cut them with a sharp knife into whatever shape you desire. We prefer rectangles.
Serve and enjoy your crunchy, delicious treat!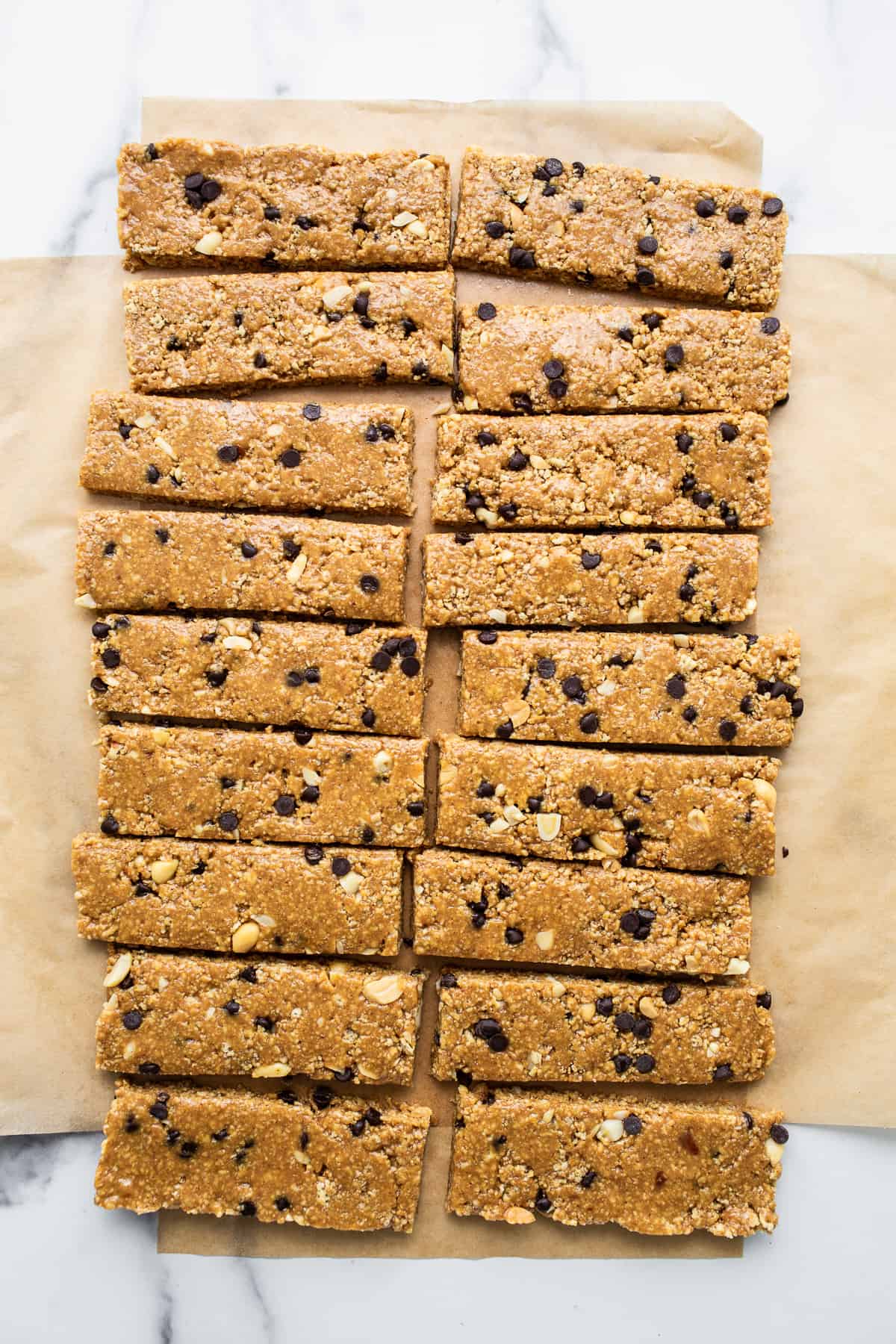 Recipe Tips & Tricks
If your dough is a little too dry, then add more honey.
For this recipe, make sure you use drippy peanut butter. The moisture in the oils will help these bars form!
Make sure to firmly compress the peanut butter bars into the pan for more effortless cutting.
FAQs
Can I make nut-free peanut butter bars?
Of course! Instead of using peanut butter, use sunflower seed butter. Just keep in mind that sunflower seed butter will have a different taste than peanut butter.
Can you freeze peanut butter bars?
Yes. Peanut butter bars are great for meal prep or to enjoy later. Once your bars have set and been cut, place them in an airtight container in the freezer for up to 4 months.
Can I use crunchy peanut butter in no-bake peanut butter bars?
Yes. If you prefer crunchy peanut butter over creamy peanut butter, be sure to add some coconut oil to your peanut butter to ensure it has a drippy consistency. This will make forming the bars much easier.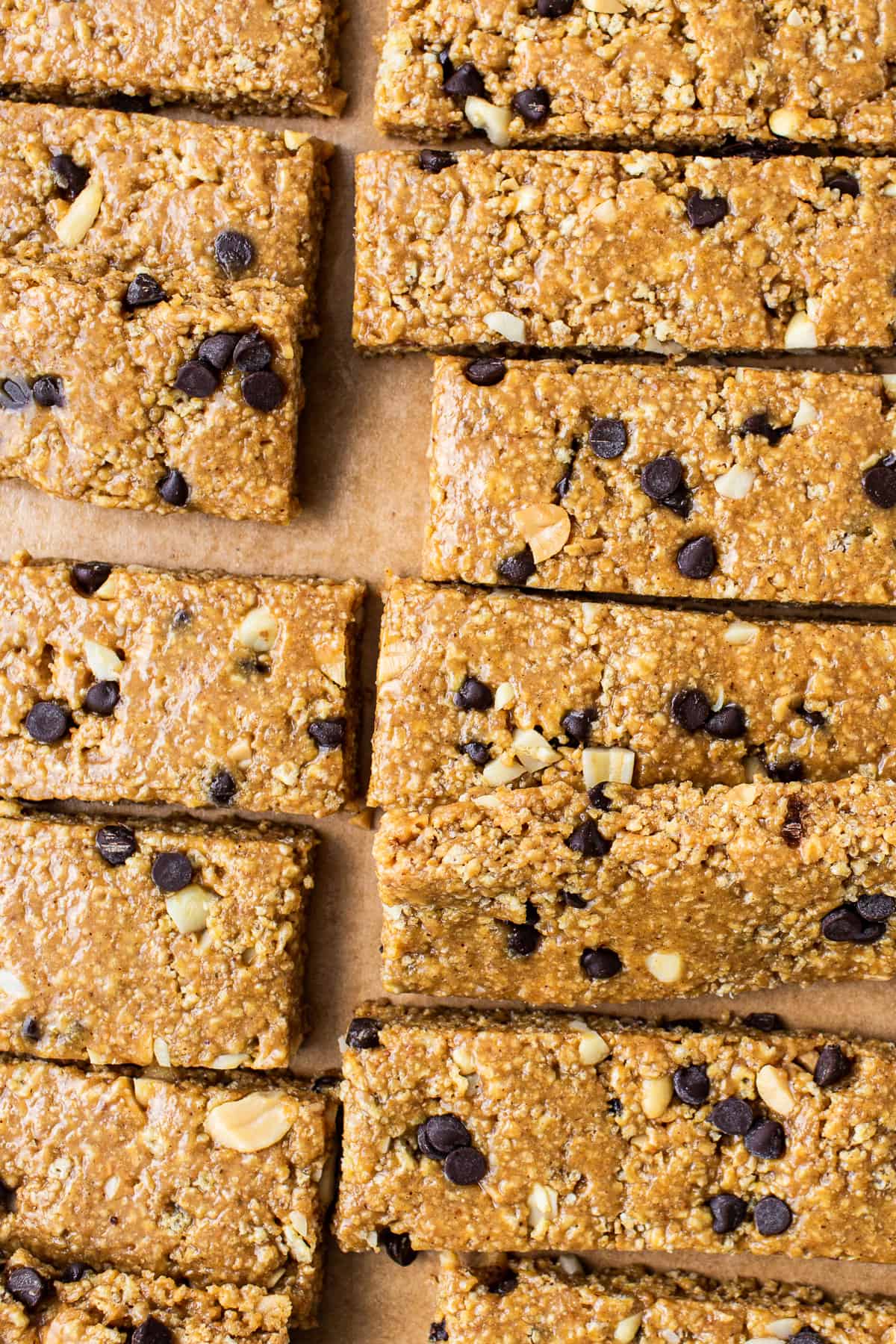 Storage
Store your peanut butter chocolate bars in the fridge in an airtight container for 2-3 weeks.
To freeze: remove as much air as possible from an airtight container or freezer-safe bag, and store in the freezer for up to 3 months.