This air fryer chunky monkey French toast is a sweet breakfast eater's dream! The bread gets soaked in an egg mixture of banana, maple syrup, cinnamon, and peanut butter for an ultra-rich French toast topped with chocolate, roasted walnuts, and sliced bananas.
Flavorful Air Fryer French Toast
The most important meal of the day just got better with this Ben & Jerry's-inspired chunky monkey French toast recipe! We're big fans of air fryer breakfast recipes on Fit Foodie Finds. They're a quick and easy way to make EPIC breakfasts like this one. And let me tell you, this is one for the books. 
In under 20 minutes, you'll have a delicious breakfast that looks like it came right out of a fancy brunch restaurant. Serve it at home or at your next Saturday brunch gathering, and we guarantee everyone will give it a 5-star rating!
Why you'll love it!
It's a quick breakfast that tastes as good as gourmet! 
This chunky monkey French toast is so good, you'll have the entire family drooling.
You can customize this recipe however you wish. Swap out toppings or make some additions!
Make French toast with the perfect flavor and texture, every time!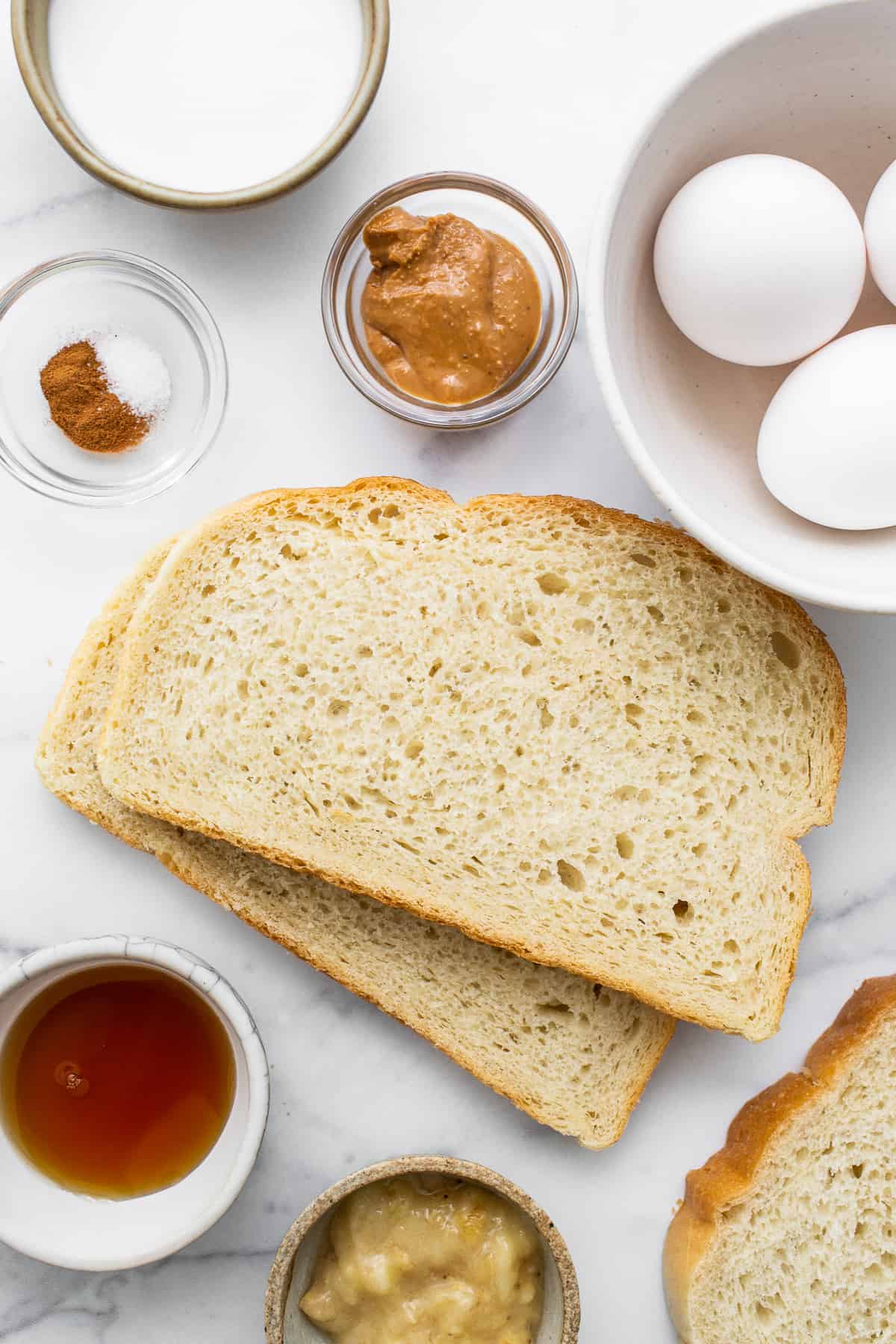 Featured Ingredients
Coconut oil: we coated the inside of the air fryer basket with melted coconut oil for an easy-flip French toast.
Eggs: this recipe calls for 3 large eggs to serve for two. We recommend farm fresh and/or organic.
Milk: any kind of milk works for French toast. Feel free to use dairy-free milk, such as almond milk or cow's milk, too.
Bananas: you'll need at least 1 ripe banana and 1 fresh to semi-ripe banana for this recipe. 
Maple syrup: you can't go wrong with a hint of maple when it comes to French toast!
Cinnamon: sprinkle the cinnamon in the egg mixture. Mmm!
Peanut butter: drippy peanut butter is key for this Ben & Jerry's-inspired chunky monkey-style French toast recipe.
Sourdough bread: we love this recipe with sourdough bread, but brioche and french bread work just as well!
Chocolate: The chopped chocolate pieces are placed on the French toast to melt and soften the bread.
Roasted walnuts: another necessary chunky monkey ingredient; walnuts add a tasty and satisfying crunch to this French toast that you can't miss out on!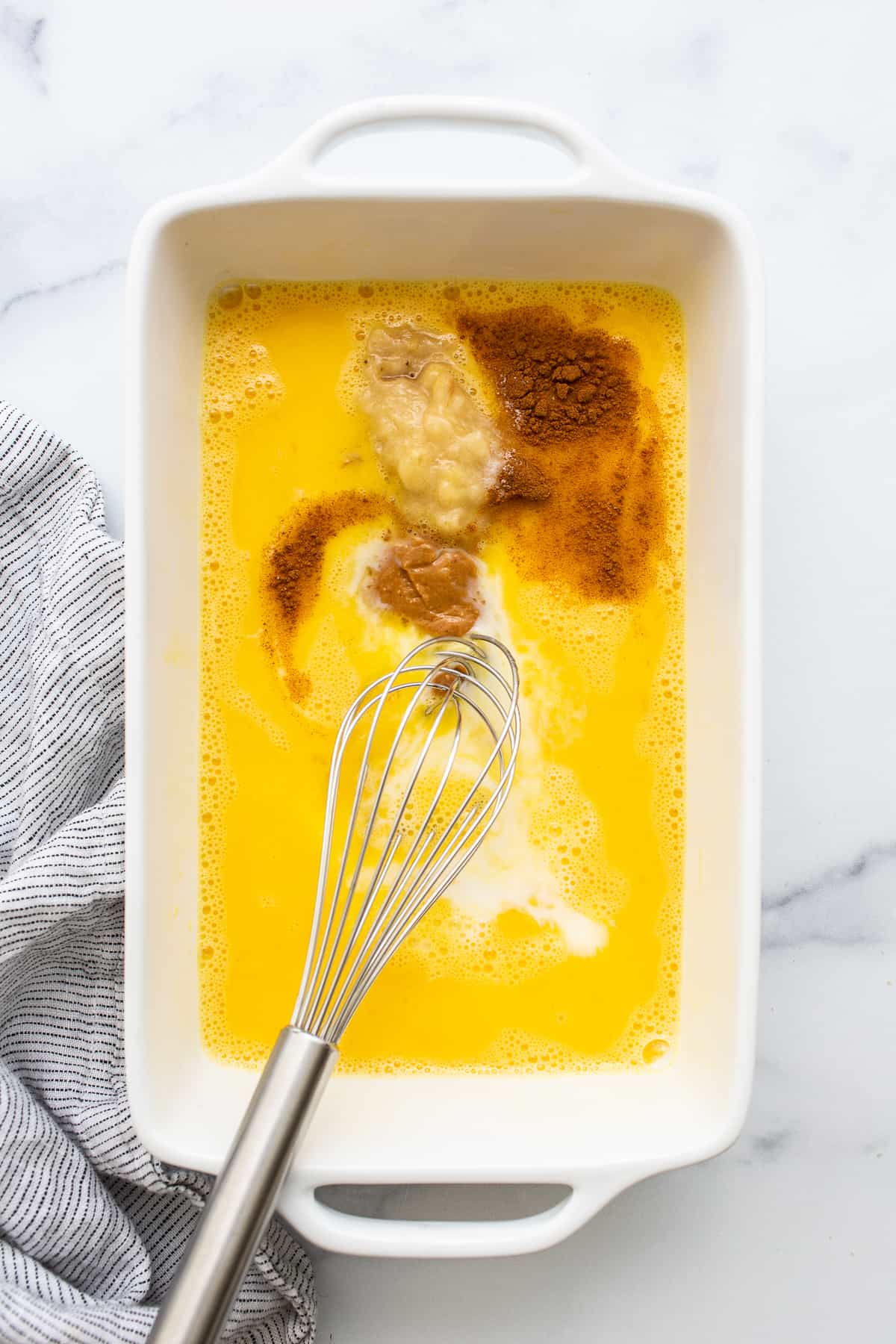 How to Make Air Fryer Chunky Monkey French Toast
PREHEAT AIR FRYER
Preheat the air fryer to 370ºF and add the melted coconut oil to the bottom of the air fryer. 
PREP EGG MIXTURE
Next, whisk the eggs in a large bowl. Then add the milk, mashed banana, maple syrup, cinnamon, peanut butter, and salt to the eggs and whisk until combined. Pour the egg mixture into a baking dish or pan.
DUNK + SOAK 
Dip each piece of bread into the egg mixture, flipping the bread over and allowing the egg mixture to soak into the bread. 
COOK FRENCH TOAST
Place two slices of french toast in the air fryer and cook the french toast for 4 minutes on each side until golden brown.
ASSEMBLE + REPEAT
Remove the french toast from the air fryer and sprinkle the chocolate over the hot french toast so that it softens. Top the chocolate with chopped walnuts and sliced bananas. Repeat step 4 with the other pieces of french toast.  
SERVE + ENJOY!
Serve with any of the following breakfast recipes to round out the perfect brunch. ENJOY!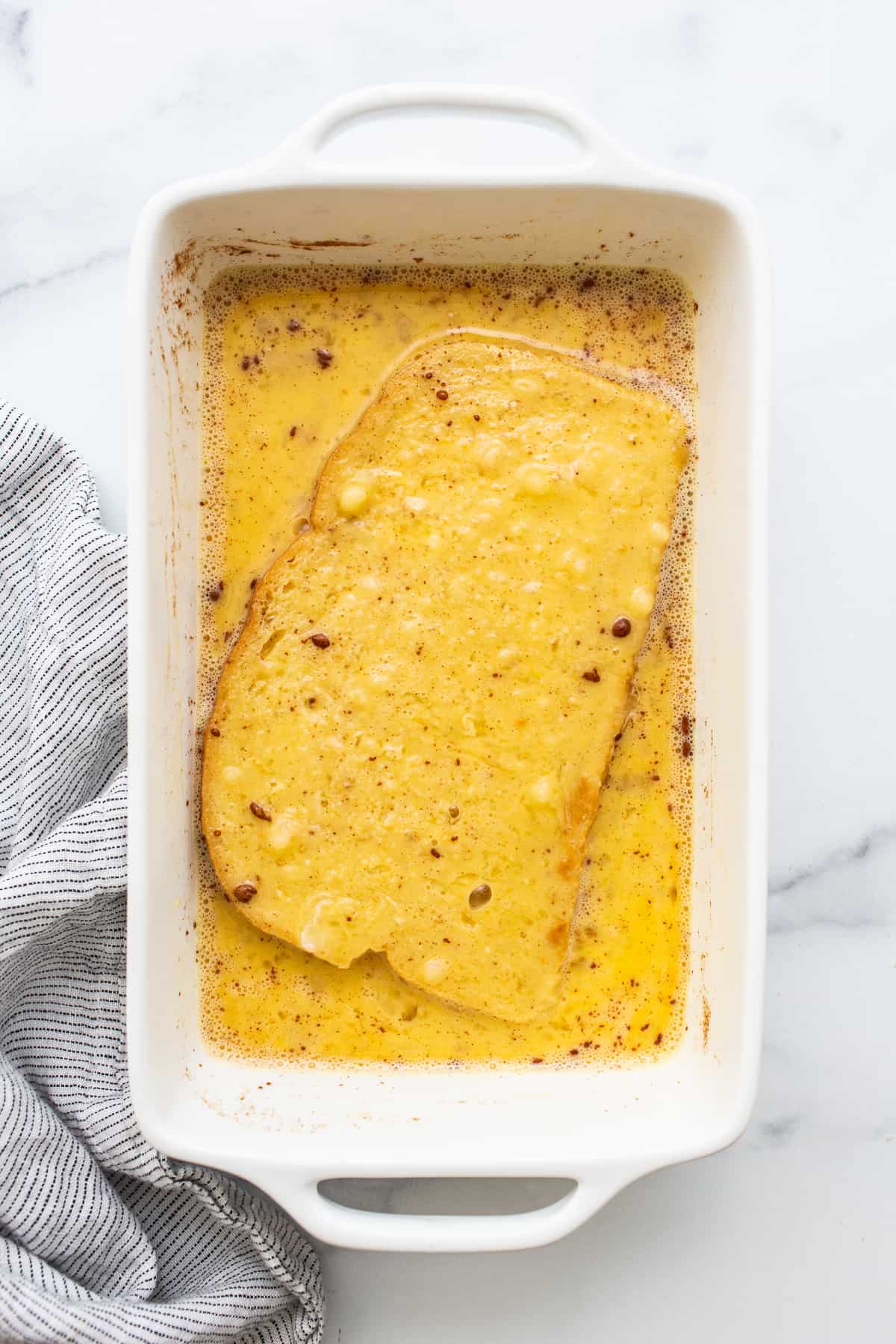 What to Serve with French Toast
Make this a complete meal by pairing it with any of the following perfectly brunch-worthy recipes we have on Fit Foodie Finds:
Latest French Toast Recipes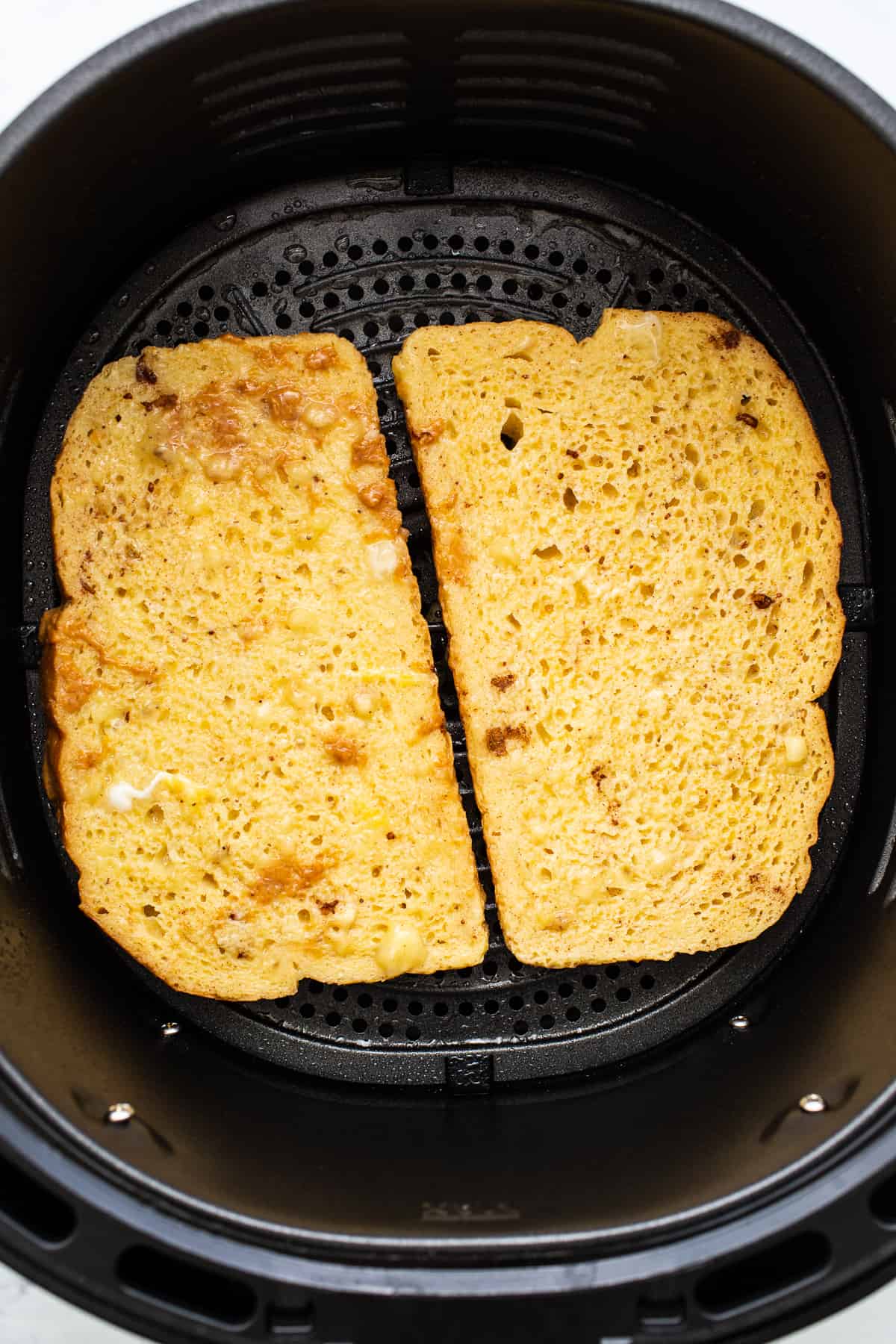 Top Tips for French Toast
Cut that bread thick: The thicker the bread, the chewier and more delicious your french toast will be after you cook it.
Let it sit: After whisking the eggs, milk, and spice together, flip the bread a couple of times in the mixture, so it soaks up all the great flavors. Don't take it out too quickly. Be sure to let any excess egg drip from the french toast, too.
The perfect flip: Remember to spray your air fryer basket for an easy flip! We found it helpful to use a metal spatula to flip the french toast over.
Storage
While this air fryer chunky monkey French toast is best enjoyed immediately, you can store any leftovers in the fridge for up to 3-5 days in an airtight container.
To reheat: warm up in the oven or air fryer at 350°F for 5 minutes.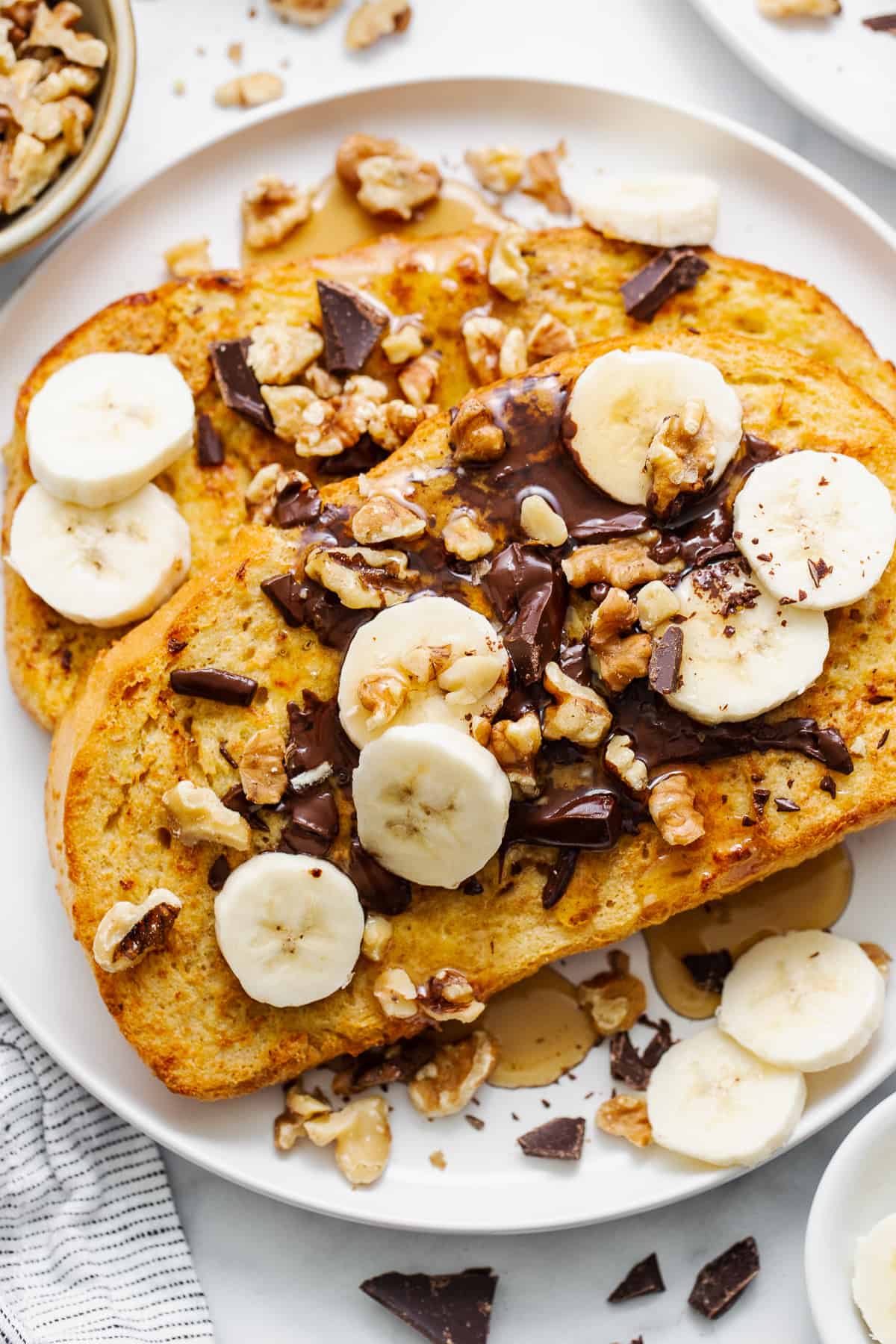 Photography: photos taken in this post are by Ashley McGlaughlin from The Edible Perspective.