This Instant Pot Beef and Broccoli comes out so saucy and perfectly cooked. It's made with just 8 Ingredients and in less than 30 minutes!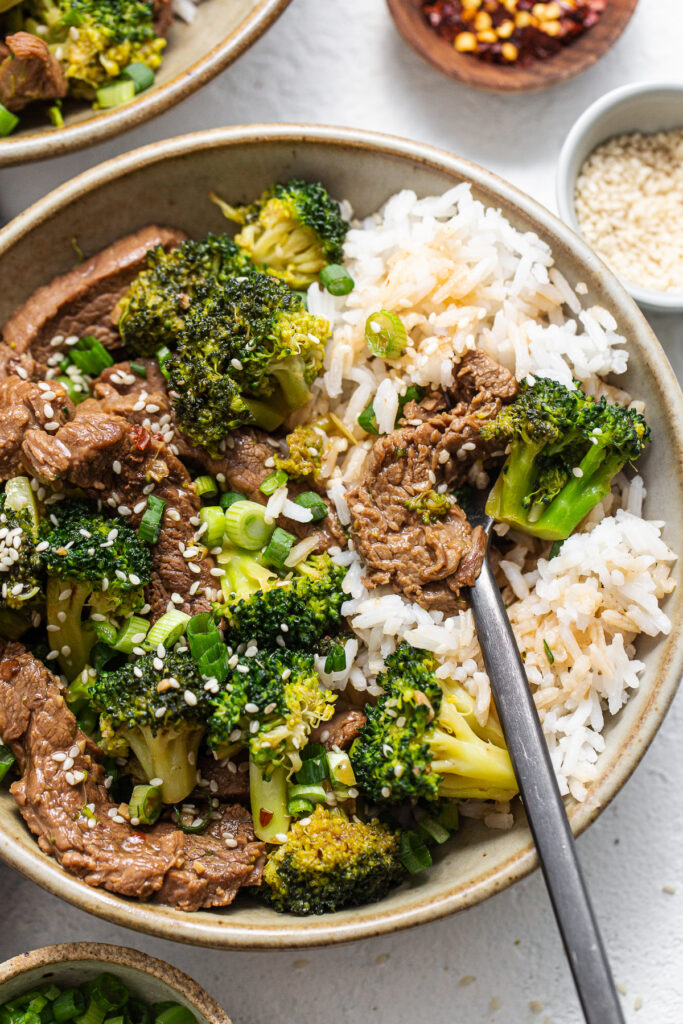 Beef and Broccoli in the Instant Pot
Beef and broccoli is hands down my favorite takeout meal. I love how tender and saucy the beef is and broccoli adds a touch of vegetable.
Making beef and broccoli at home is rather simple, but making it in the Instant Pot is even easier. First, tenderize and cook the beef. Next comes the broccoli and then the sauce.
Your Instant Pot Beef and Broccoli will come out so delicious and will actually give takeout Beef and Broccoli a run for its money (if I do say so myself).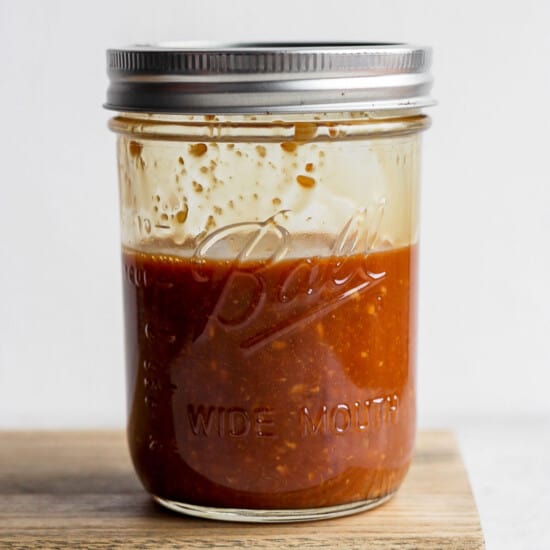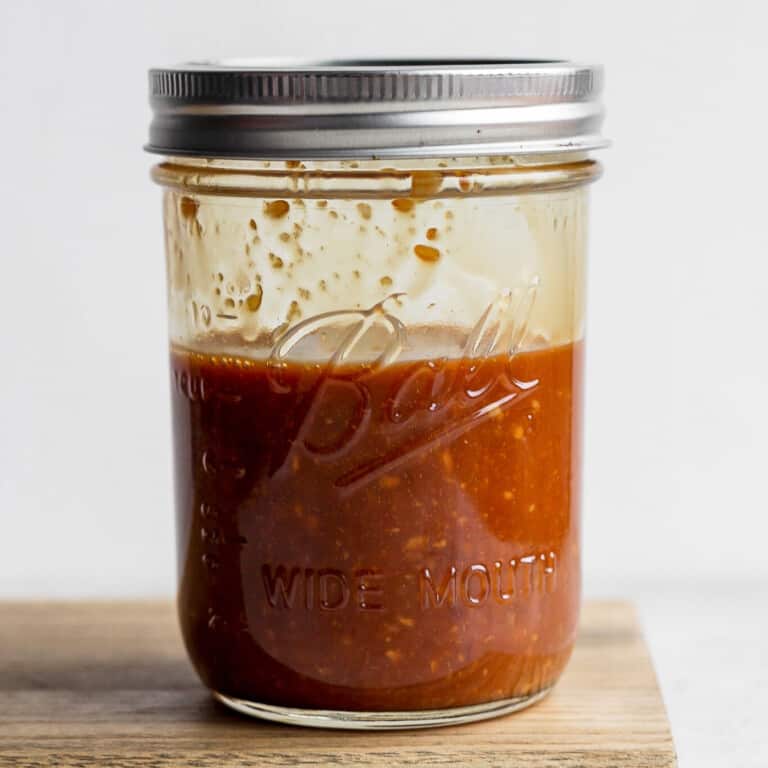 Homemade
Stir Fry Sauce
This easy stir fry sauce is our go-to for all things stir fry! Only 9 ingredients, and comes together in seconds. Bookmark this stir fry sauce to always have on hand.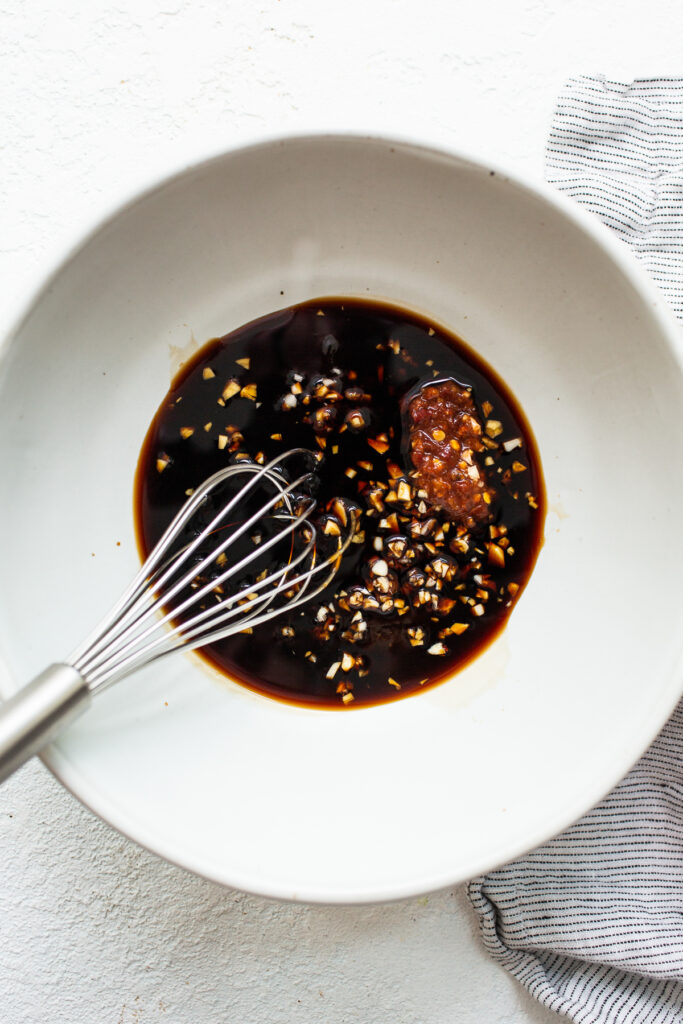 Is beef and broccoli healthy?
Beef and broccoli is high-protein and low in carbs. If you make your own stir fry sauce at home that is made without MSG, it's a healthy dinner option with lots of veggies.
What kind of beef should I use for beef and broccoli?
The best kind of beef to use for beef and broccoli is flank steak because it's long, thin, and relatively inexpensive.
Do you have to tenderize the beef?
While you don't HAVE to tenderize the beef, we highly suggest it. It not only provides a more even cooking of the beef, but it makes the beef extra tender.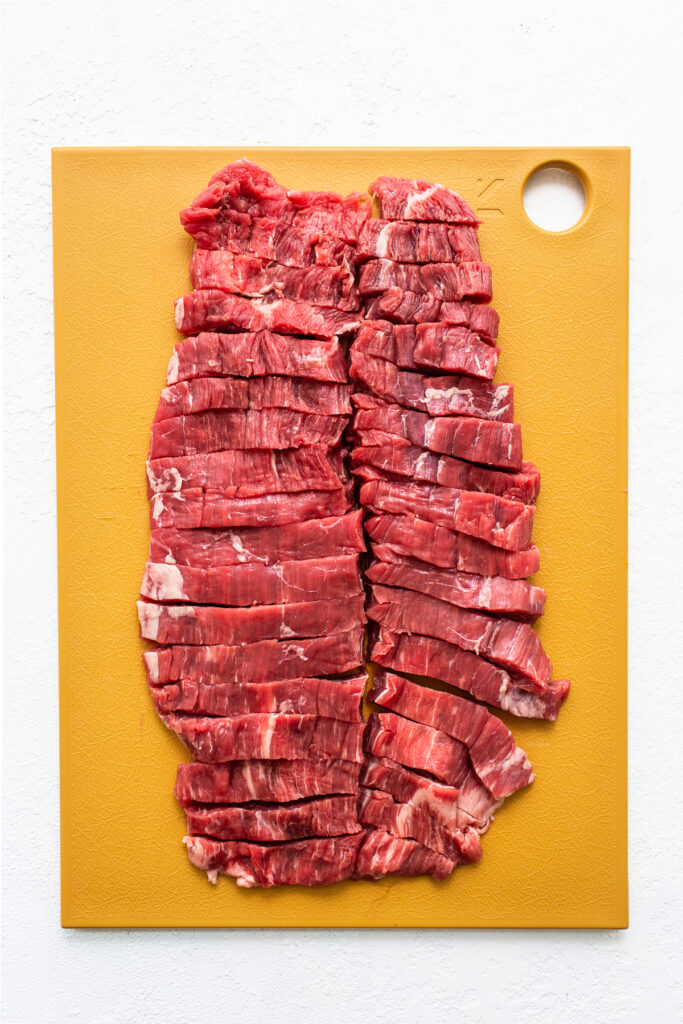 What is beef and broccoli sauce made of?
Beef and broccoli sauce is super easy to make and is made with just a few basic ingredients. Here's what you need:
low-sodium soy sauce or tamari
hoisin sauce
minced garlic
red chili sauce
cornstarch
Control the spice level of this sauce with the red chili sauce. Double it for more heat and reduce it for a milder flavor.
quick tip!
Love saucy stir fry? Double the ingredients for double the flavor and double the sauce!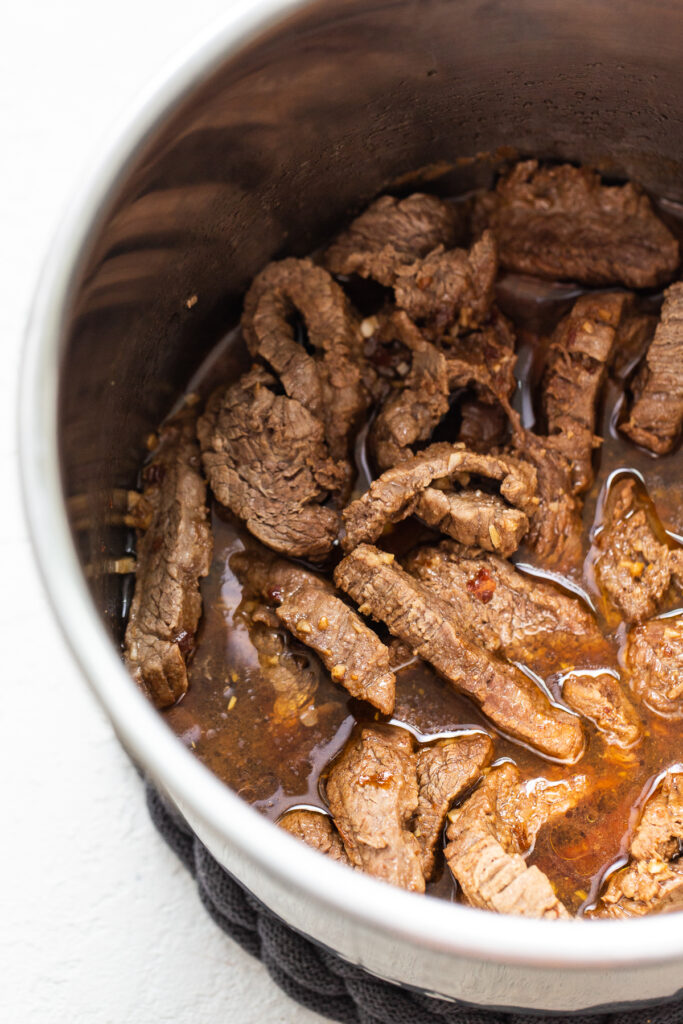 How to Make Instant Pot Beef and Broccoli
Make Beef and Broccoli Sauce
Combine the soy sauce, hoisin sauce, minced garlic, and red chili sauce in a medium bowl and whisk until combined. 
Tenderize and Slice
Lay a piece of parchment paper over your flank steak and use a meat tenderizer to pound the meat until it's the same thickness all around.
Then, slice the piece of beef in half (hot dog-style) and thinly sliced the beef into pieces.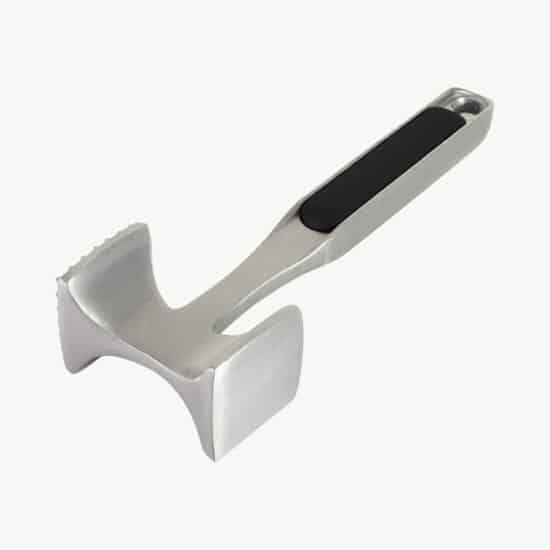 Our Favorite
Meat Tenderizer
This is our go-to meat tenderizer that we use for beef, chicken, pork, and everything between.
Sear and Cook Beef
Turn on the Instant Pot's sauté function, and give your beef a quick sear, but don't cook it all the way. Then, add the sauce, close the Instant Pot, and seal it. Cook on high for 8 total minutes.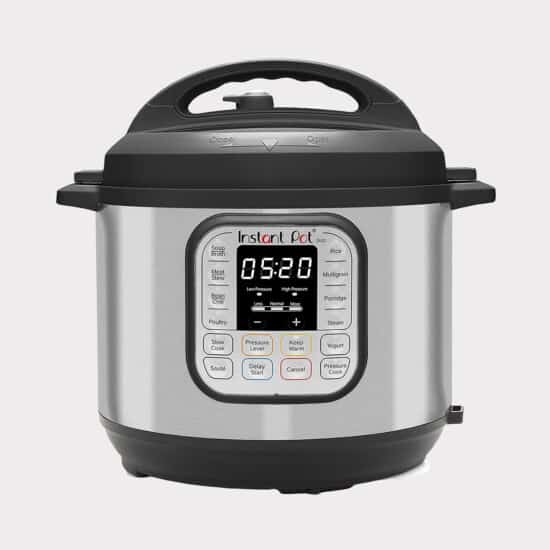 6 Qt.
Instant Pot Duo
Looking for a new pressure cooker? Check out 6 Qt. the Instant Pot Duo. It's the one we use and love!
Add broccoli + cook for 0 minutes
Once the timer goes off, quick release the Instant Pot and open it up. Add in the broccoli, close the Instant Pot, and seal. Cook on high for 0 minutes. Yes, 0 minutes. This will allow your Instant Pot to build pressure and then be done cooking once it's at max pressure.
If you cook it any longer than 0 minutes, I promise you, your broccoli will be mushy. So? Once that timer goes off, open the vent to quick-release immediately!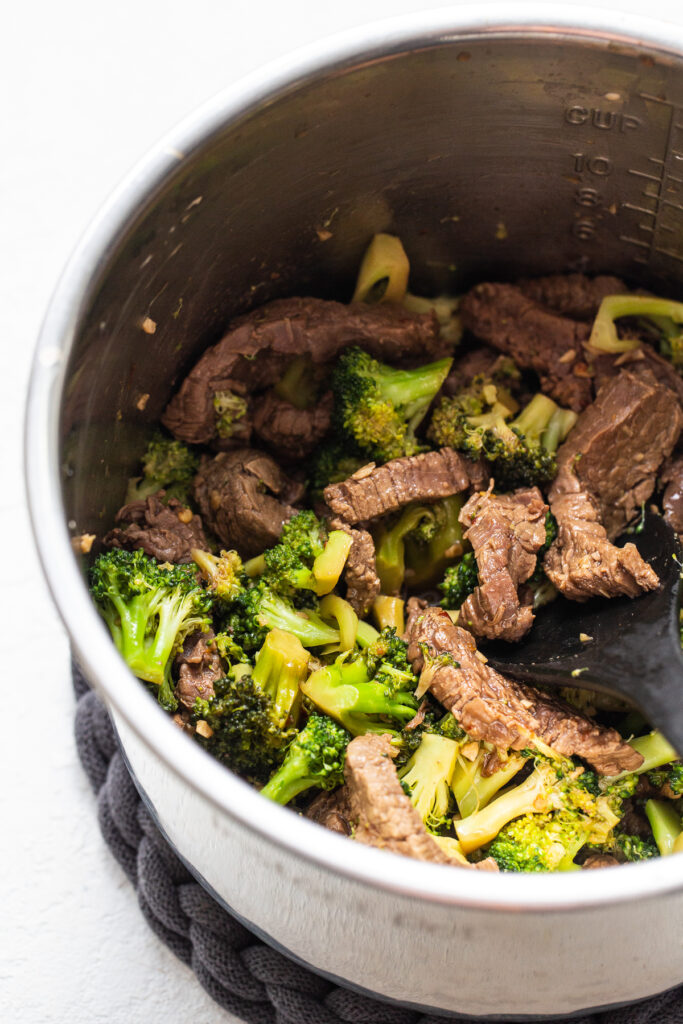 Thicken Sauce
Immediately remove the beef and broccoli from the Instant Pot, keeping the sauce at the bottom of the pot. Add in the cornstarch and whisk away. Then, transfer the beef and broccoli back into the Instant Pot and stir.
Storage
Store leftover beef and broccoli in an airtight container in the fridge for up to 3-5 days.
More Stir Fry Recipes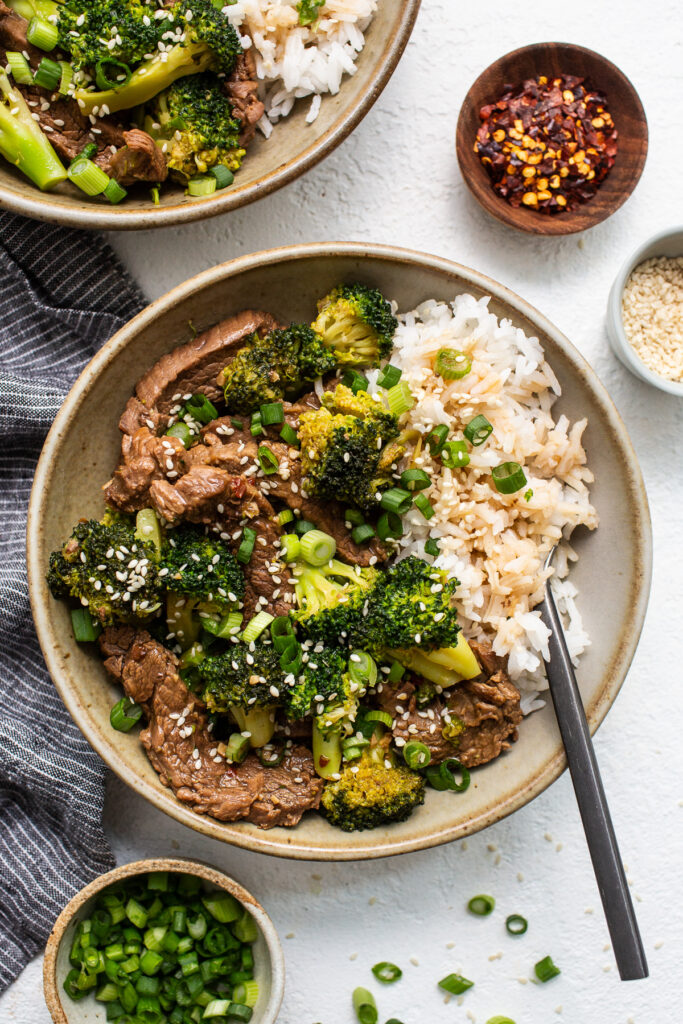 Photography: photos taken in this post are by Ashley McGlaughlin from The Edible Perspective.