These monster cookie oat cups are an easy no-bake dessert the whole family will love! Make a large batch to keep on hand at all times — you won't regret it.
Let's Make a No Bake Dessert!
These monster cookie oat cups are our latest addition to our no bake dessert obsession!
If you haven't tried our PB&J quinoa cups or our peanut butter oat cups, you might as well make a batch of those when you're whipping up these monster cookie oat cups 😀
Why we love no-bake desserts
Quick (no bake time!)
Easy to make
Great for sweet treats on the go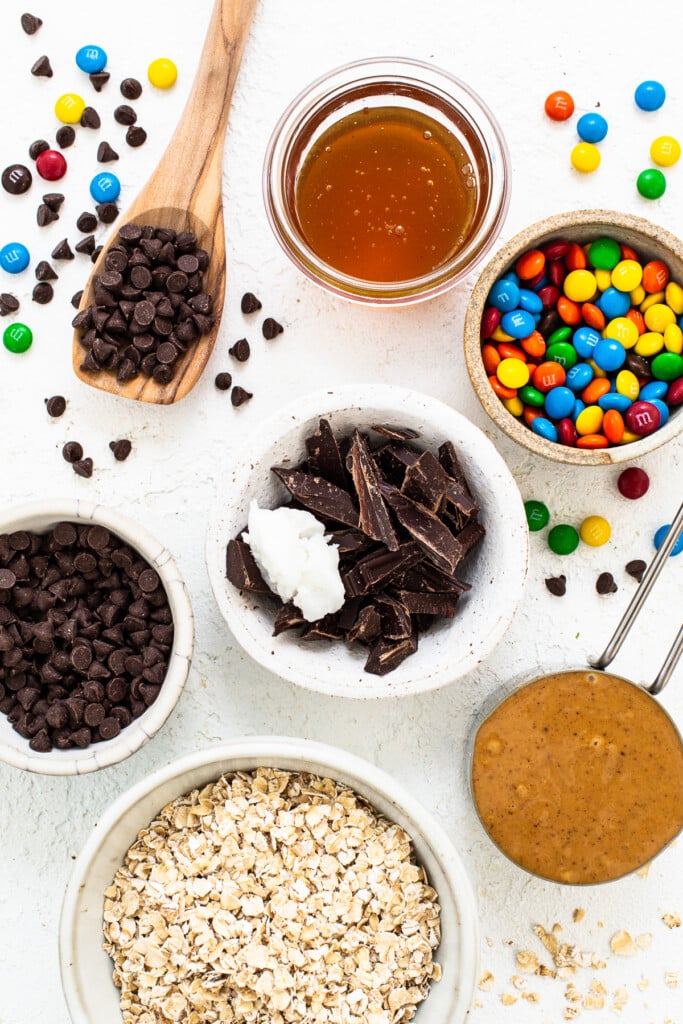 Ingredients for Monster Cookie Oat Cups
These no bake dessert cups come together in 3 layers, which means you get a delicious chunk of monster cookie in every bite:
Oat Layer 
Quick-cooking oats
Honey
All-natural, creamy peanut butter
Mini chocolate chips
Chocolate Layer
Chopped dark chocolate 
Coconut oil 
Peanut Butter Layer
All-natural, creamy peanut butter
Coconut oil 
Mini M&M's
Mini chocolate chips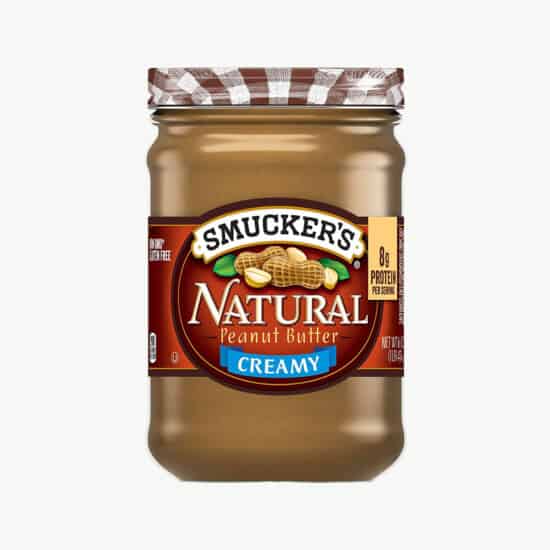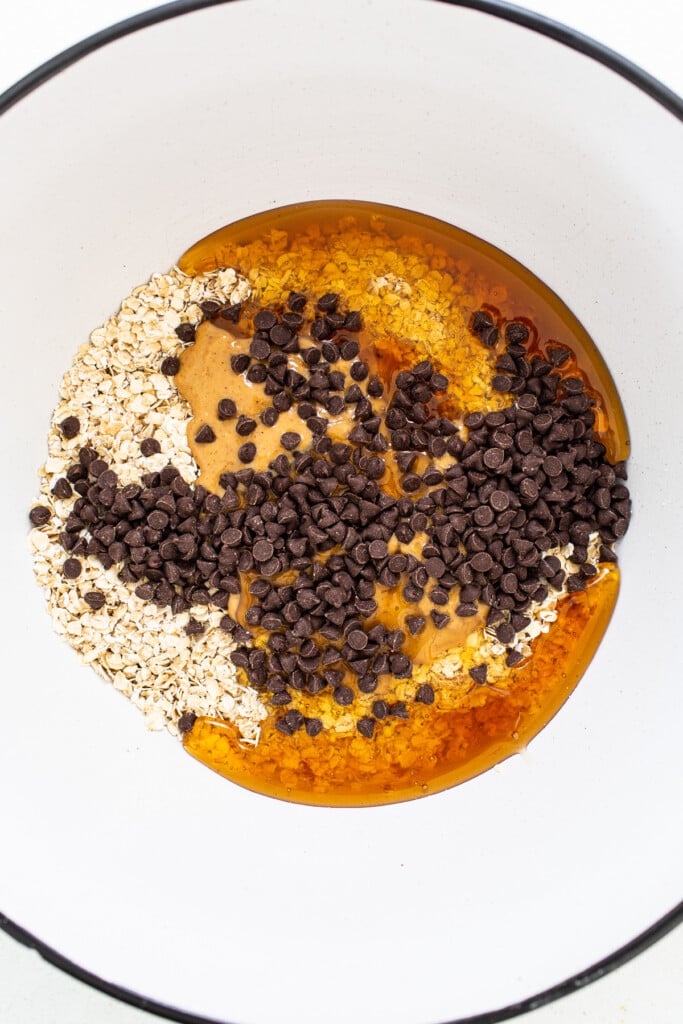 How to Make Monster Cookie Oat Cups
make the oat layer
Add the quick-cooking oats, honey, peanut butter, and mini chocolate chips to a bowl and stir all of the ingredients together until combined.
If it seems dry, add 1 to 2 teaspoons of water.
Scoop about 2 tablespoons of the oats into the bottom of each muffin cup and firmly press them into the cup. 
Mix the chocolate layer
Transfer the chocolate and coconut oil into a microwave-safe bowl. Heat the chocolate on high for 20-second increments until the chocolate is melted, stirring in between each increment. 
Scoop 2 teaspoons of the melted chocolate and add it on top of the oat layer. Swirl the muffin pan in a circle to easily distribute the chocolate over the oats.
Place the muffin pan in the freezer for 5 minutes. 
Make the peanut butter layer
Add the creamy peanut butter and coconut oil into a separate microwave-safe bowl and microwave the mixture for 15 seconds, and stir to combine.
Add 2 teaspoons of the peanut butter mixture to the top of the chocolate layer. Swirl the pan again to even out the peanut butter.
Then, add mini m&ms and mini chocolate chips to the top of each cup. 
Let set in the freezer
Place the muffin tin in the freezer for at least 30 minutes to an hour to set. 
When the oat cups have set, remove them from the muffin pan and transfer them into a freezer bag and store the oat cups in the freezer. Enjoy now or later!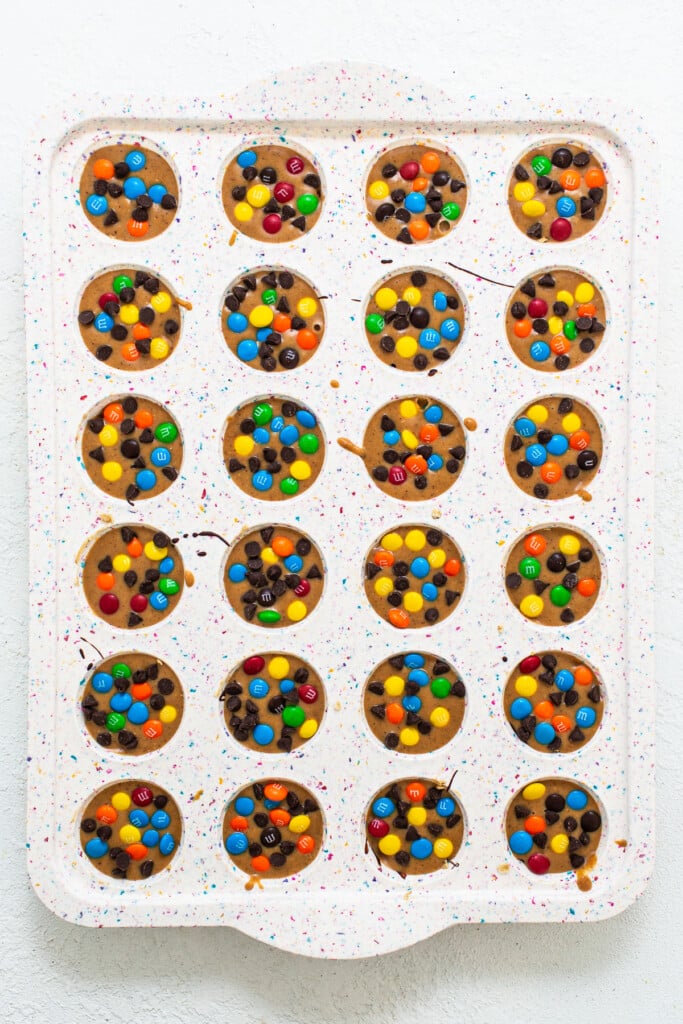 Variations
Swap the nut butter: can't do peanuts? Use almond butter or cashew butter instead.
Add an extract: A little bit of vanilla or almond extract in the base of these would be delicious.
Use another mini chip: we love mini chocolate chips in these oat cups, but mini peanut butter chips, butterscotch chips or white chocolate chips would taste great too.
Use a dried or freeze-dried fruit: Instead of mini M&M's, use a dried or freeze-dried fruit such as strawberries, raisins, or blueberries.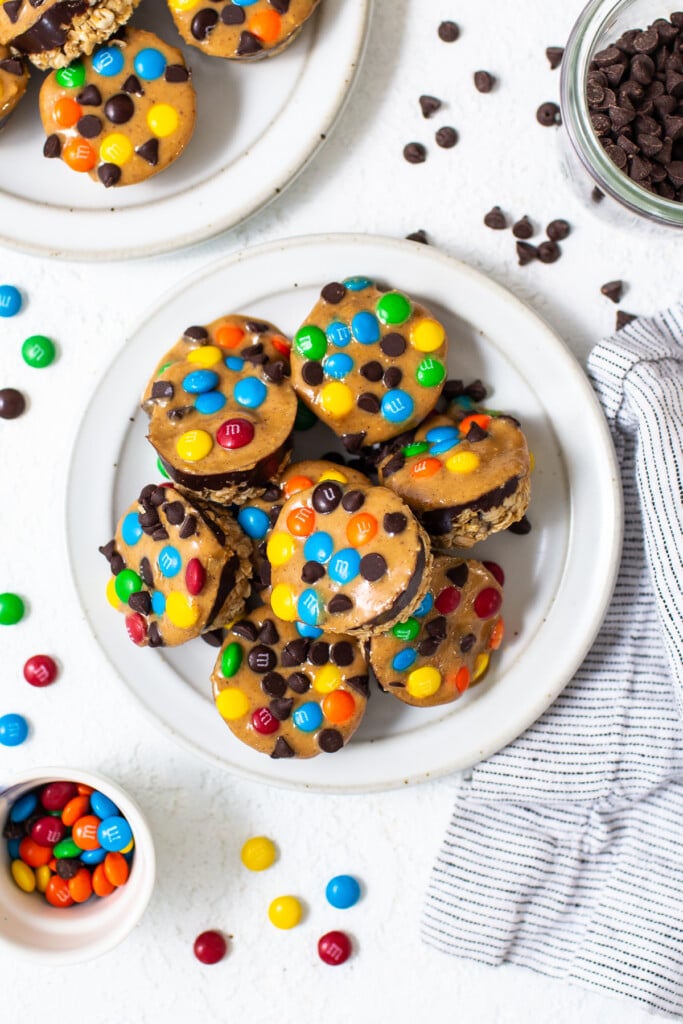 Can I use a full-size muffin tin instead?
Feel free to use a regular-sized muffin tin instead of a mini one. You'll make less total oat cups, but each one will obviously be a larger size. Yum!
Is this recipe gluten free?
All ingredients in this recipe are naturally gluten-free. Just make sure you read the labels of the ingredients you buy to confirm they were produced in a certified GF facility.
Is this dessert healthy?
Since these monster cookie oat cups are made with whole grains and all-natural sugars, it's a nutritious dessert idea.
Storage
Make sure to store these monster cookie oat cups in the freezer. If they sit on the counter at room temperature, they won't hold together as well.