You're going to love this easy air fryer elote recipe! The fresh corn is seasoned and cooked to perfection, then rolled in a creamy spread full of cheesy and zesty Mexican flavors. Yum!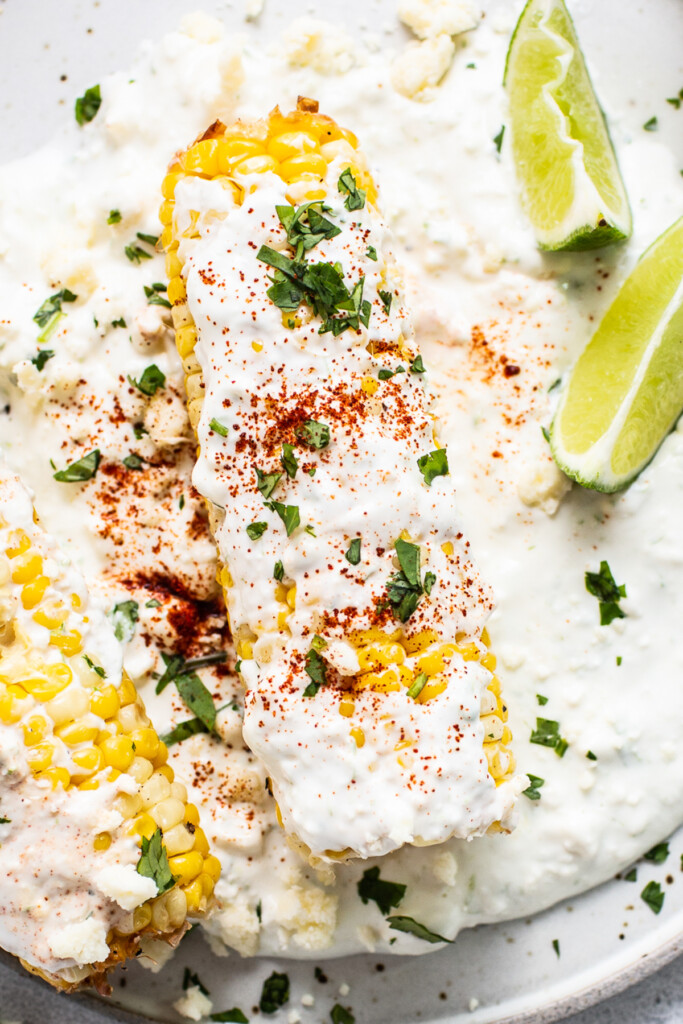 Juicy Air Fryer Street Corn
If you haven't tried elote yet, get ready for your tastebuds to explode with delight! This isn't your average corn cob recipe. Elote is a dreamy combination of delicious corn, creamy sauce, vibrant spices, and salty cotija cheese that pairs well with SO many dishes.
We've made a version of this beauty before using our Grilled Mexican Street Corn recipe, but we had to try the air fryer version, and it did not disappoint! It's just as tasty but has the convenience only an air fryer can provide. You're going to LOVE it!
Why you'll love it!
It's an easy air fryer recipe made in only 20 minutes.
Bursting with flavor with every bite.
A delicious side dish for any occasion.
Made with simple ingredients.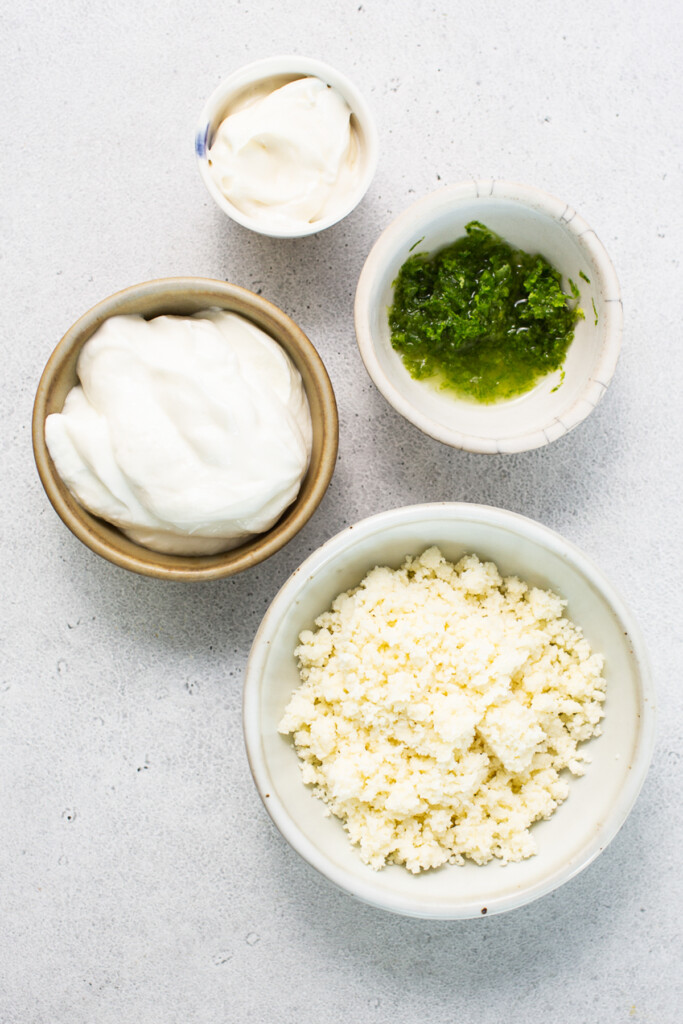 What is Elote?
Elote, AKA Mexican Street Corn, is cooked or grilled corn on the cob that is slathered in mayo, sour cream, chili powder, lime juice, and cotija cheese. Sometimes it is served spicy, and sometimes it is served mild.
How is ours different? Our grilled Mexican street corn is our take on Elote. It's definitely not authentic by any means, but we were inspired by the flavors of the popular Mexican street food and wanted to give it a try in the air fryer!
Check out Isabel Eats for a more authentic Elote recipe.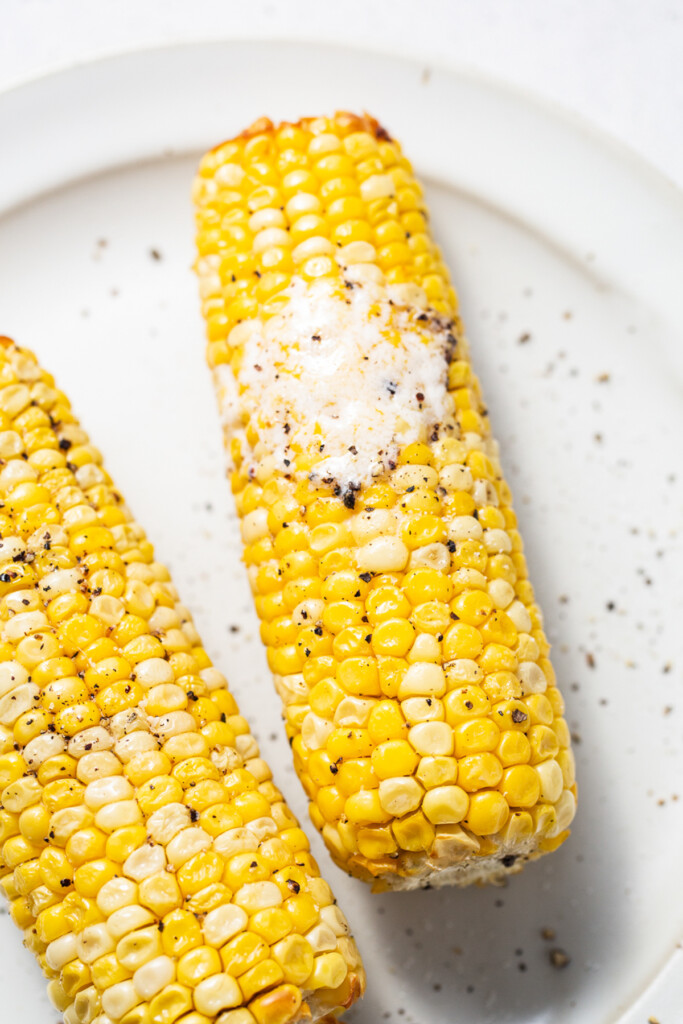 Air Fryer Elote — What You Need
Corn on the cob: make sure you set aside some time to shuck and clean your corn cobs for this recipe!
Olive oil: the corn cobs are slathered in olive oil to adhere to the seasonings and provide a richer taste.
Salt & pepper: salt and pepper really bring out the juicy corn flavors.
Greek yogurt: the tangy and creamy nature of Greek yogurt makes for the perfect elote sauce.
Mayonnaise: mayo is another necessary ingredient for getting that creamy, rich taste in the sauce.
Cotija cheese: a salty Mexican cheese that takes the flavor profile to a whole other level!
Lime: we used both lime juice and lime zest for a touch of tangy sweetness.
Cayenne pepper: great for kicking up the heat! If you want yours less spicy, use paprika instead.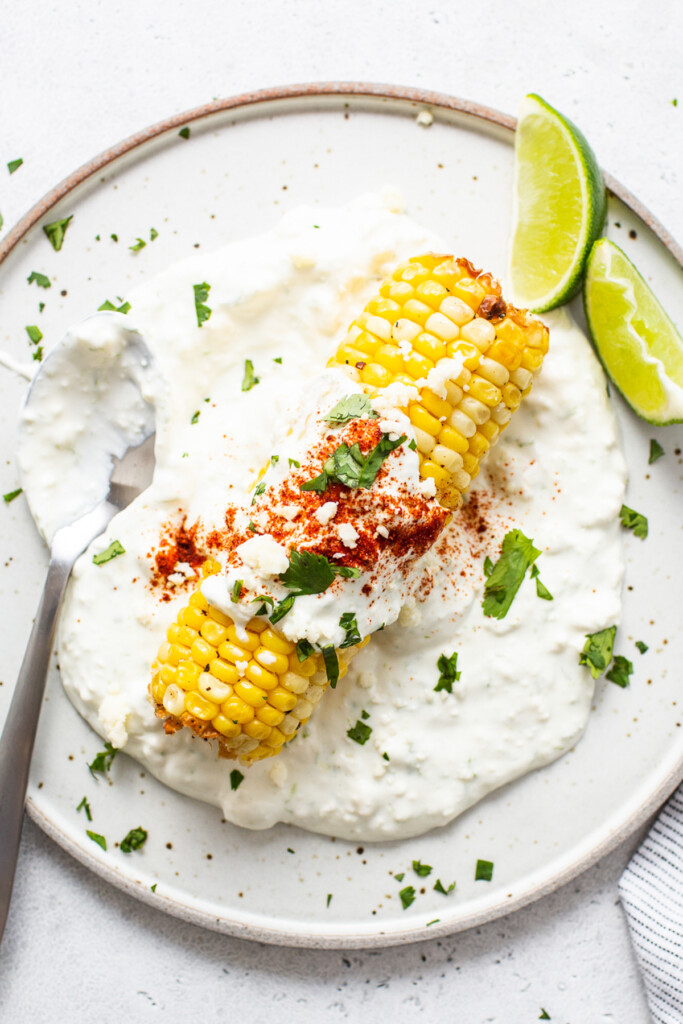 How to Make Air Fryer Elote (4 Easy Steps!)
SEASON CORN
Preheat the air fryer to 350ºF. Drizzle the 4 ears of corn with 1 tablespoon of olive oil, massaging it into the corn with your hands.
Season the corn with ½ teaspoon of salt and ½ teaspoon of pepper.
Pro Tip: If you don't feel like massaging the corn with your hands, we recommend using a gallon-size bag to cover your corn in spices because we find that it's super simple to do so!
First, massage olive oil into each cob and then place it in a large plastic bag. Sprinkle on the spices, and then give the cobs a good shake.
COOK CORN  
Next, add 1 tablespoon of olive oil to the bottom of the air fryer and transfer the corn into the air fryer basket. Cook the corn for 10 minutes, flipping halfway. 
MAKE ELOTE SAUCE
While the corn is cooking, add all of the ingredients (except for the cayenne pepper) for the elote sauce to a bowl and mix to combine. Pour the sauce on a large plate, spreading the sauce out evenly.
COAT WITH SAUCE
Remove the corn from the air fryer and roll each ear of corn in the elote sauce. Use a spoon to drizzle more elote sauce over the corn. Then season the corn with the cayenne pepper. Enjoy!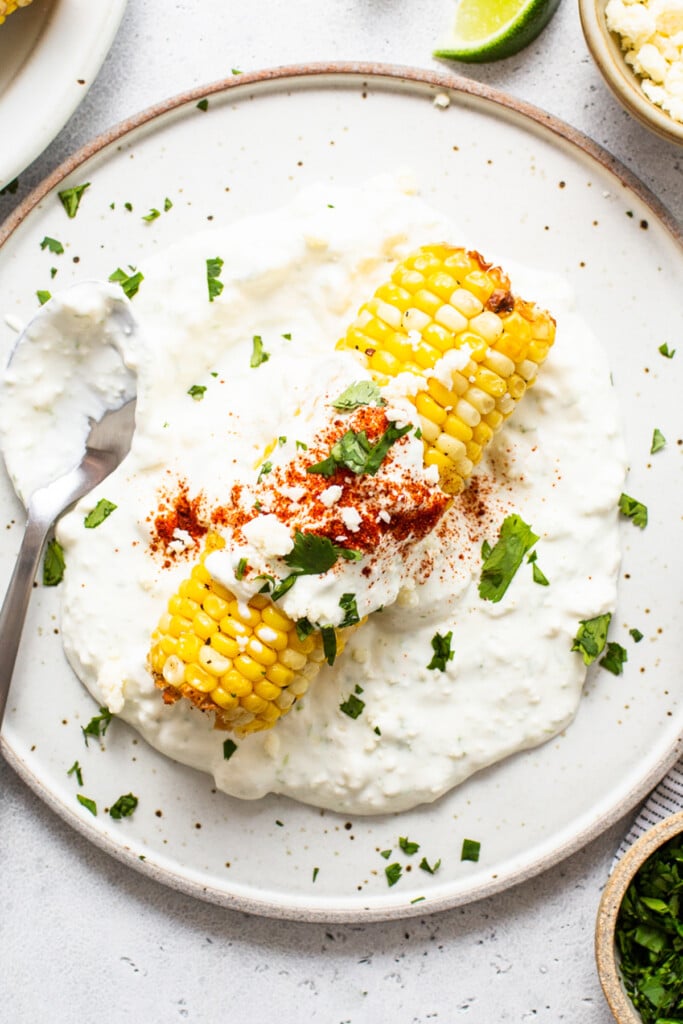 The Perfect Recipe Pairings
This delicious air fryer elote recipe can be elevated even more when paired with some tasty mains and sides. Here are some of our absolute favorites:
Storage
Store any leftover air fryer elote in an airtight container for up to one day if the sauce and toppings are already on it. 
If you have cobs without the sauce, store them in an airtight container in the fridge for up to 5 days.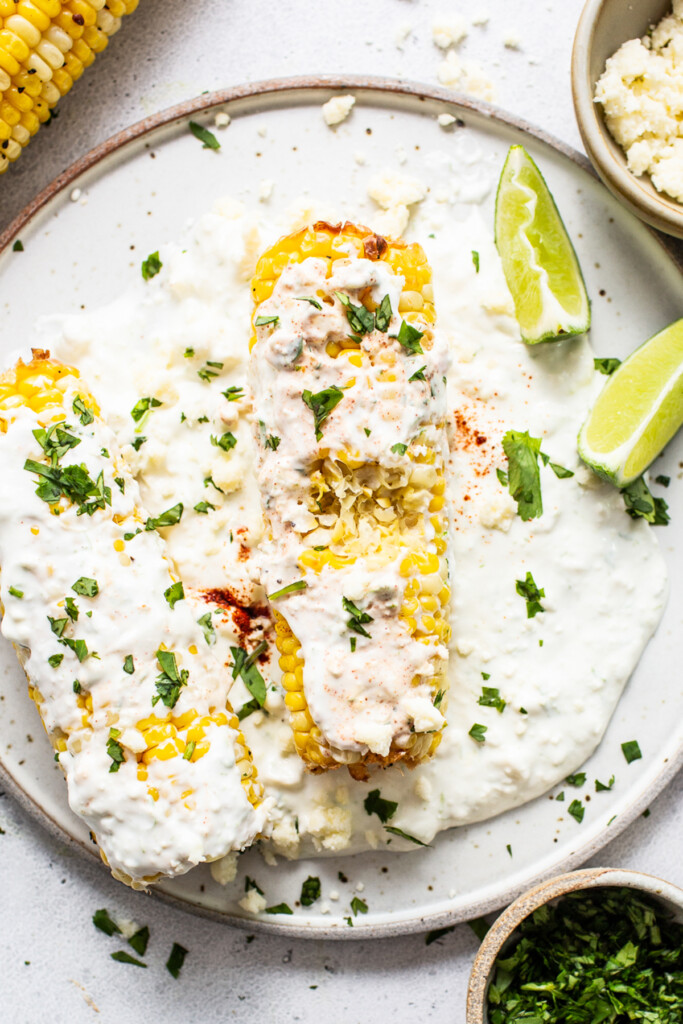 Photography: photos taken in this post are by Ashley McGlaughlin from The Edible Perspective.