These lemon blueberry cheesecake bars with Greek yogurt are the perfect summer treat! Equal parts tart and sweet, and paired with a delicious graham cracker crust. Enjoy!
Incredible Lemon Blueberry Cheesecake Bars
Dessert loves, you are going to swoon over these Blueberry Cheesecake Bars. They're made with a simple graham cracker crust and a fresh blueberry cheesecake filling made with Greek yogurt.
These cheesecake bars would be the perfect healthy dessert for any summer bbq or picnic because they're lighter, perfectly sweet, and serve a crowd!
Can't get enough dessert bars? These monster cookie bars or these healthy lemon bars are some of the most popular bars on Fit Foodie Finds!
How are these cheesecake bars healthier?
These blueberry cheesecake bars are made with FRESH blueberries. No canned or dried blueberries in this recipe! And why would you?! Fresh blueberries are accessible when they're in season and they are OH so delicious.
These bars have a Greek yogurt and cream cheese filling. Instead of using cream cheese and sour cream, we've used Greek yogurt, which packs protein and healthy fats.
No refined sugars in this cheesecake filling! To sweeten the filling in these blueberry cheesecake bars, we used honey instead of a refined sugar.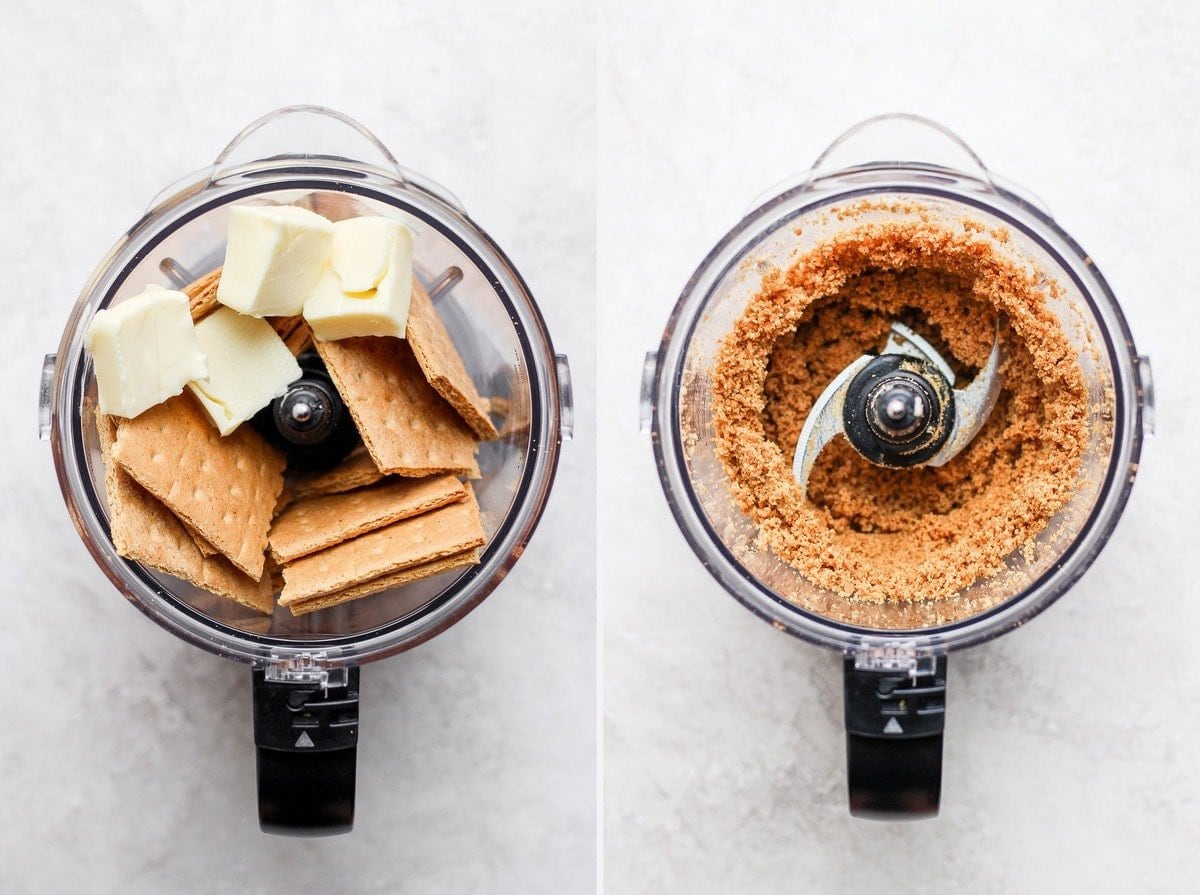 How to Make Blueberry Cheesecake Bars
Cheesecake may seem daunting, but these blueberry cheesecake bars are actually quite simple to make. There are 2 parts: the crust and the filling and just a few easy steps to make it.
Make Graham Cracker Crust
This two-ingredient graham cracker crust (graham crackers and a little butter!) is super easy to make:
Measure out graham crackers and room temperature butter, and place into a food processor and process. Pro tip: it will take about 3-4 minutes for the mixture to turn into a crumble.
Then pour the graham cracker crumble into an 8×8-inch pan, and press it into the bottom of the pan until it is evenly spread out.
Bake the crust at 350ºF for 7 minutes before adding the filling!
Make Blueberry Cheesecake Filling
This blueberry cheesecake filling is SO fresh and delicious! You'll combine the following using a food processor:
fresh blueberries
cream cheese
plain Greek yogurt
egg white
honey
vanilla extract
lemon juice
Food process the cheesecake filling: place the cream cheese, greek yogurt and honey into your food processor, and blend all of the ingredients together until smooth. Then, scrape the sides of your food processor with a spatula, and add the egg white, vanilla, and lemon juice. Blend until smooth.
Finally, add fresh blueberries to the food processor and blend until the blueberries are pureed and the mixture turns a beautiful blue color. Pro tip: this will take about 1-2 minutes.
Can I use frozen blueberries?
Feel free to use frozen blueberries instead of fresh ones. We suggest thawing them first before blending them into the cheesecake.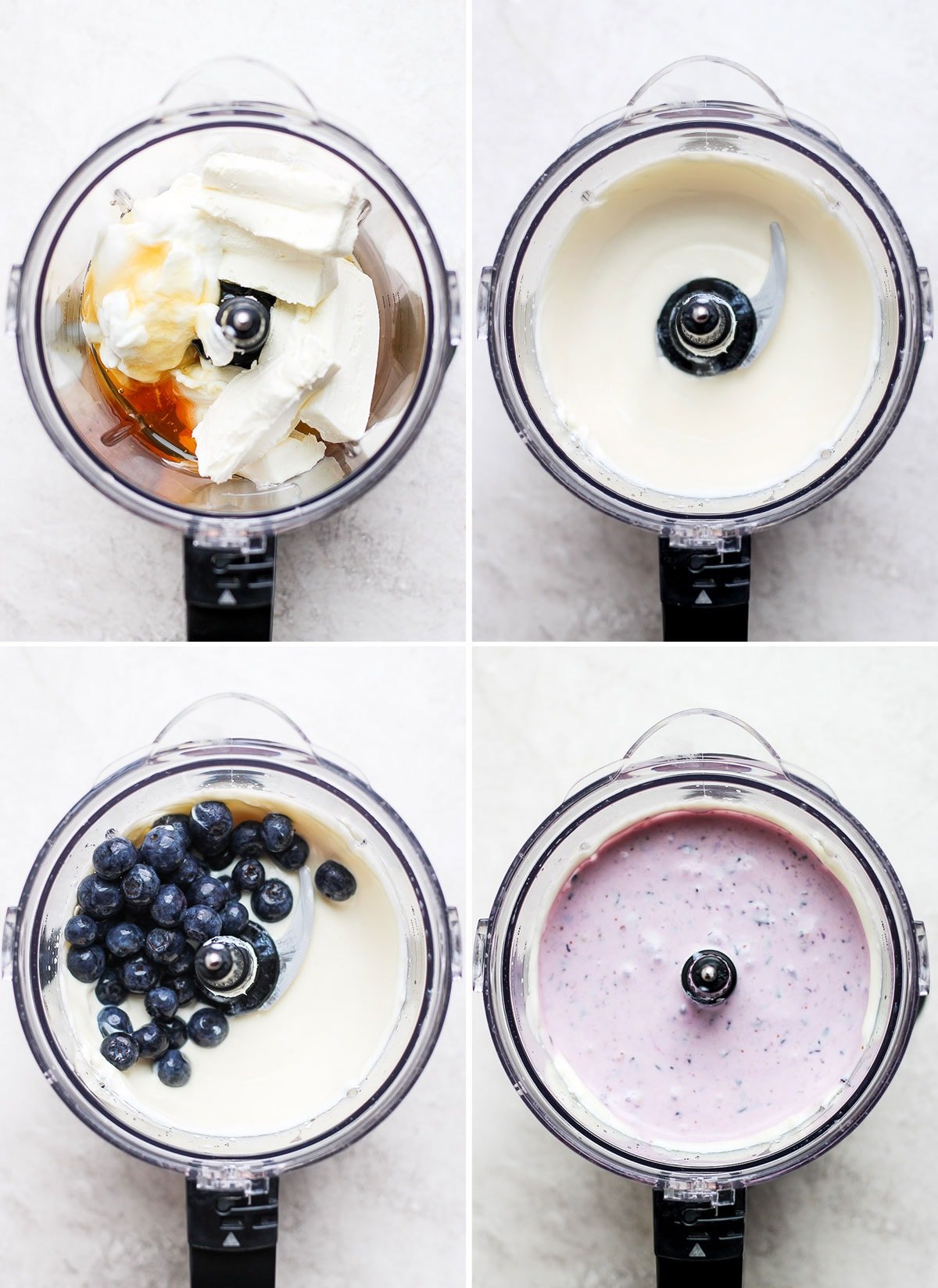 Bake Blueberry Cheesecake Bars
Transfer the blueberry cheesecake filling on top of the crust. Use a spatula to spread it out. Then, bake the bars at 350ºF for around 25-30 minutes.
Let Cool and Chill
Let blueberry cheesecake bars cool for at least 30 minutes before chilling in the fridge for at least 2 hours or overnight.
Slice the bars into squares and serve!
How to Freeze Blueberries
We all know that sometimes blueberries can be expensive or hard to find in larger quantities when they are not in season.
Pro Tip: When blueberries are in season (even better if they're on sale!), buy a TON of them and freeze them for later!
All you have to do is buy a couple of pounds of blueberries, wash them, and lay them out on a baking sheet lined with parchment paper until they're fully dry. Freeze the blueberries on the baking sheet for at least 30 minutes and then transfer them to a freezer-safe bag or container, and date it.
This way you can have fresh (frozen) berries all year long. To use them in recipes all you have to do is take the blueberries out about an hour before you're going to make these bars! This will give them enough time to thaw.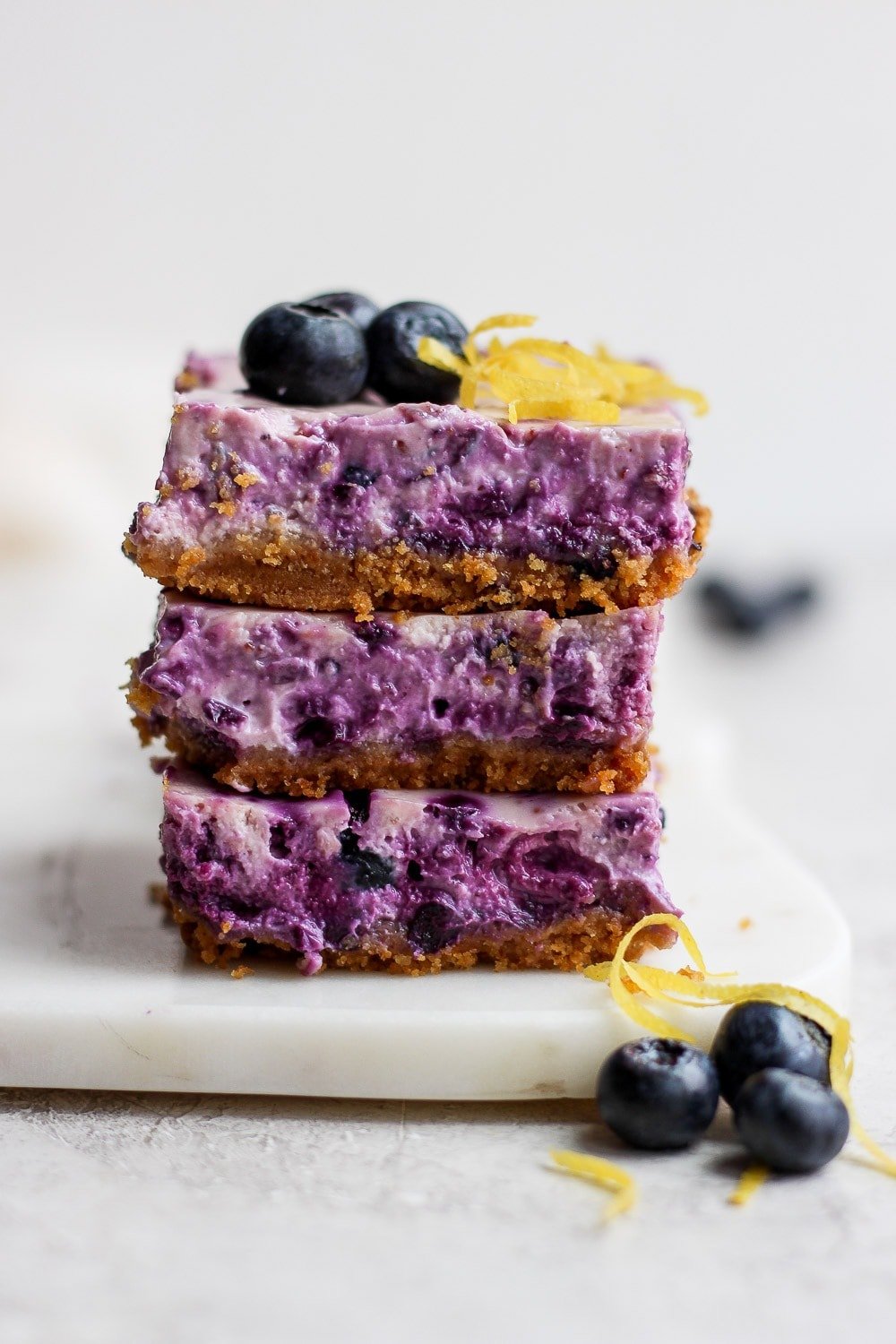 How to Store Blueberry Cheesecake Bars
These bars will keep in an airtight container in the fridge for up to 3 days. We don't recommend freezing them as the cream cheese and yogurt filling may create an undesirable texture when thawing.
Photography: photos taken in this post are by Erin from The Wooden Skillet.