These Blueberry Oatmeal Muffins are super fluffy and made with a short list of nutritious ingredients. Plus, they pack 3g of protein per muffin.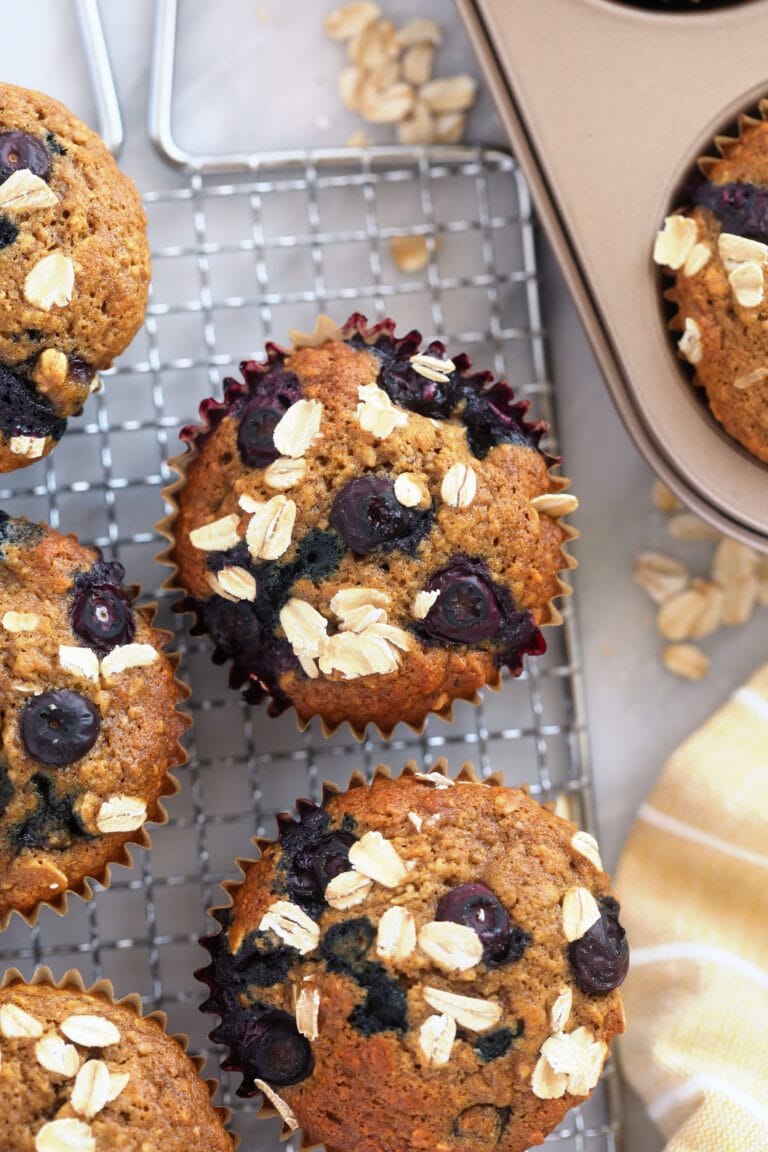 What Makes These Muffins Great
Who doesn't love a classic blueberry muffin?! We love that these blueberry oatmeal muffins are packed with healthy, accessible ingredients while still being oh-so-fluffy.
Whole Ingredients: these delicious fluffy muffins are made with 13 total Ingredients. They're lightened up with white whole wheat flour and oat flour, maple syrup, and use only 2 tablespoons of oil.
Kid-Friendly: The kids are going to absolutely gobble these muffins up! They make for a great healthy breakfast idea or even mid-day snack.
Freeze For Later: One of the best things about these muffins is that they freeze well. So, if you need to stock up on a healthy snack or breakfast, these will be your go-to!
PS: our classic oatmeal muffins are another version of this recipe and are highly liked!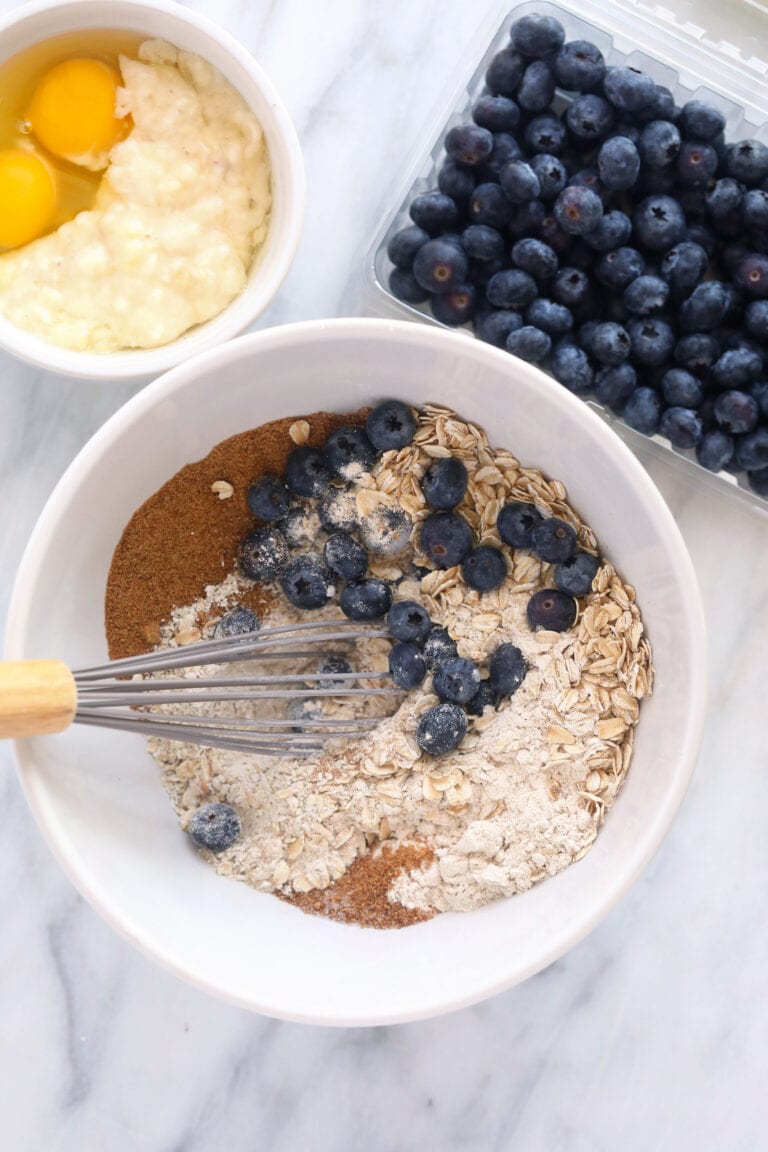 The Swaps We Made
We've made a few easy but effective healthy swaps with these blueberry oatmeal muffins! And don't you worry, you're not compromising flavor or fluffy-ness by making these swaps:
Flour: Ditch the all-purpose flour and swap it for something a little bit heartier (but still light!). For this recipe, we went with a combination of white whole wheat flour and oat flour. Pro Tip: don't have oat flour on hand? You can make your own by blending rolled oats into flour in your food processor or high-speed blender!
Sugar: Instead of white sugar, this recipe calls for a combination of coconut sugar and maple syrup. The maple syrup brings out amazingly sweet and warm flavors of oatmeal muffins!
Fat: All you need for this recipe is 2 tablespoons of coconut oil and that's it for fat! The reason this works is because we're supplementing fat with mashed banana, for a healthier and lower in fat way to get moist muffins! Pro Tip: you can also sub equal parts applesauce for mashed bananas in this recipe.
Milk: Instead of dairy milk, we used unsweetened almond milk for this recipe. But if you prefer another milk variety, go for it! Any milk will do.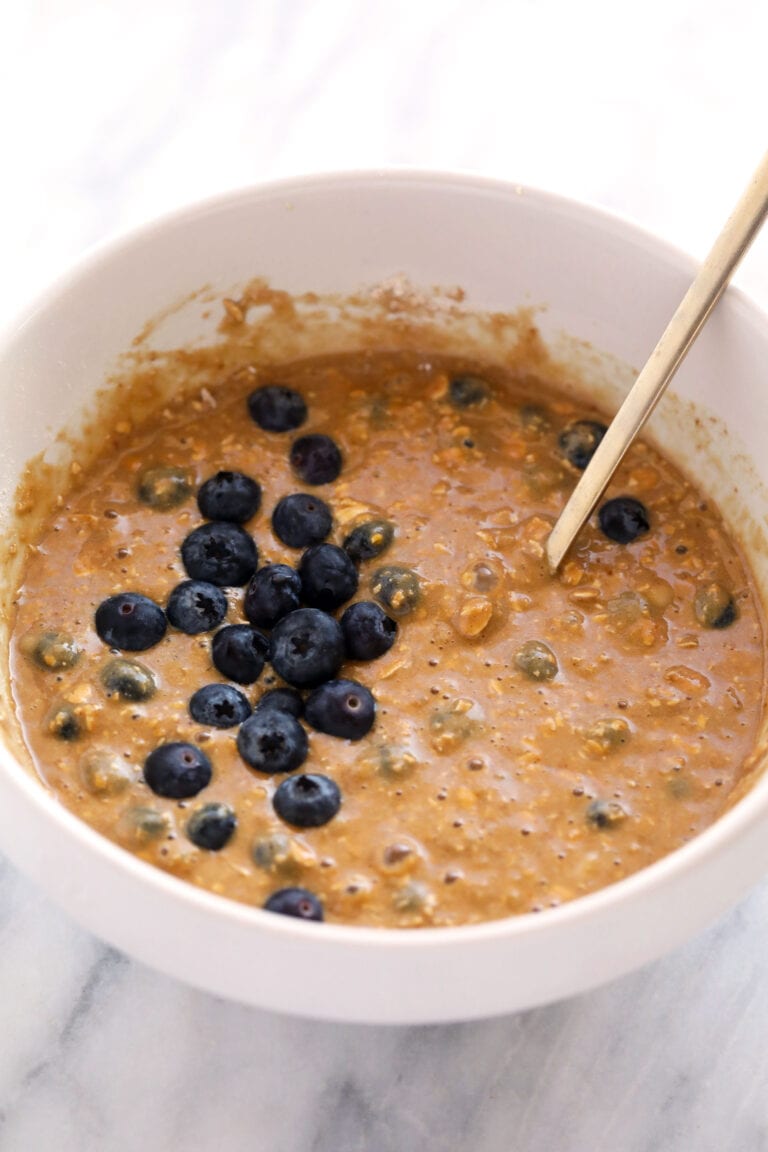 What You Need for Blueberry Oatmeal Muffins
The ingredient line-up for these blueberry oatmeal muffins is simple, healthy, and uses items you probably already have:
White whole wheat flour
Ground oat flour
Coconut sugar or light brown sugar
Baking soda and salt
Fresh or frozen blueberries
Eggs
Maple syrup
Unsweetened almond milk
Mashed banana (or unsweetened applesauce for less sugar!)
Almond extract
Melted coconut oil
Make These Your Own with Flavor Variations
Use this blueberry oatmeal muffin as a base healthy muffin recipe to really make them your own. Here are some variation ideas that we love:
Lemon Blueberry: Add about a tablespoon of lemon zest to your batter.
Blueberry White Chocolate: Add a handful of white chocolate chips to the batter, and top the completed muffins with some sea salt.
Triple Berry: If you have other berries on hand, feel free to use 1 cup of a variety of berries like blueberries, raspberries and strawberries instead of JUST blueberries.
Simple Oatmeal Muffins: Omit the blueberries and just make a classic oatmeal muffin!
Double the recipe!
Yes! If you're looking to make a large batch of these muffins to either serve a larger group or freeze for later, simply use the 2x and 3x instructions in the recipe card below.
Storage
These muffins will keep for 2-3 days in an air-tight container on the counter. Or, to extend their freshness, store in the fridge in an air-tight container for up to 5 days.
If you're hoping to freeze these muffins, you're in luck! They freeze really well, and we walk you through how to best freeze them below.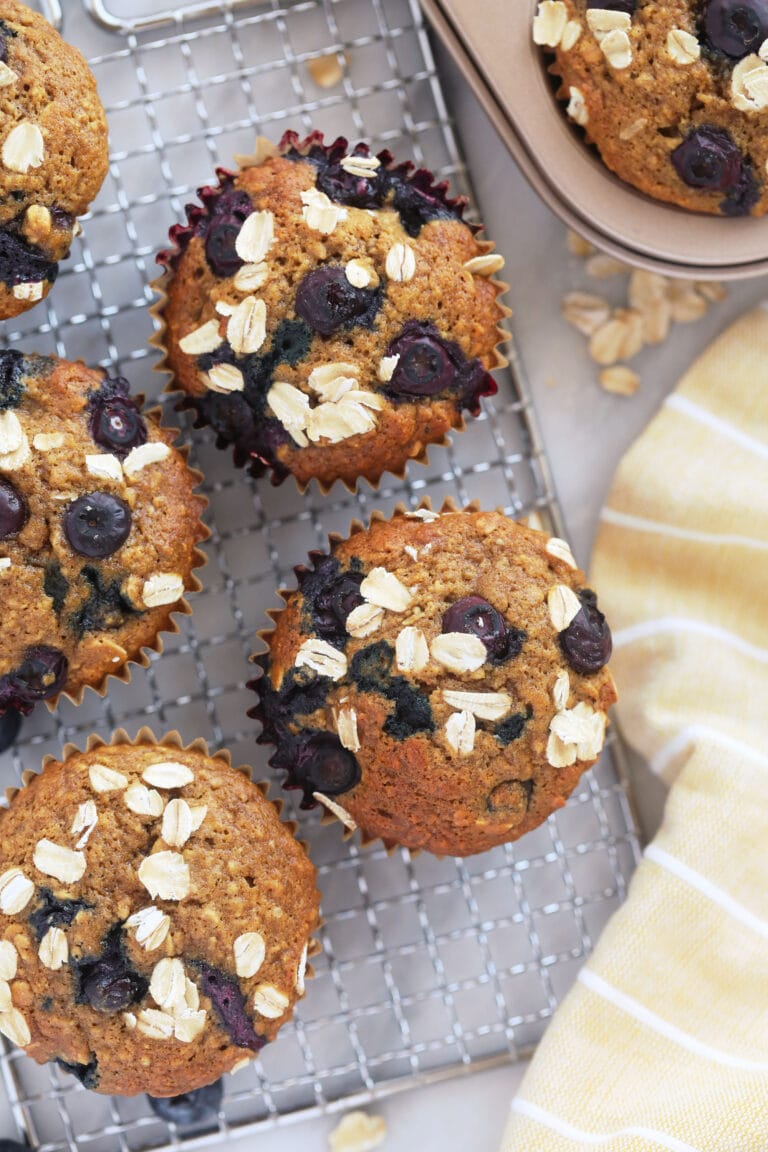 How to Freeze Muffins
If you love to have healthy muffins on hand, but don't want them to go bad, this is a great recipe to make a double or triple batch and then freeze for later enjoyment. It's super easy:
First, let your oatmeal blueberry muffins cool completely.
Then, place the muffins on a baking sheet and place the baking sheet into the freezer.
Freeze for at least 2 hours.
Once the muffins are frozen, transfer into a freezer-safe, gallon-size bag. Then, remove as much air as possible and seal.
Write "Oatmeal Blueberry Muffins" on the front of the bag along with an "eat by date" 3 months from the time you made the muffins.
To Thaw: Remove a frozen muffin from the bag. Then, let thaw on the countertop for 30 minutes OR defrost in the microwave for a few minutes, and enjoy. If you're planning to enjoy a muffin later in the day, remove from freezer and place in a Stasher bag or other to-go container, and it will fully defrost by the time you're ready to enjoy it!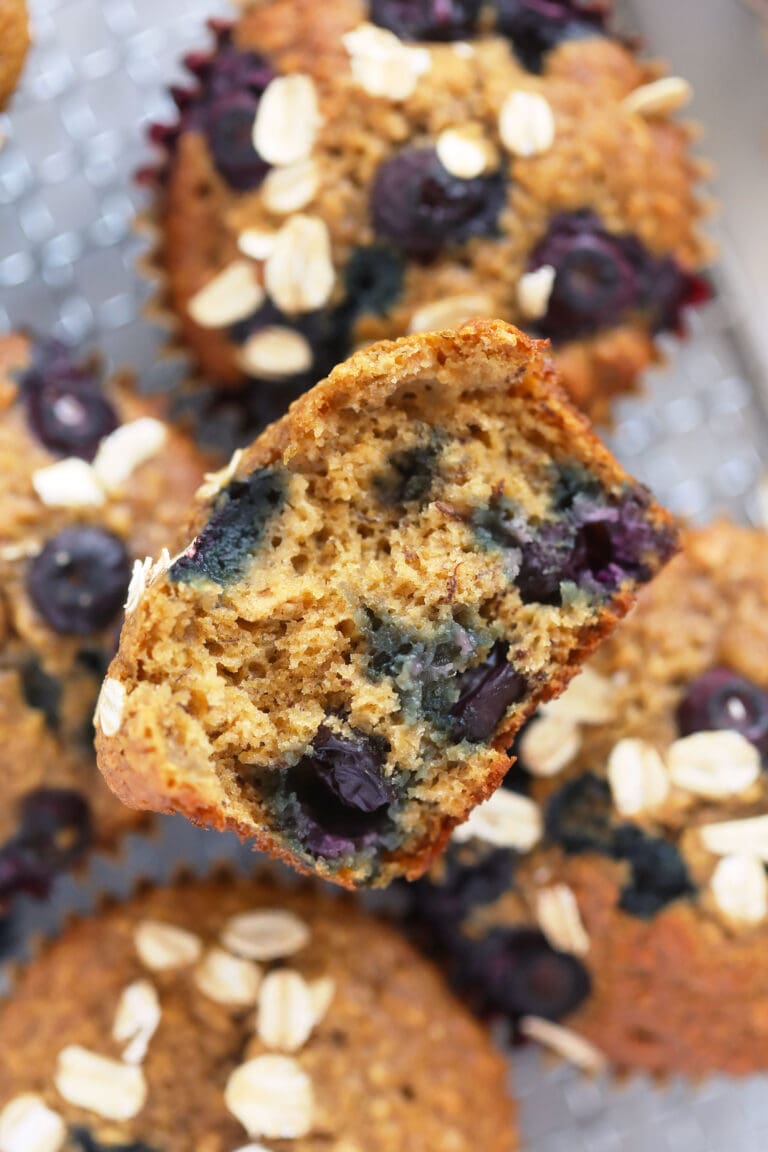 Blueberry Oatmeal Muffins
These Blueberry Oatmeal Muffins are super fluffy and made with a short list of healthy ingredients. Plus, they pack 3g of protein per muffin. Enjoy!
Prep:15 minutes minutes
Cook:20 minutes minutes
Total:35 minutes minutes
Instructions 
First, preheat oven to 350ºF and line a muffin tin with cupcake liners or spray with coconut oil cooking spray.

Place dry ingredients into a large bowl and whisk to combine.

Then, whisk eggs in a medium bowl and add maple syrup, almond milk, mashed banana, and almond extract and mix until combined.

Add wet ingredients to dry and mix until combined.

Then, add in melted coconut oil and mix again.

Transfer batter into muffin tin, filling each one around 3/4 of the way full. Then, sprinkle on more fresh blueberries, if desired, and sprinkle on some additional rolled oats.

Bake at 350ºF for 20-23 minutes or until you do the toothpick test and it comes out clean.
Nutrition facts
Calories: 162kcal Carbohydrates: 28g Protein: 3g Fat: 4g Fiber: 2g Sugar: 15g