This honey ginger quinoa kale salad is a rainbow of nutrition, packed full of colorful veggies and protein-rich quinoa and edamame, and it's all tied together with a zingy honey ginger dressing.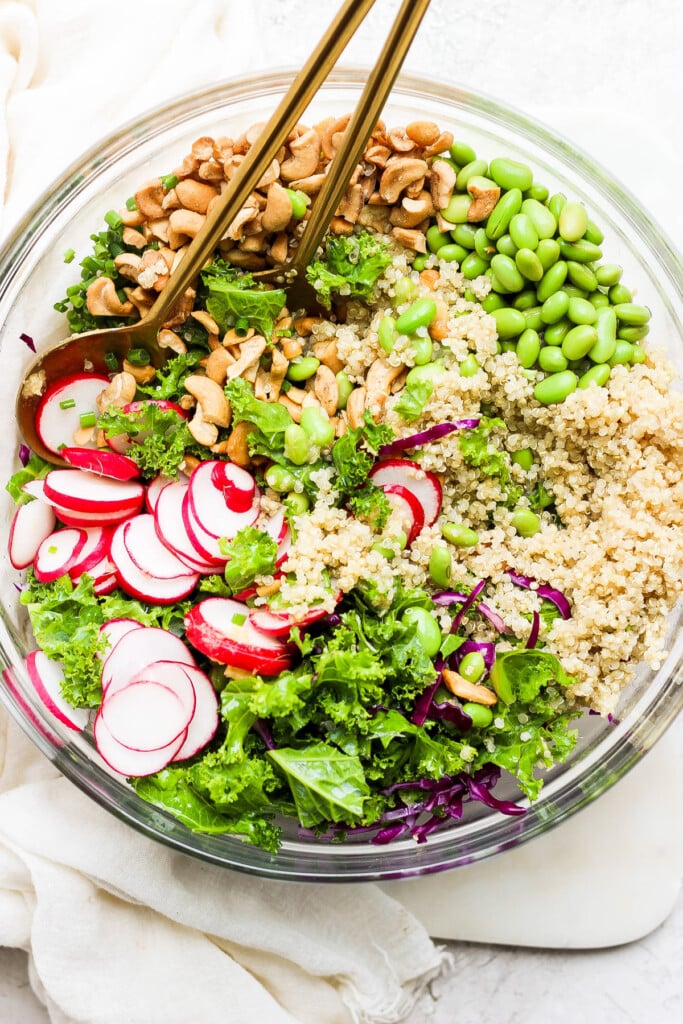 We're excited to share with you a recipe that is all about embracing fresh, healthy ingredients without sacrificing flavor – our Honey Ginger Quinoa Kale Salad. It's a team favorite this summer — we've been making it at least once a week for our families 😀
What's In This Honey Ginger Quinoa Kale Salad?
This salad starts with a lush bed of finely chopped kale, softened and enhanced by a massage with sesame and avocado oil. We add a pop of color and a delightful crunch with shredded purple cabbage.
Adding to this nutritious base, we mix in a healthy helping of cold cooked quinoa and fresh, crispy radishes. Edamame brings a dose of plant-based protein to the mix, while chopped Thai Chili Lime Cashews (or your cashew of choice!) add a pleasing crunch and a kick of flavor.
What sets this salad apart?
Our showstopper is — THE DRESSING! Made with honey, freshly grated ginger, lemon juice, and rice vinegar, it's a flavor-packed concoction that will make your taste buds dance.
It's the perfect balance of sweetness, tanginess, and a hint of spice that elevates this salad from good to "can't-stop-eating" great.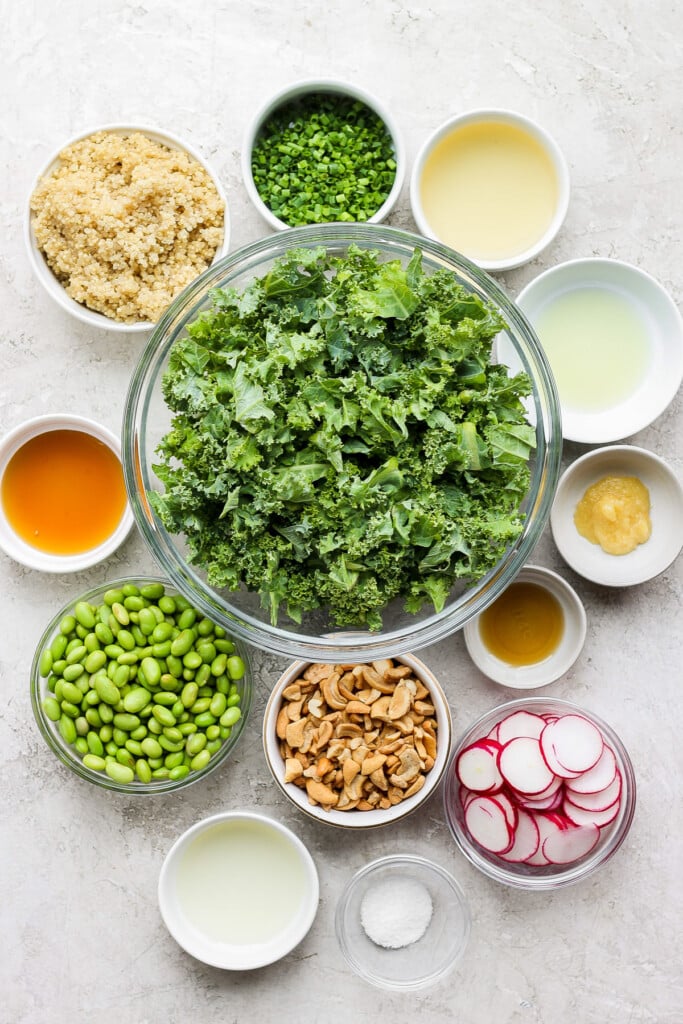 Easy Ingredient Swaps
Salads like this one are incredibly forgiving and customizable, which is great news.
Don't have kale? Swap it out for another leafy green.
Not a fan of radishes? Substitute another crunchy veggie.
Don't want to mess with shelling edamame? Use English peas!
The possibilities are endless, and the result is always delicious.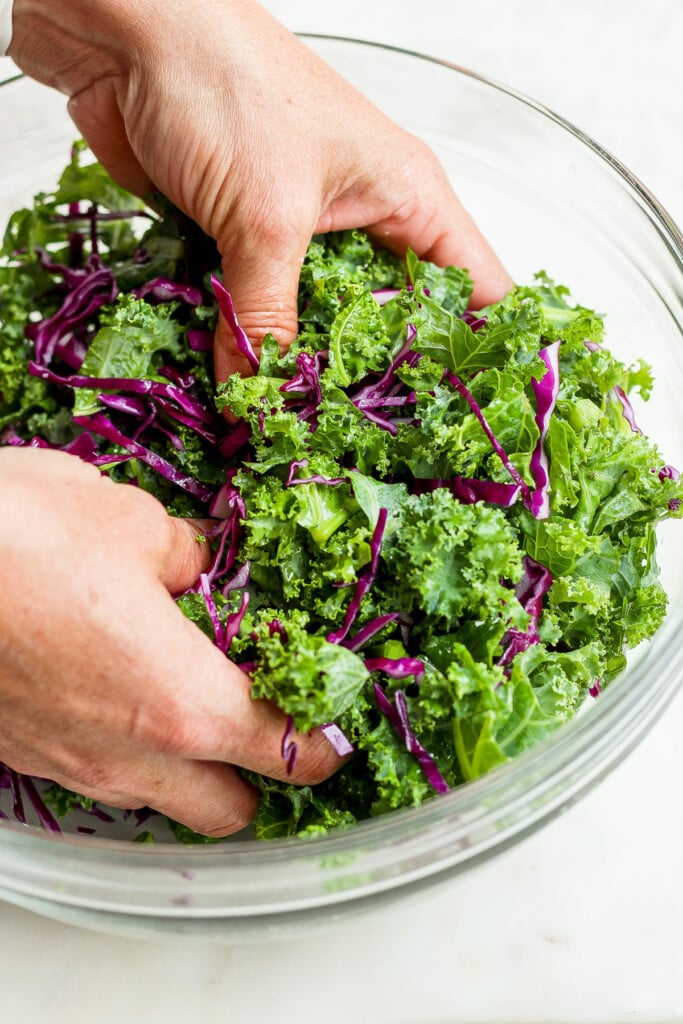 Top Tips
Prepare Ahead: Cook your quinoa and shell your edamame in advance to save on prep time. Pre-cooked quinoa and shelled edamame can usually be found in grocery stores if you're really in a pinch!
Customize Your Crunch: While we love the Thai Chili Lime Cashews from Trader Joe's, feel free to use any cashews or nuts you prefer. The key is to include that delightful crunch for texture variation.
Versatile Vinegar: We use rice vinegar in our dressing, but don't be afraid to experiment with different types of vinegar. Apple cider, white wine, or even balsamic could all offer interesting flavor variations.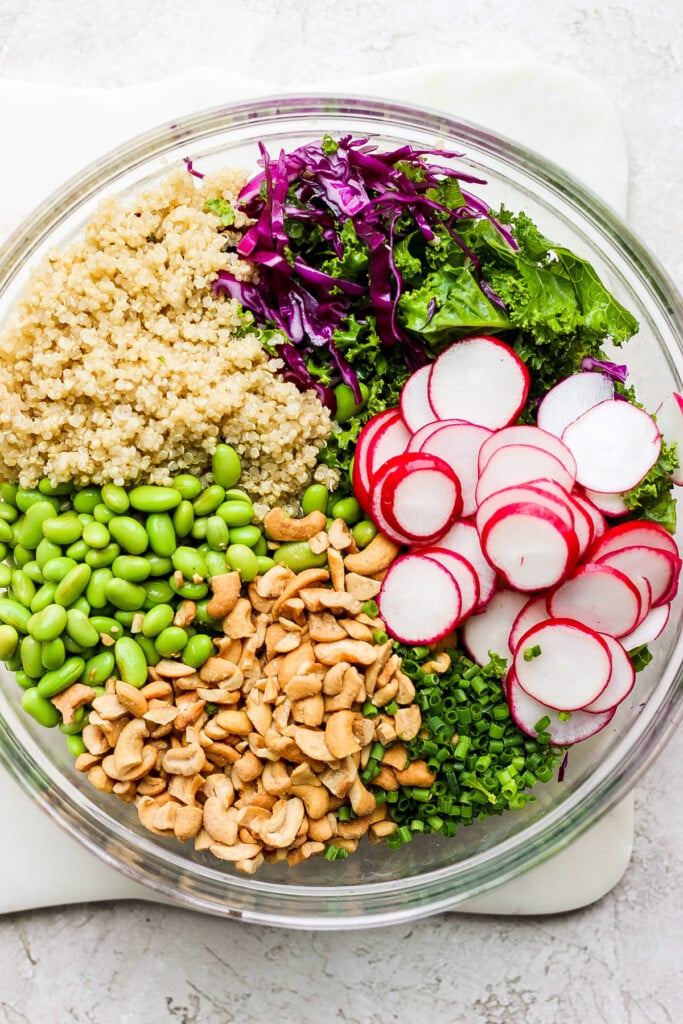 Storage
Leftovers can be stored in an airtight container in the refrigerator for up to 3-4 days. Note that the cashews may soften over time due to the moisture in the salad.
To Revive
If the salad seems a bit dry after refrigeration, consider adding a squeeze of fresh lemon or a drizzle of olive oil to revive the flavors. If you prefer crunchy cashews, consider adding them just before eating rather than mixing them into the salad beforehand.
To Prep Ahead
If you plan on eating this salad over several days, consider storing the dressing and the salad separately. This prevents the salad ingredients from becoming overly soggy. Simply dress the portion you plan to eat right before serving.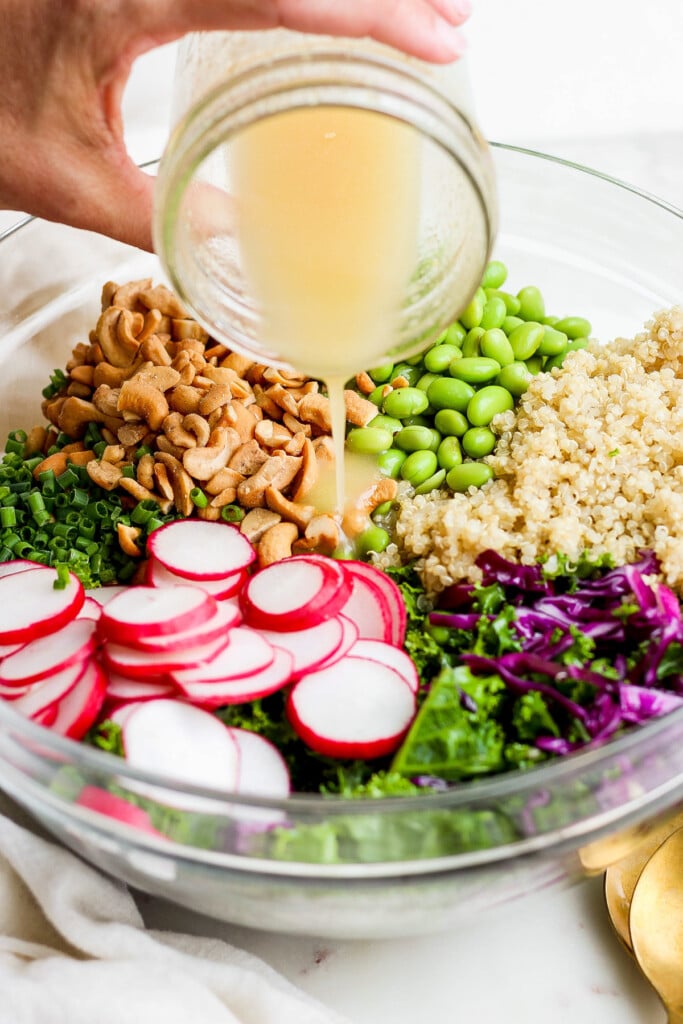 Serving Suggestions
For more delectable salad recipes, check out our Crunchy Asian Kale Salad and Easy Greek Salad. If you're keen on more quinoa delights, try our Mediterranean Quinoa Salad.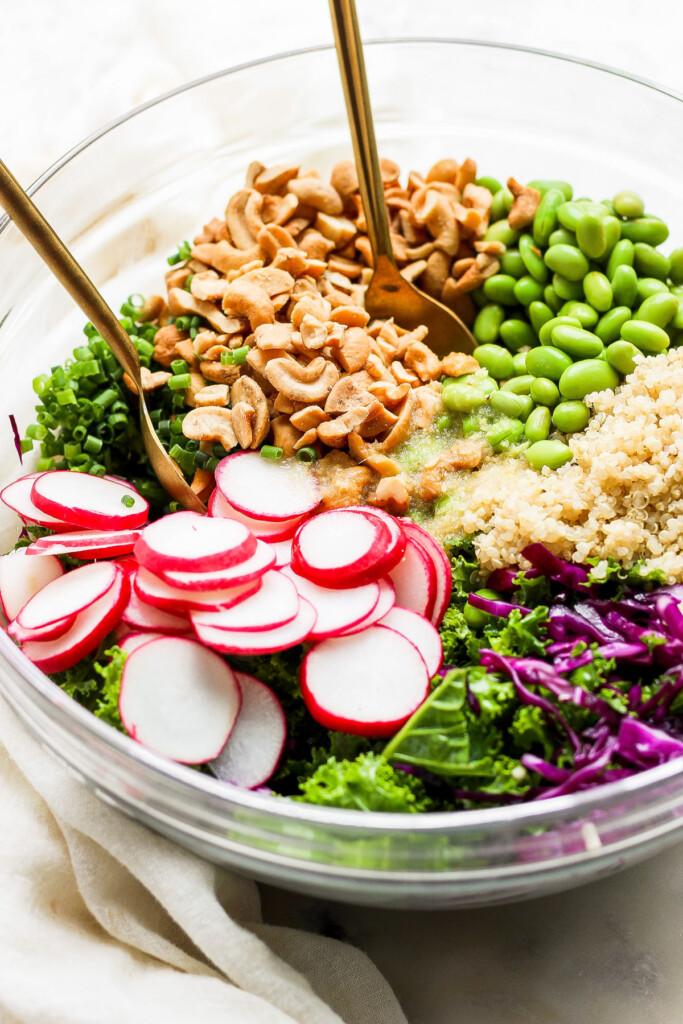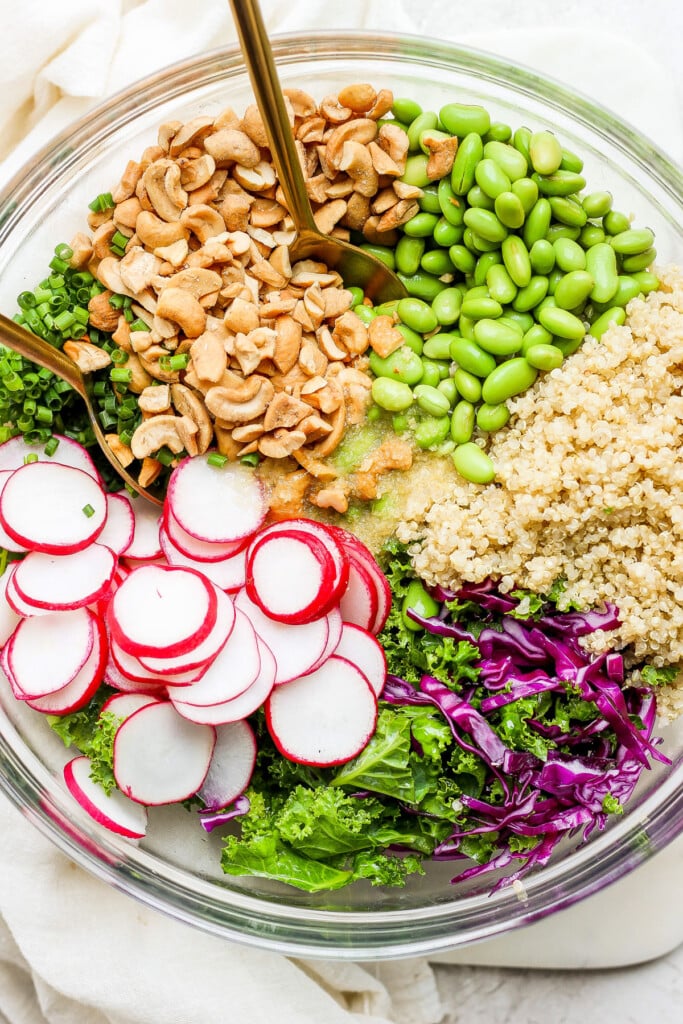 Photography: photos taken in this post are by Erin from The Wooden Skillet.