Considered a powerhouse of nutrients, Millet being gluten-free, is a favorite food of fitness enthusiasts. It comes in different varieties and is available throughout the year. Surprisingly, its coarse grains are highly rich in fiber, proteins, vitamins, and minerals. Despite its high nutritional value, millets are highly affordable and readily available everywhere. Read on to learn millets' amazing health benefits and delicious recipes too!
Prominent Types of Millets
Some of the well-known varieties of millet include:
Foxtail Millet (Kakum/Kangni) – It contains healthy carbohydrates that help balance blood sugar and regulate blood cholesterol by increasing HDL cholesterol levels. In addition, the iron and calcium present in it help strengthen immunity.
Finger Millet (Ragi) – It has a high protein content. Ragi is a healthier substitute for wheat and rice. It is the favorite pick of health-conscious people. Besides, it also aids brain development in growing kids.
Pearl Millet (Bajra) – It is rich in iron, calcium, magnesium, protein, and fiber.
Buckwheat – It is a healthy food option for diabetic people. It helps reduce blood pressure and improve cardiovascular health. Additionally, buckwheat is beneficial for people with gallstones, asthma, and breast cancer.
Little Millet – It is rich in fiber content, zinc, iron, potassium, calcium, vitamin B, and antioxidants. Also, it is a great food option for weight loss.
Millets from reputed brands such as Sagfe Harvest are pesticides-free, organic, and highly nutritious.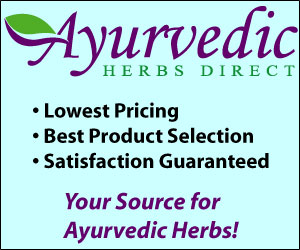 Amazing Health Benefits of Millets
Every 100 gms serving of Millet provides
378 kCal of energy
72.8 gm of carbohydrates
11 gm of proteins
8.5 gm of dietary fiber
21 % folate
29 % vitamin B6
23 % of Iron
31 % of Niacin
18 % of Zinc
76 % of Manganese
Millets are excellent for weight loss and help cope with several ailments when consumed daily. Here are some fascinating benefits of Millets:
Help fight Type-2 Diabetes – Magnesium present in millet helps in the effective digestion of starch. It also makes several other carbohydrate-digesting enzymes. Research reveals that regular consumption of millet in any form can reduce the risk of Type-2 diabetes. Complex carbs in millets also regulate the release of glucose in the bloodstream.
Have High Nutritional Content – According to research by scientists from Cornell University, millets have a high amount of antioxidants, as seen in vegetables and fruits.
Help Fight Heart Diseases – Millets contain a phytonutrient called Lignans. It is a pre-biotic fiber fermented by the bacteria present in our gut. On fermentation, it changes to enterolactone which helps the body fight against heart diseases and breast cancers.
Help Prevent Gallstones – Millets contain insoluble fibers that help prevent the formation of gallstones. A study conducted by the Canadian Society of Intestinal Research reveals a 17% reduction in the risk of gallstone surgery in people consuming more insoluble fiber.
Cure Childhood Asthma – Moreover, several studies suggest that a combination of millet grains and fish can help reduce wheezing in children.
Protect from Harmful UV Radiations – Millets are rich in Vitamins E and C that act as a natural sunscreen. Besides, millets retain moisture by hydrating the skin. Amazing to know, that regular use of millet in different forms can help reduce signs of aging and restore younger, youthful skin.
Reduce Hairfall – Regular intake of millets boosts hair growth by promoting blood circulation in the scalp.
Support Weight Loss – Millets are filling foods that lower your appetite and help reduce a couple of pounds.
Detoxify Your Body – Interestingly, regular intake of millet flushes out toxins from the body. It thereby, improves metabolism and ensures smoother bowel movements.
Delicious Millet Recipes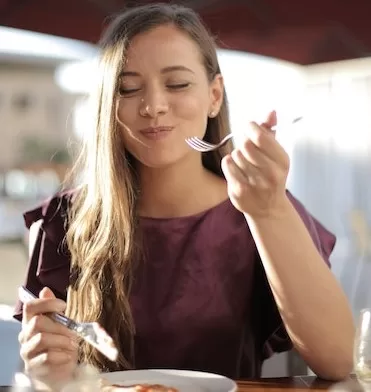 Millets are great for cooking and make your meals tastier and healthier. You can make porridge, cook healthy snacks, prepare bread and chapatis, or make yummy dosas with different varieties of millet. You can also add millet powder to regular wheat flour. Moreover, you can prepare various dishes from millet, such as idli, upma, or khichdi. Here are some super healthy and tasty millet recipes:
Ragi Pancakes
These delicious pancakes served with spiced syrup can be a healthy replacement for your usual wheat pancakes.
Ingredients –
    (For pancakes)
⅓ cup ragi flour
2 tbsp rice flour
4 tbsp jaggery powder
⅓ cup warm water
A few drops of Vanilla extract or a pinch of cardamom powder
Pinch of rock salt
2 tbsp fresh grated coconut
½ tsp poppy seeds
1 tbsp flaxseed powder
(For Syrup)
5 tbsp jaggery powder
Two 1-inch cinnamon sticks
4 cloves
½ tsp dry ginger powder (optional)
¾ cup water
Recipe –
Mix all pancake ingredients using warm water to prepare a thick batter, having a pouring consistency. Let it rest for two hours. Meanwhile, put all the ingredients for the syrup in a pan. Let them boil to get a thick syrup. Place it aside to cool. Strain the spices from the syrup before serving.
After two hours, heat a tawa, sprinkle some poppy seeds, and pour a ladle of batter. Cover and cook on a medium flame for 4-5 mins. Turn the pancake and cook for another 4 -5 minutes. Serve hot with spiced syrup and avail millet's amazing health benefits in a few minutes.
Jowar Uthappam
Try this fluffy and crisp jowar uthappam, next time you crave South Indian cuisine.
Ingredients–
½ cup jowar kernels
Half cup brown rice
½ cup urad dal
1 tbsp methi seeds
2 tbsp poha
¼ cup sliced onions
Also, ¼ cup grated carrots
¼ cup shredded cabbage
Rock salt as per taste
2 tbsp grated coconut
Two finely chopped green chilis
2 tbsp chopped coriander leaves
  Recipe –
Wash jowar, rice, and poha. Now, soak them together overnight. Also, wash urad dal and fenugreek seeds. Soak overnight. Drain excess water and grind everything to a smooth, fluffy paste. After this, add salt and mix all ingredients well.
Leave the batter undisturbed in a warm place for about 4-6 hours to allow fermentation. Stir well. Subsequently, adjust the consistency by adding enough water to make a thick batter. Add all other ingredients and mix well. Prepare uthappam as usual.
Millet Cutlets
Flavourful and healthy millet cutlets are a wholesome way to include millets in your daily diet. Even kids love to munch on them.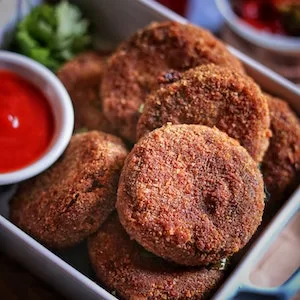 Ingredients –
½ cup foxtail millet (or little millet)
2 boiled potato
3 tbsp finely chopped green chilies
1 tbsp black pepper
4 cloves
1 pod cardamom
½ cup grated coconut
1 tbsp grated ginger
Rock salt as per taste
2 tbsp finely chopped coriander leaves
1 finely chopped onion
1 tbsp raisins
One tbsp poppy seeds
Recipe –
Firstly, wash and soak foxtail millet for two hours. Now, put them in a pan. Add 1 ½ cup water and cook until soft. Add pepper, cloves, and cardamom in a mortar and pestle to coarsely grind them. Now, grate and mix boiled potatoes with boiled millet. Add salt, green chilies, and other ground spices. Then, knead everything together to make a pliable dough.
Subsequently, divide the dough into equal parts. Prepare the stuffing by blending grated coconut, green chilies, and grated ginger. Add coriander leaves, onions, raisins, poppy seeds, and rock salt. Now, prepare cutlets with filling into your desired shape. Now, shallow fry on both sides until they turn brown and crisp. Serve with sauce or your favorite dip.
Hope this post helped you and you will avail Millet's amazing health benefits!
Also read-
Top 10 Vegetarian Sources of Protein
References-
https://possible.in/millet-weight-loss-recipes-health-benefits-side-effects.html
https://indianexpress.com/article/lifestyle/food-wine/cook-up-new-ideas-in-your-kitchen-try-finger-licking-finger-millet-pancake-pizza-6290921/
https://stylesatlife.com/articles/millet-benefits/
https://everydaynourishingfoods.com/