Chicken parmesan quinoa casserole is exactly what it sounds like. Juicy, cheesy chicken parmesan on top of a quinoa marinara base!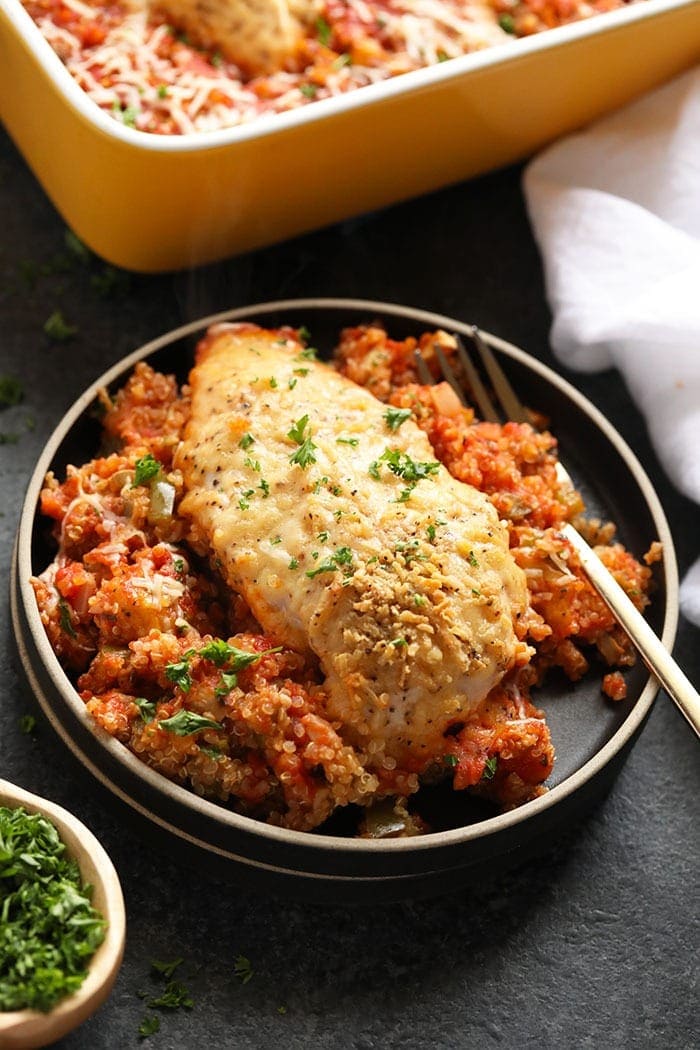 Each time I make this quinoa casserole recipe, it gets better and better. I love that this easy meal requires only one pot and is packed with so much protein (thank you chicken and quinoa).
The base of this dish tastes just like spaghetti but is made without noodles and quinoa instead. It packs in tons of veggies – mushrooms, onion, green pepper, and quinoa. Then, on top, is simple and flavorful parmesan chicken.
What you Need for Chicken Parmesan Quinoa Casserole
In this mouth-watering quinoa bake, we combine quinoa, diced green pepper, mushrooms, and finely diced yellow onion as the base.
The sauce is a mixture of marinara, chicken broth, and minced garlic which provides a robust base for the parmesan-coated chicken breast that sits on top.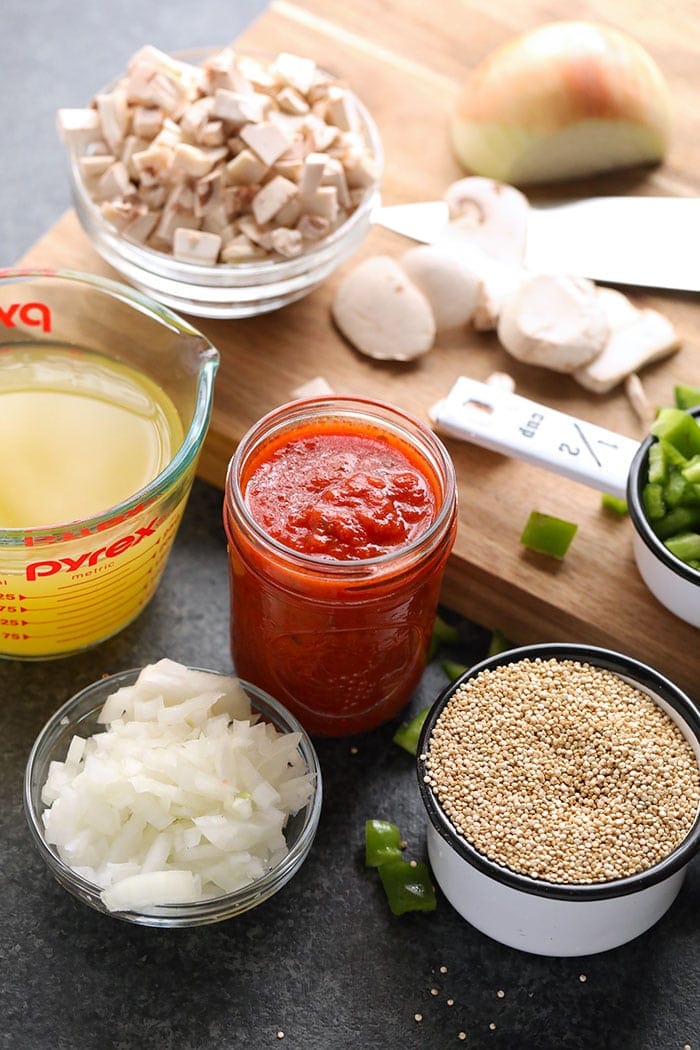 Quinoa Casserole Variations
Vegetarian Friendly: Replace chicken with sliced eggplant; the cooking time remains the same for that fluffy quinoa.
Gluten-Free: Opt for a gluten-free flour for the parmesan coating.
Cheese Variety: Swap shredded parmesan for a mix of parmesan and mozzarella for a gooey twist.
Add More Veggies: Feel free to add whatever veggies you have on hand into the quinoa base. Try broccoli, zucchini, or peas.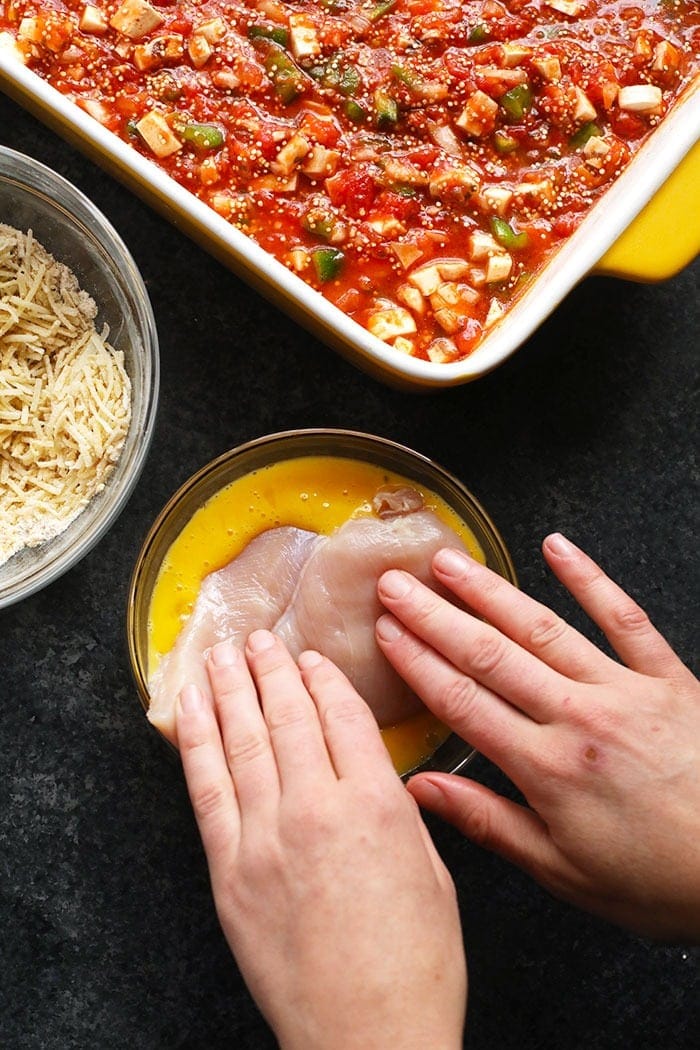 FAQ
Can I use a different grain?

Yes, but we have not tested any other grains. Rice could give you a similar outcome with the ratio to liquid.
How do I make it spicier?

Add red pepper flakes to the marinara sauce.
Can I use store-bought marinara?

Absolutely, though homemade is always a flavorful upgrade.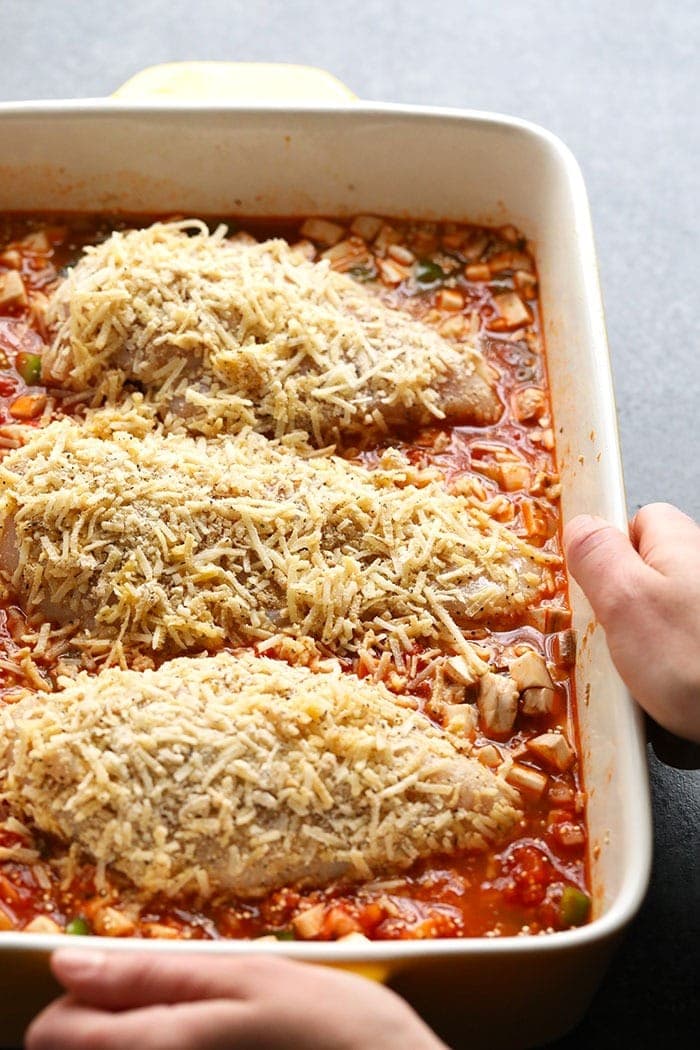 Storage
Store any leftovers in an airtight container in the fridge for up to 3 days. If you're freezing it, make sure to thaw it completely in the fridge before reheating. Casseroles like this one actually improve in flavor over time!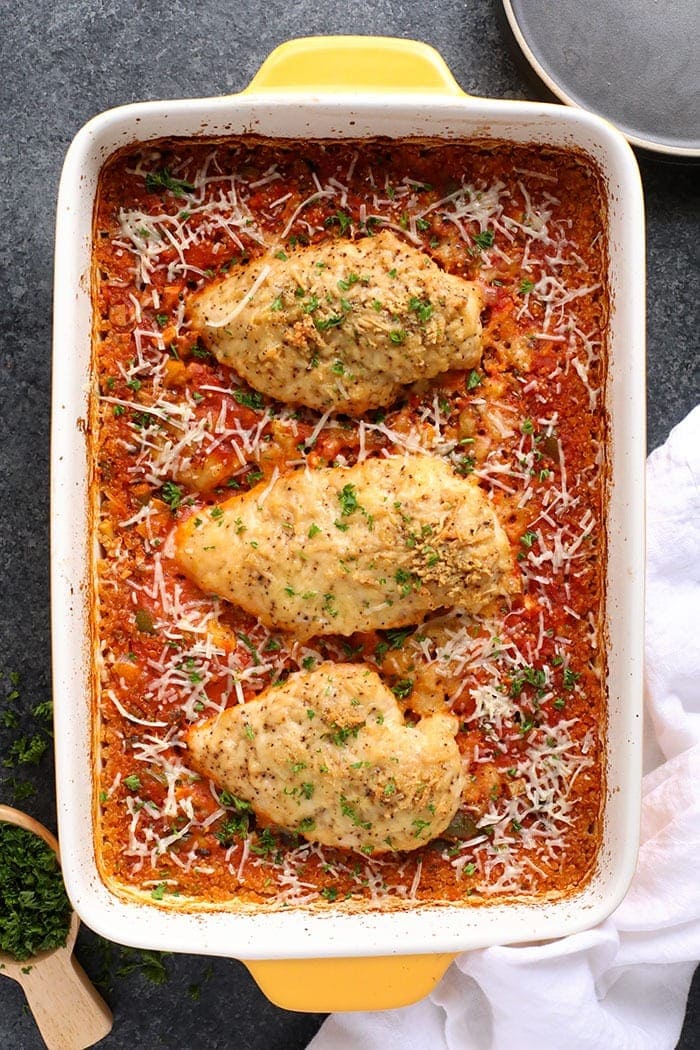 Serving Suggestions
Pair this casserole with a crisp, green salad to round out the meal.
A sprinkle of fresh basil or a dash of red pepper flakes can add a burst of color and flavor just before serving.
Instructions 
Preheat oven to 375ºF and spray a 14-inch x 10-inch (OR 9-inch x 12-inch) ceramic casserole dish with cooking spray.

Prep veggies by dicing a whole green pepper and 1.5 cups of mushrooms. Finely dice 1/2 a yellow onion.

Place 1 cup of uncooked quinoa on the bottom of your casserole dish and then layer on veggies. Add 3 cups of marinara sauce, 1 cup of chicken broth, and a tablespoon of minced garlic to the casserole dish and mix everything together. Set aside.

In a medium-size bowl, mix together flour, shredded parmesan, and garlic powder. Then, crack an egg into a small bowl and whisk.

Prep chicken breast by dipping into the egg and then into the parmesan mixture making sure everything is generously coated. Place chicken breast on top of quinoa mixture

Finally, sprinkle on the leftover parmesan mixture and even more cheese if you desire. Season with salt and pepper, to taste.

Cover baking dish with tinfoil and then bake at 375ºF 40 minutes. Then, uncover the baking dish and bake for an additional 20 minutes or until quinoa is fully cooked.
Tips & Notes
If you are making this recipe, a ceramic casserole dish is going to be your best bet. Ceramic dishes heat your food much hotter than a classic cake pan, so do note this with bake time! PS: here's the one we have.
Vegetarian option: we also tested this recipe with eggplant and it was delicious. Just slice your eggplant, hot dog-style, and follow the directions just like the chicken. You will still need to bake for the full 60 minutes because that's how long the quinoa will take to fluff.
Nutrition facts
Calories: 353kcal Carbohydrates: 32g Protein: 31g Fat: 9g Fiber: 3g Sugar: 9g