Fall is here and we are in full swing of delicious, cozy dinners! This month's cooking club recipe is in honor of our favorite fall meal, chili, and game day; Street Corn Chicken Chili. Street Corn Chicken Chili is a perfect game-day meal or easy weeknight dinner. Perfect for all of our cooking club lovers!
What is Fit Foodie Cooking Club?
The Fit Foodie Cooking Club is a monthly cooking challenge to get you in the kitchen cooking from scratch!
We thought there was no better way to bring our virtual community together than to all make the same recipe each month to celebrate real food.
October 2023 – The Details
Read the below details VERY carefully as we want to make sure your entry counts! If you have questions, please leave them in the comments of this post.
Recipe of the Month: Street Corn Chicken Chili
This street corn chicken chili was developed out of our love for all things street corn inspired and our favorite chili recipe. You simmer chicken in a flavorful broth and add Greek yogurt to cream it up. Lastly, you top the chili with all kinds of street corn toppings.
We highly recommend making this recipe for a group of your favorite people and serving it with tortilla chips (they are much better than a spoon..ha!).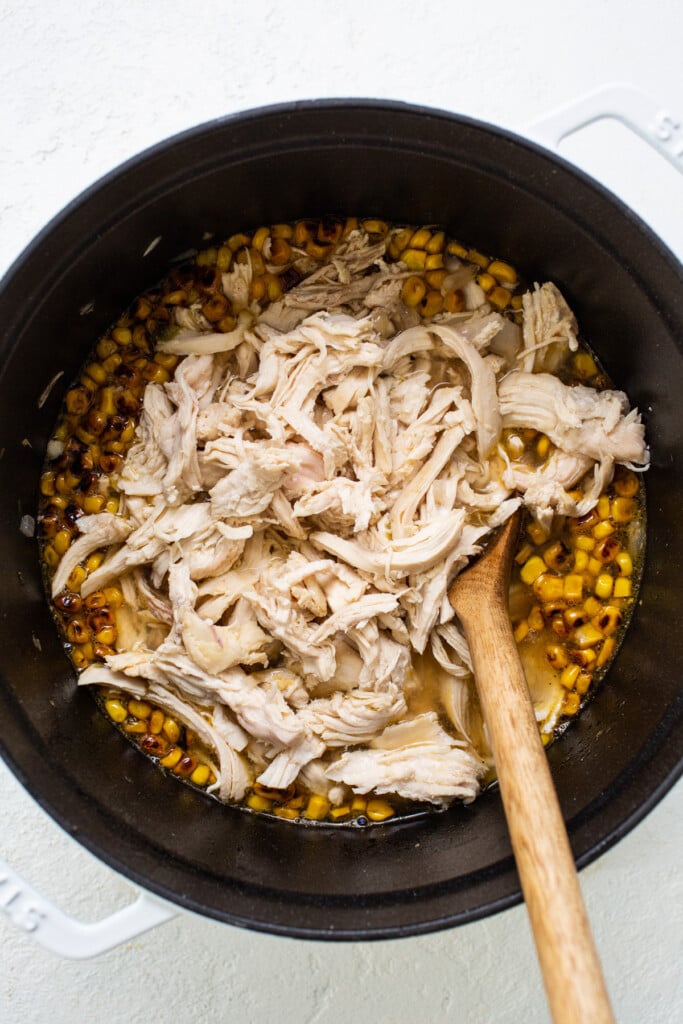 All About Street Corn Chicken Chili
What You'll Need
You will need a large stock pot to simmer all of the ingredients together. The broth is. made with jalapenos, onion, garlic, and boiled chicken. We added lots of browned corn, beans, and a delicious street corn topping to bring it all together.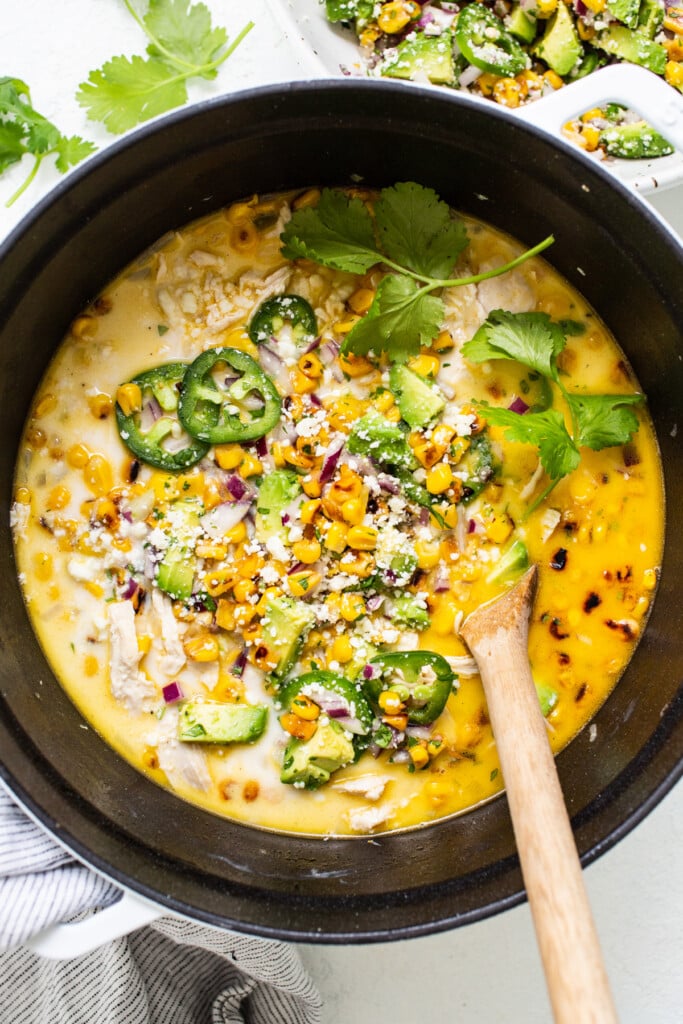 Tools You'll Need
A few tips
If you like a spicier chili, keep the seeds in the jalapeno. Keep the seeds out if spicy isn't for you.
If you are in a time crunch, you can skip step #5 of browning the corn. Personally, we li 
The longer you let the chili sit, the thicker it will become.
How to Enter
Now that you know how to make the recipe, it's time to submit your creation!
Go to the Street Corn Chicken Chili post.
Make the recipe and snap a photo of it.
Leave a comment on the Street Corn Chicken Chili blog post with a photo of your creation letting people know how it went. We'd love a star rating, but it's not required. Make sure to leave your name and email in the comment form because this is how we'll contact the winners!
join the fit foodie cooking club on facebook!
Join in on the Fit Foodie Facebook fun and become a member of our FREE Facebook Group. The Fit Foodie Cooking Club group on Facebook is a way to share your cooking creations and make new like-minded friends online.
Important Dates
Tuesday, October 10th, 2023 – the first day you are eligible to submit an entry.
Tuesday, October 31th, 2023 – the last day to submit your photo and comment.
Wednesday, November 1st, 2023 – the winners will be randomly selected and announced in this blog post and on social media.
The Prize
2 participants will each win a $100 lululemon gift card. The selection will be random and based on comments that are received between October 2nd and October 30th, 2023.
Winners will be announced on the last Tuesday of the month (October, 30th 2023) via social media and blog post.
Charity of the Month
Each month we select a charity to support. This month we are supporting the National Alliance to End Homelessness. Homelessness can happen to families of all kinds. Natural disasters, conflict, poverty, and mental illness are only some reasons why people face homelessness. Let's support the National Alliance in their efforts to end homelessness.
We'll be doubling the match from our giveaway winners to donate $400 to the National Alliance to End Homelessness to aid in their efforts.
Donate
We would love for you to support our monthly charity and donate what you can.
If you feel so inclined, please donate to the National Alliance to End Homelessness.