Whether you're a seasoned parent, a new parent, or just a person who wants a backpack that "just makes sense," lululemon's Diaper Bag AKA New Parent Backpack is a 10/10 bag.
As a new mom who has tried a handful of diaper bags for both everyday kid usage and travel, I can tell you that lululemon's New Parent Backpack is at the very top of my list. Not only is it extremely comfortable and sleek-looking (it comes in 3 colors!), but this diaper bag was impeccably designed for the busy parent who carries around a lot of stuff, and I mean a lot things.
I'll get straight to the point. What makes this better than other diaper bags? In addition to including a changing pad, this bag actually includes a smaller, crossbody bag inside making trips to the bathroom super simple. Plus, the size is perfect and there are so many pockets on the inside and out that you have room for EVERYthing.
Top lululemon Diaper Bag Features
Both Emily and I have been using this bag since it came out in early 2023 and this New Parent Bag review is based on our personal experience with it. When I tell you we've used this bag every single day since the day we bought them, I mean it!
Price: it's priced at $198 (+ free shipping!) and worth every penny.
2 bags in one: Not only do you get the diaper bag itself, but it also comes with a smaller crossbody bag that perfectly fits a diaper and wipes. BONUS: I've also used the smaller bag as a normal, everyday purse, which really gives you your bang for your buck.
Includes a changing pad: the fact that the New Parent Backpack includes a changing pad means I don't have to buy an extra one!
2 exterior bottle pockets: I always carry extra bottles and water bottles around with me and I love that this bag has 2 specific spots for bottles that are big enough for a water bottle.
Multiple interior pockets: I love that the inside of this bag is one large compartment outlined with smaller mesh pockets. I use these pockets for snacks and different baby products such as lotion, butt cream, and SPF.
Stroller/luggage strap: this feature doesn't go unnoticed! We travel a lot and it came in handy at the airport when I had to carry my son's car seat on my back. I just strapped it right to our luggage and was good to go!
Adjustable straps: like the rest of lululemon's backpacks, the straps are adjustable, so it fits a range of body types.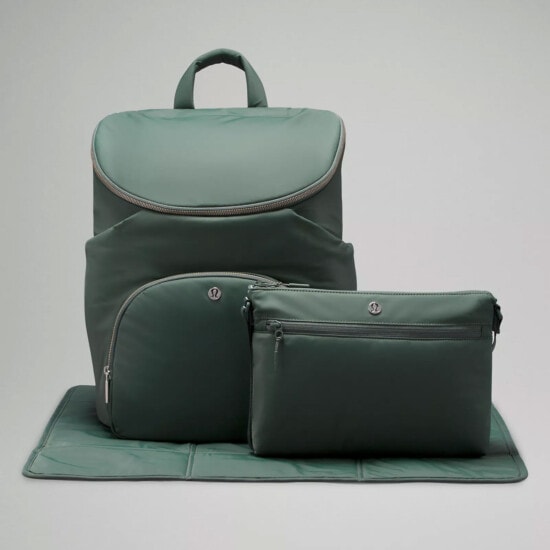 lululemon
New Parent Backpack
This is the perfect diaper bag for busy parents who carry around a lot of "stuff." It's the perfect size and has all of the compartments you need.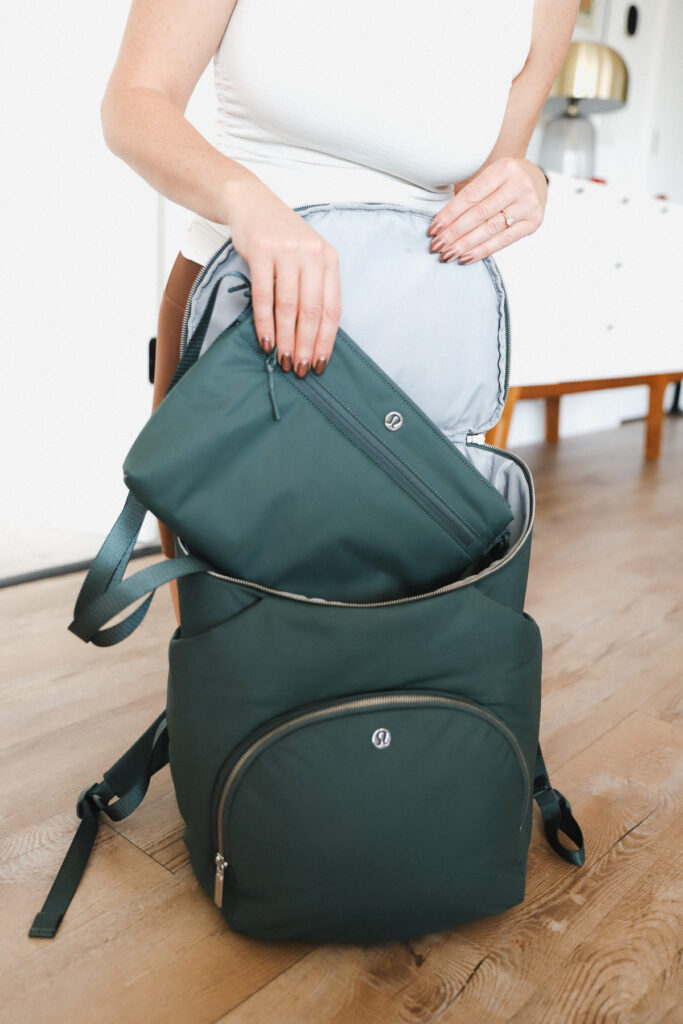 Other Amazing Features
Water-repellent: living in the Midwest, having a bag that is water-repellent is essential. We got caught in the rain on a hike and the fabric did its job to protect everything inside.
Comes in 3 colors: right now you can find the New Parent Backpack in 3 colors. I have dark forest, Emily has black, and it also comes in asphalt grey.
Multi-purpose: There is a large pocket on the inside that fits the changing pad that I have used for my laptop, which makes this bag extremely versatile and perfect for someone who doesn't want to use it as a diaper bag.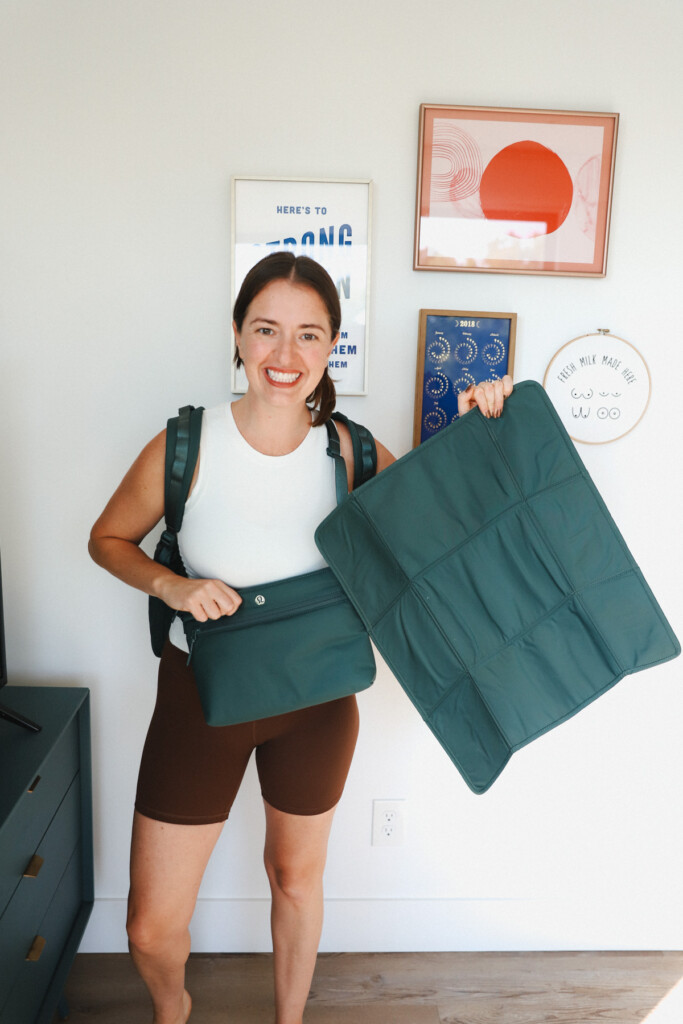 Disclaimer: This post is sponsored by lululemon. We were compensated and all opinions are our own. Thank you for supporting Fit Foodie Finds!