This crispy air fryer brussels sprout salad is the perfect side dish for the fall season. We used the magic of the air fryer to give the brussels sprouts a delicious, crispy texture and paired them with an irresistibly creamy maple dijon dressing to take it to the top!

Cooking brussels sprouts in the fall is basically a right of passage. Especially when you get them extra crispy and toss them with almonds, raisins, and the most incredible maple dijon dressing.
So, how do we make this delicious side dish? In the air fryer! This will make things super quick and easy. Air fry your chopped brussels sprouts until crispy and then create a tin foil boat to toast the almonds. Then, toss them together with golden raisins, parmesan, and the most amazing maple dijon dressing.
When testing this recipe our #1 goal was –> CRISPY brussels sprouts. And, that's where the air fryer came in. We also wanted to make sure everything could be made in 1 dish –> the air fryer, so that's why we created a tin foil boat for the almonds.
What You Need for Air Fryer Brussel Sprout Salad
Red onion: a small red onion will do. It'll add tons of flavor.
White wine vinegar: this is a great way to add a touch of acidity to the dish.
Brussel sprouts: we used 2 pounds of raw brussels sprouts for this recipe.
Slivered almonds: this gives the salad a nice nutty flavor and crunch.
Maple syrup: the star ingredient of this recipe. Don't skip it!
Golden raisins: if you don't pair raisins and brussels sprouts, is it even fall?
Parmesan cheese: gives this simple side dish a kick of flavor.
Air fryer: air frying your brussels sprouts will ensure they get perfect crispy leaves.
Get our Top 10 5-Star Recipes!
Join our email list for new recipes and BONUS: get our top 10 ⭐️⭐️⭐️⭐️⭐️ recipes e-book!
Variations and Substitutions
Red onion: You can replace the red onion with white onion or chopped green onions if you'd like.
White wine vinegar: Rice vinegar would taste just as great as white wine vinegar.
Almonds: Swap out the almonds for pecans or walnuts for a slightly different taste.
​Golden raisins: You're welcome to use regular raisins or red raisins instead.
FAQ
Why won't my brussels sprouts get crispy?

If you find that your brussels sprouts are not getting crispy, it is likely due to overcrowding the pan. When too many Brussels sprouts are in the pan, they tend to steam instead of roast, as there isn't enough air circulation. This can result in a soft texture that lacks crispness.
Can I make this brussels sprouts salad ahead of time?

Of course! However, we recommend that you wait to add the dressing and Parmesan until ready to serve. That way, the Brussels sprouts won't get soggy.
Storage + Freezer Directions
Store any leftover crispy air fryer brussels sprout salad in an airtight container in the fridge for up to 4 days. For best results, store the creamy maple dressing and salad separately. 
Latest Air Fryer Recipes
Air Fryer Fish Tacos
These air fryer fish tacos make for an easy dinner that the whole family will love! The flaky white fish…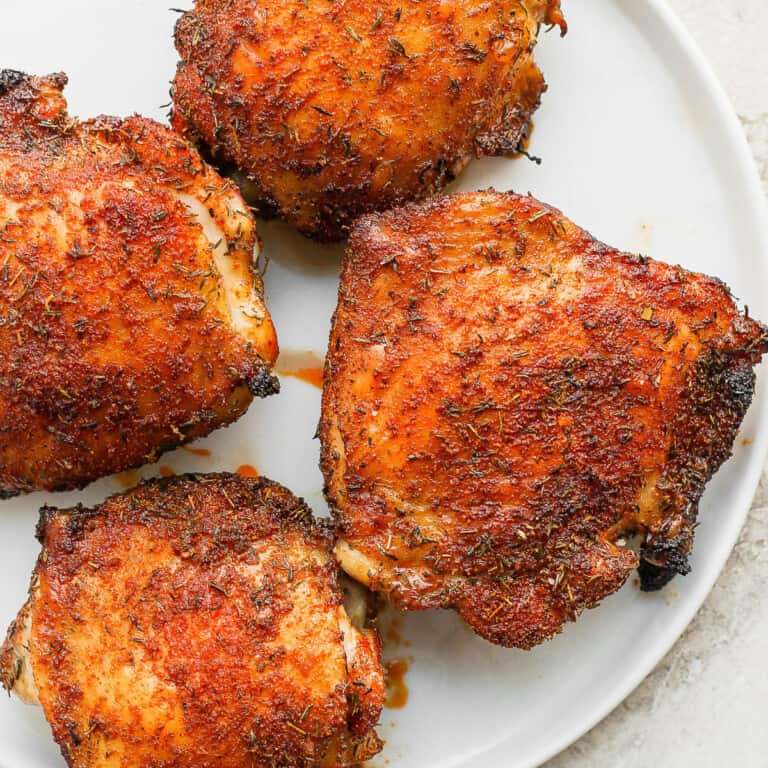 Air Fryer Chicken Thighs
This air fryer chicken thighs recipe will get you super crispy chicken without deep frying! Dry rub your chicken thighs…
Serving Suggestions
There are so many delicious fall dishes that would taste amazing with these crispy air fryer brussels sprouts salad. 
From main courses like this Crock Pot Pork Roast and Smoked Turkey Legs to other great side dishes like our Perfect Roasted Sweet Potatoes, Crockpot Mashed Potatoes, and Healthy Green Bean Casserole, all your fall cravings will be more than satisfied.You know what also goes great with salad? Soup! Get your autumn soup fix with this Roasted Butternut Squash Soup or Split Pea Soup with Ham. Mmm… cozy.
Crispy Air Fryer Brussel Sprout Salad with Maple Dijon Dressing
This crispy air fryer brussels sprout salad with creamy maple dressing combines crispy air fryer brussels sprouts with raisins and a creamy maple dressing for a delicious fall dish.
Prep:30 minutes minutes
Cook:15 minutes minutes
Total:45 minutes minutes
Fat 13
Carbs 30
Protein 9
Ingredients
½

onion red onion

minced

2

tablespoons

white wine vinegar or rice vinegar

¾

teaspoon

sea salt

separated

2

lbs.

brussel sprouts

sliced lengthwise and then chopped, keeping the stump intact

2

tablespoons

avocado oil

½

cup

slivered almonds

1.5

tablespoons

maple syrup

1

teaspoon

poppy seeds

¼

teaspoon

flakey sea salt

⅓

cup

golden raisins

¼

cup

freshly grated parmesan cheese
Instructions 
Preheat the air fryer to 400ºF and coat the air fryer basket with 1 teaspoon of avocado oil.

Add the red onion to a bowl and toss with vinegar and ¼ teaspoon of salt. Set aside for later.

In a large bowl, toss the Brussels sprouts with 2 tablespoons of avocado oil and ½ teaspoon of salt. Transfer the brussels sprouts to the air fryer basket. Depending on the size of the air fryer, you may need to cook the brussels sprouts in two batches. We have an XL air fryer, so we were able to add all of the brussels sprouts (about 2 layers). Smaller air fryers may need two batches to get the brussels sprouts crispy.

Cook for 7 minutes and then toss. Continue cooking for 5-7 minutes or until the brussels sprouts are brown and crispy. Remove from the air fryer to rest.

Line the air fryer with a silicone liner or a tin foil bowl. Add the almonds and toss them with maple syrup, poppy seeds, and flakey sea salt until coated.

Cook the almonds for 5-7 minutes, tossing every few minutes. The almonds should be golden brown.* Remove the almonds from the air fryer.

Add the brussels sprouts, golden raisins, red onions (plus vinegar), and almonds to a bowl and toss.

Add all of the ingredients for the dressing to a mason jar. Shake the ingredients together until combined.

Pour half of the dressing over the salad and toss. Adjust the amount of dressing based on your desired taste.

Top with parmesan cheese and enjoy.
Tips & Notes
The cooking time for the almonds may vary based on what type of air fryer is used.
The red onion can be replaced with white onion or chopped green onions.
Nutrition facts
Calories: 253kcal Carbohydrates: 30g Protein: 9g Fat: 13g Fiber: 8g Sugar: 15g