This high-protein pumpkin cheesecake is a delicious fall treat that packs a high protein punch. We substituted cottage cheese for cream cheese in our cheesecake for a healthier option that (dare we say) is even better in taste compared to traditional cheesecake?! Plus, it has a brown sugar swiss meringue. I mean, come on.
The cottage cheese craze is here to stay and we're so excited to introduce you to this high-protein pumpkin cheesecake recipe because, yes, it's made with cottage cheese (no cream cheese involved!) and has 12g protein/serving.
In addition to cottage cheese, it's made with classic cheesecake ingredients and a basic graham cracker crust. We tested this recipe a handful of times and found a few important steps you don't want to miss:
Make sure to fully whip the cottage cheese to insure no lumps.
Bake the cheesecake in a water bath so that it steams and bakes evenly. We found that if you skip this step, your cheesecake will likely crack.
Let the cheesecake fully chill and set before slicing. If you don't let it set, the cheesecake will be too warm to slice.
What You Need for Cottage Cheese Pumpkin Cheesecake?
Graham cracker sheets: a classic cheesecake crust that goes excellently with the pumpkin flavor.
Cottage cheese: the secret ingredient of this recipe, cottage cheese makes this cheesecake high-protein and super rich and creamy.
Unsweetened pumpkin puree: we used real pumpkin to give this cheesecake that authentic pumpkin flavor.
Maple syrup: maple syrup and pumpkin go hand in hand. Fall flavors unite!
Pumpkin pie spice: pumpkin pie spice takes the pumpkin flavors to a whole new level.
Kitchen Tools Needed
9-inch spring form pan: make sure you have the correct sized pan for even cooking. We also tested this in a normal 9-inch circular pan and it's definitely important you use a spring-form so that it removes out of the pan easily.
High-speed food processor: this will ensure that your graham cracker crust and cheesecake filling have the perfect texture.
Stand mixer: you'll need a stand mixer to make your brown sugar swiss meringue.
Kitchen torch: this is totally optional, but it adds the perfect finishing touch to the presentation of your cheesecake.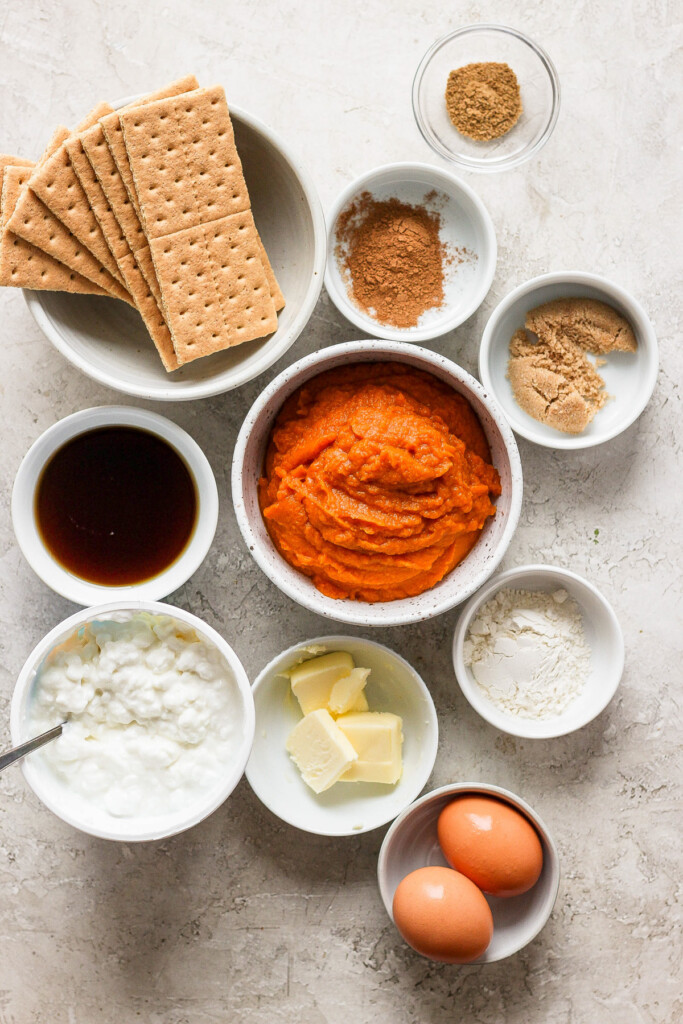 Variations and Substitutions
Graham crackers: Switch up the flavor profile of your pumpkin cheesecake crust and use Oreos, shortbread cookies, Nilla wafers, or Biscoff cookies.
Cottage cheese: Cream cheese and ricotta cheese are great substitutes for cottage cheese. Just note that the taste and texture will differ slightly.
Maple syrup: ​Honey is another great natural sweetener you can use for this recipe that tastes delicious with pumpkin!
All-purpose flour: You're welcome to use other types of flour like almond flour, rice flour, or coconut flour.
What is the difference between cream cheese and cottage cheese in cheesecake?
Cottage cheese and cream cheese are both made from milk and have a similar texture, but there are some key differences that set them apart. 
For instance, cream cheese is higher in fat content compared to cottage cheese, while cottage cheese is higher in protein. 
In terms of taste, cream cheese and cottage cheese both have a mild and slightly tangy flavor and are both considered great options when making cheesecake.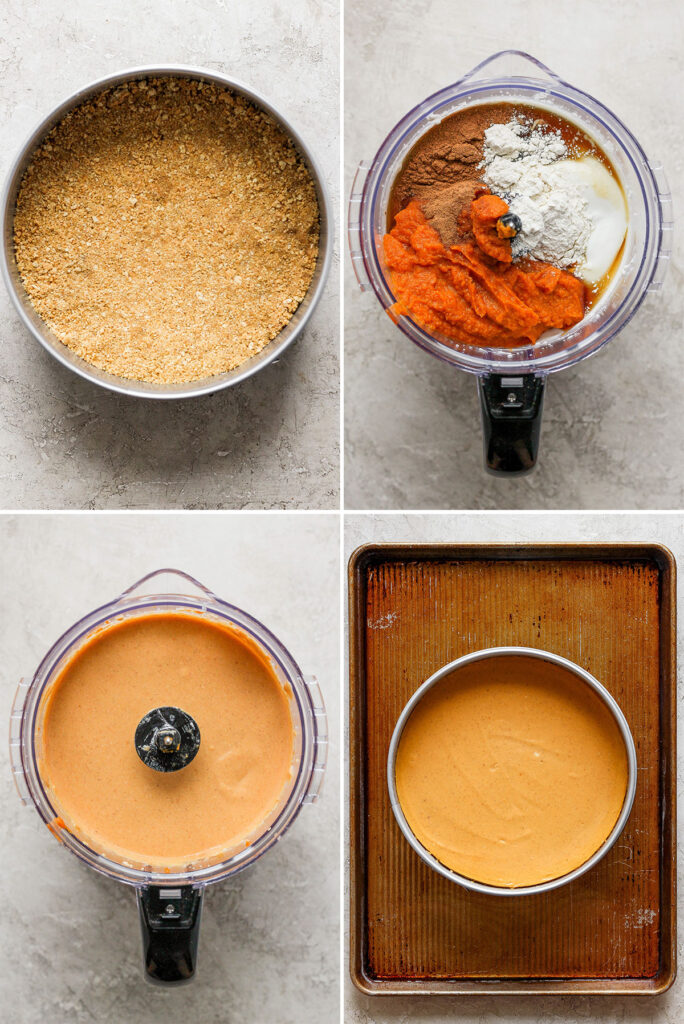 Storage + Freezer Directions
Store any leftover pumpkin cheesecake in an airtight container in the fridge for 4 to 5 days.
To freeze, ​place the cheesecake in a freezer-safe, airtight container or bag and store in the freezer for 2 to 3 months.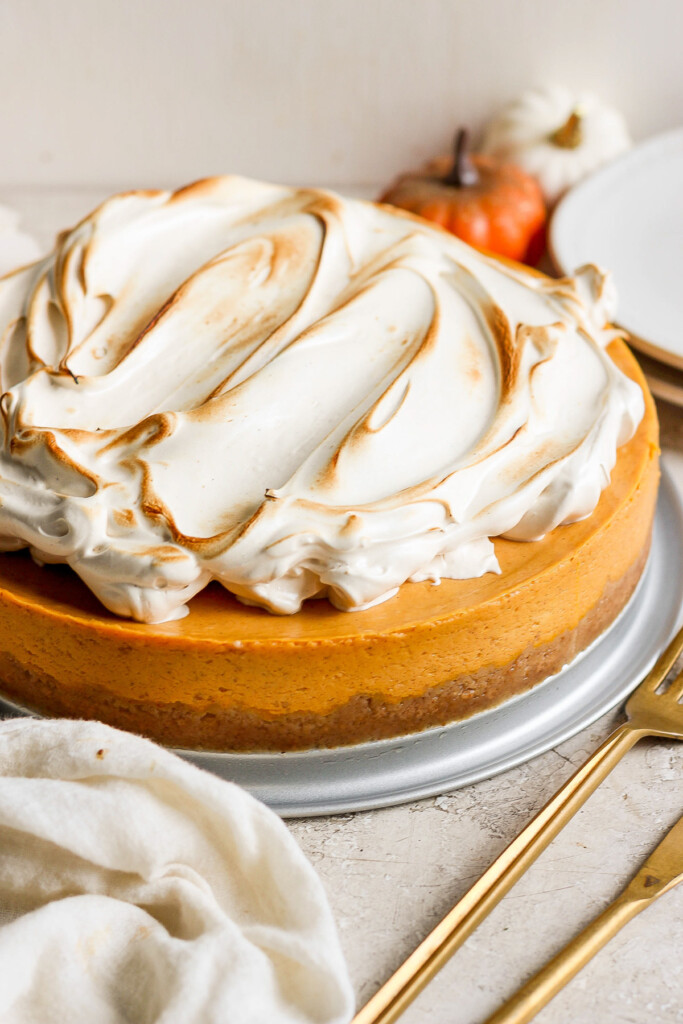 How to Top Your Pumpkin Cheesecake
We loved serving this with a homemade brown sugar meringue because it's unique and perfectly complements this cheesecake.
If you're short on time, you could always just top the sliced pieces with homemade whipped cream or store-bought whipped cream.
If you're not into a whipped topping, serving this a la mode is also a great idea!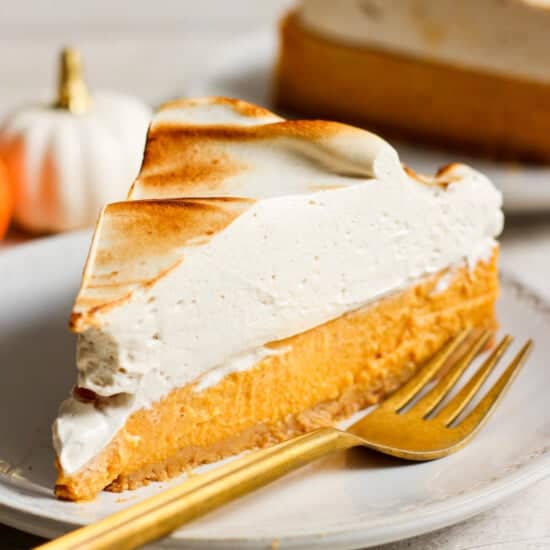 High-Protein Pumpkin Cheesecake
Swap the cream cheese for cottage cheese for a high-protein take on pumpkin cheesecake! You'll love all the classic flavors (including a graham cracker crust) and a meringue topping.
Prep:6 hours hours 30 minutes minutes
Cook:1 hour hour
Total:7 hours hours 30 minutes minutes
Fat 11
Carbs 48
Protein 12
Ingredients
Crust
9

graham cracker sheets

½

teaspoon

ground cardamom

¼

cup

unsalted butter

melted

1

tablespoon

brown sugar
Brown Sugar Swiss Meringue
Instructions 
Preheat the oven to 350ºF and spray a 9-inch spring form pan with cooking spray.

Prepare the crust. Place all of the ingredients for the crust into the food processor and process until it turns into crumbs.

Pour the crumbs into the pie crust and press the crumbs firmly into the bottom of the pan as well as up the sides.

Bake for 7 minutes. Remove and set aside to cool.

Prepare the pumpkin cheesecake filling. Process the cottage cheese in a high-speed food processor for 4-5 minutes until completely smooth and frothy.

Add the pumpkin, maple syrup, pumpkin pie spice, and flour and process until combined. Add the eggs and mix again until the eggs are incorporated. Be careful not to overmix the batter when the eggs are added.

Place the crust on a baking sheet with an edge. Carefully pour the pumpkin filling into the cooled crust.

Transfer the baking sheet into the oven and then pour water onto the baking sheet so that the pie dish is about ¾ of the way in the water. Bake for 60 minutes or until the pumpkin filling is jiggly.

Open the oven and turn off the heat. Let the cheesecake cool in the oven for 20 minutes before removing it from the oven.

Let the cheesecake cool completely before storing it in the refrigerator to set for at least 6 hours or overnight.

Right before serving the cheesecake, prepare the Swiss meringue.

Place the egg whites and brown sugar into a glass bowl and stir to combine.

Bring a saucepan with 2-3 inches of water to a simmer. Place the bowl with the egg and sugar on top of the saucepan. It is important that the water is not touching the bowl.

Stirring often, dissolve the brown sugar into the egg whites. This should take about 3 minutes. Test to see if the brown sugar is dissolved by dipping a finger into the egg whites and rubbing it between two fingers. You should not feel any sugar.

Remove the bowl from the saucepan and transfer the egg whites into the bowl of the stand mixer. Add the vanilla, cinnamon, and salt. Mix on low for 1 minute. Then increase the speed to medium until stiff peaks form. About 3-4 minutes.

Transfer the meringue to the top of the cheesecake leaving a ½-inch border on the outside.

Once the meringue has been added to the cheesecake, lightly toast the top of the meringue with a kitchen torch.

Remove from springform pan and serve.
Tips & Notes
Water bath: make sure not to skip this part as it will prevent cracks on the top of your cheesecake.
Make sure to process the cottage cheese until there are no lumps.
Nutrition facts
Calories: 333kcal Carbohydrates: 48g Protein: 12g Fat: 11g Fiber: 2g Sugar: 35g