Made with a simple cashew cream sauce, this vegan mac and cheese is ultra-rich and creamy. While a pot of noodles cooks on the stovetop, make the cashew cheese sauce by blending soaked cashews, nutritional yeast, hot sauce, and vinegar. Combine with the cooked noodles and enjoy!
When the temperature drops below 40ºF in Minnesota, it's officially comfort food season. We're talking soups, stews, chilis, and anything with noodles! This vegan mac and cheese always hits the spot on a cool day – it's creamy, comforting, and quick to make.
If you're looking for an easy homemade vegan mac and cheese recipe, give this twist on classic mac and cheese a try. Vegan mac and cheese is one of our new favorite recipes and features a vegan cashew cheese sauce made with soaked cashews and nutritional yeast (the secret ingredient). Ever since we made vegan queso, we've been experimenting with other cashew cheese sauces!
What is in vegan mac and cheese?
Cashews
Hot Sauce + Vinegar
Nutritional Yeast
Spices
Noodles
Featured Comment
"Just had this for dinner, so tasty and cheesy! Fun to make too 🙂 My Cookworks hand blender (UK) was more than up to the job. Thanks for the recipe!" – Caroline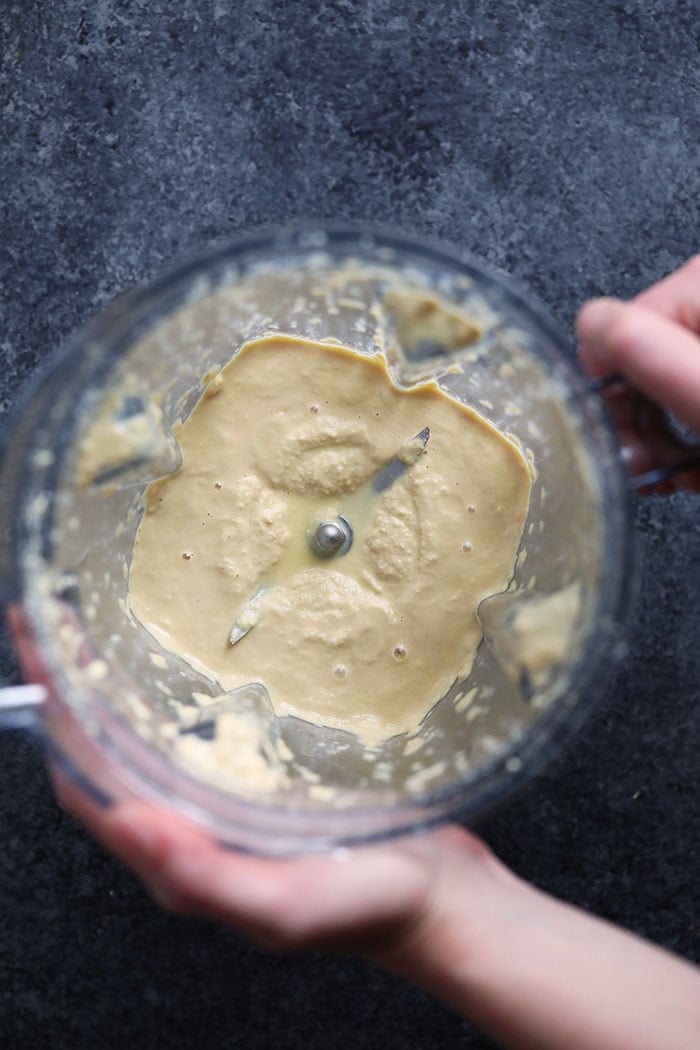 Get our Top 10 5-Star Recipes!
Join our email list for new recipes and BONUS: get our top 10 ⭐️⭐️⭐️⭐️⭐️ recipes e-book!
Vegan Mac and Cheese Variations
Veggies: Mix in your favorite kind of roasted or steamed vegetable. We love adding roasted broccoli, but peas, mushrooms, or red peppers would all be delicious.
Noodles: Any kind of noodle works! Try elbow shells, fusilli, cavatappi, gemelli, or even a gluten free noodle.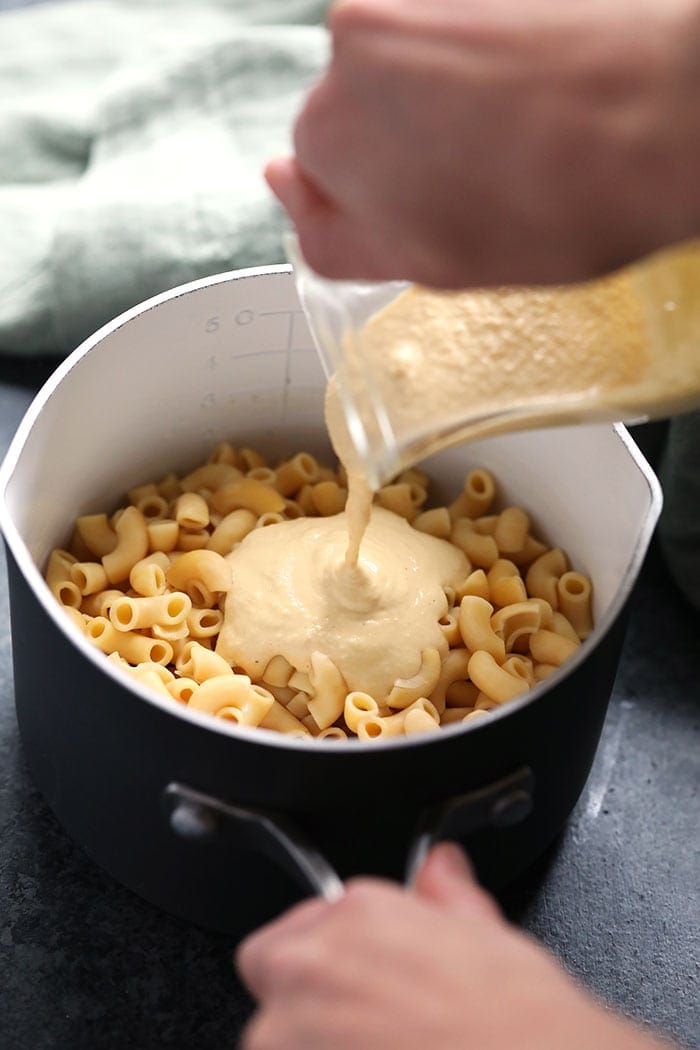 FAQ
Do you have to soak the cashews first?

YES. This step is absolutely necessary – do not skip it. Soaked cashews will blend up into a dreamy creamy consistency. If you don't soak the cashews, your sauce will be chunky and grainy.
Can you make this vegan mac and cheese without a blender?

You really do need a high speed blender or food processor for the cashew cream sauce. There's no way to process the cashews into a smooth consistency without it.
Can you make this mac and cheese gluten free?

It's so easy to make this vegan mac and cheese also gluten free. Use your favorite kind of GF noodle – no other changes needed.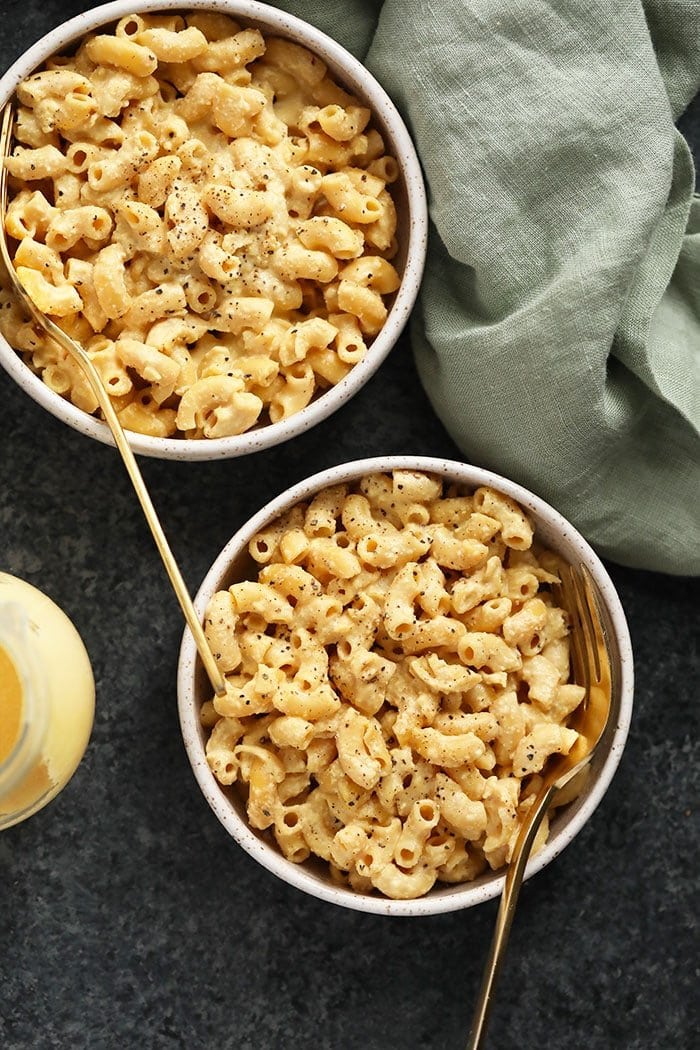 Storage
If you have any leftovers, store vegan mac and cheese in an airtight container in the refrigerator for up to 5 days. When ready to enjoy, reheat in the microwave. The noodles continue to absorb moisture even after they're originally cooked, so you may need to add a splash of water to any leftovers.
Freezing Vegan Mac and Cheese
Because this mac is dairy free, it freezes wonderfully! For best results, freeze vegan mac and cheese in individual servings in freezer-safe containers. Freeze for up to 3 months. When ready to serve, let thaw in the refrigerator, then reheat in the microwave or oven.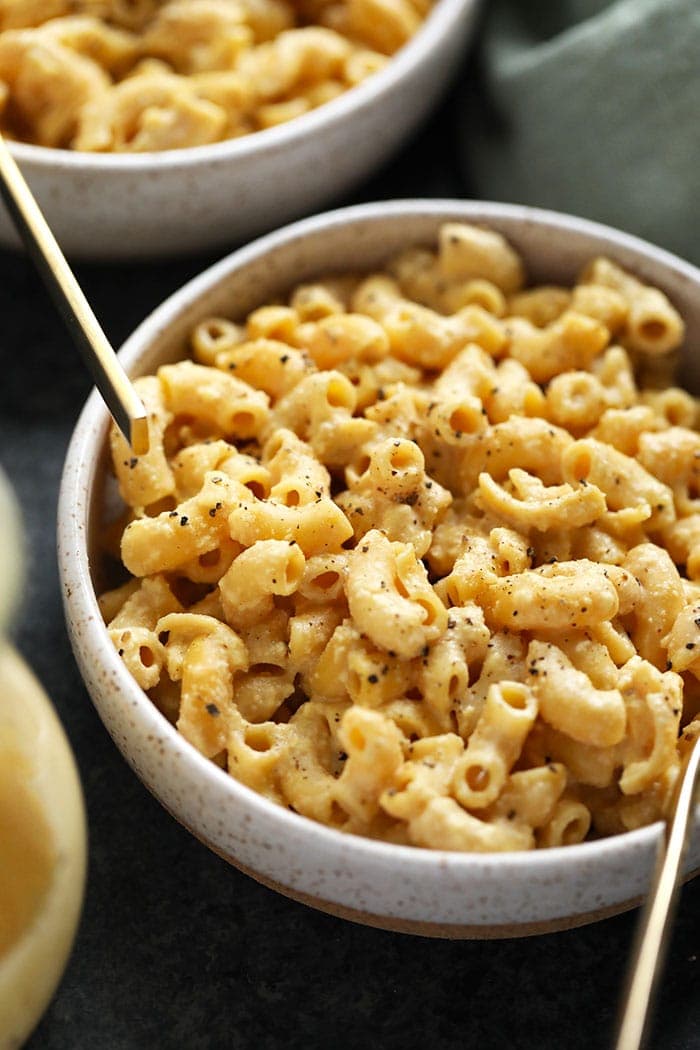 Serving Suggestions
This mac and cheese is oh so delish on its own, but feel free to get creative and add your favorite mac and cheese toppings like:
If you aren't vegan and want to keep this recipe dairy-free only, top with: seared ahi tuna, honey sriracha shredded chicken, pulled BBQ chicken, honey garlic shredded chicken, or chopped bacon.