Did you know you can make French toast in the oven?! Simply prepare your French toast like you would for the stovetop, but instead, line them on a greased baking sheet and bake in the oven.
If you're a French toast lover like we are, you'll not only enjoy this sheet pan French toast, but also this peanut butter banana French toast bake or this Instant Pot cinnamon French toast casserole or this stuffed French toast.
Does anyone else LOVE ordering French toast at restaurants, but hate making it at home? The process is messy, it takes a long time if you're making multiple in a skillet, and you always end up with either too much egg mixture or too much bread. Cue: baked French toast!
I love making oven French toast when I'm cooking for the masses or need a hands-off breakfast that frees up my stovetop for bacon or breakfast sausage. It's seriously so easy to make and the results taste just like normal French toast.
What You Need for Oven French Toast
Bread
Eggs
Milk
Ground cinnamon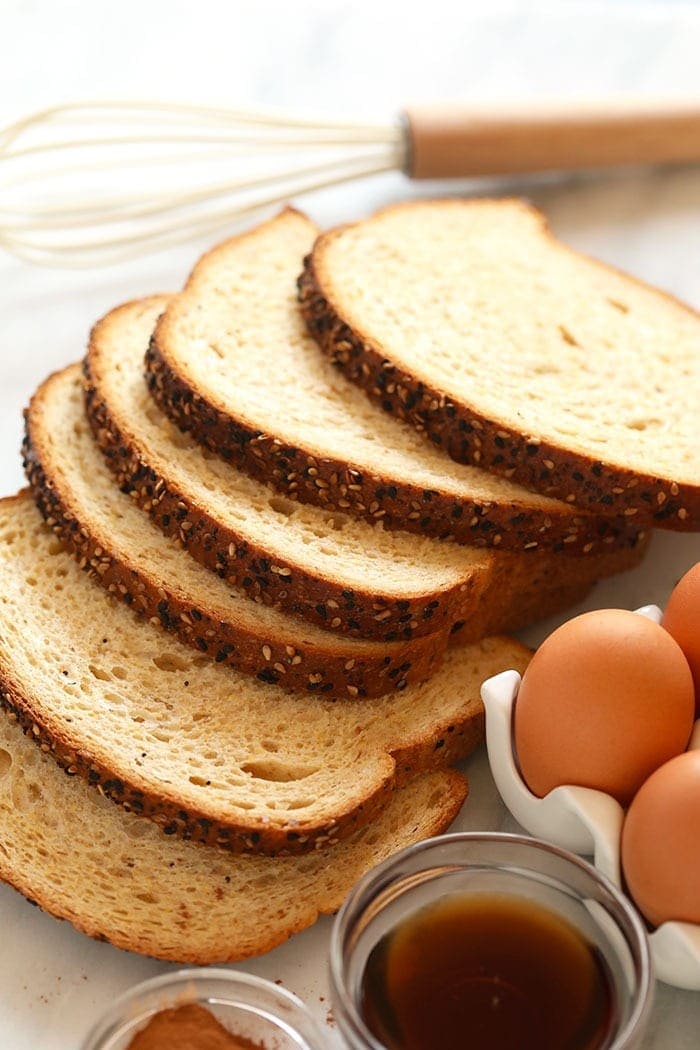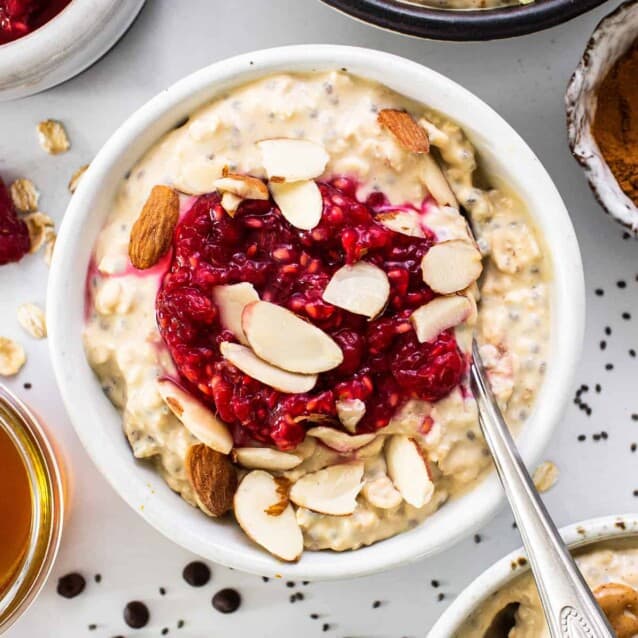 Need Breakfast Inspo?
Subscribe to our emails and get all of our best breakfast recipes straight to your inbox.
Easy Variations for Baking French Toast
Bread: I've made this recipe using whole wheat bread and sourdough bread. You can pretty much use whatever bread you have on hand! Others have commented that they used Texas toast, cinnamon raisin bread, and farmhouse bread.
Add a sweetener: if you like things a bit sweeter, try adding maple syrup or honey to the egg mixture.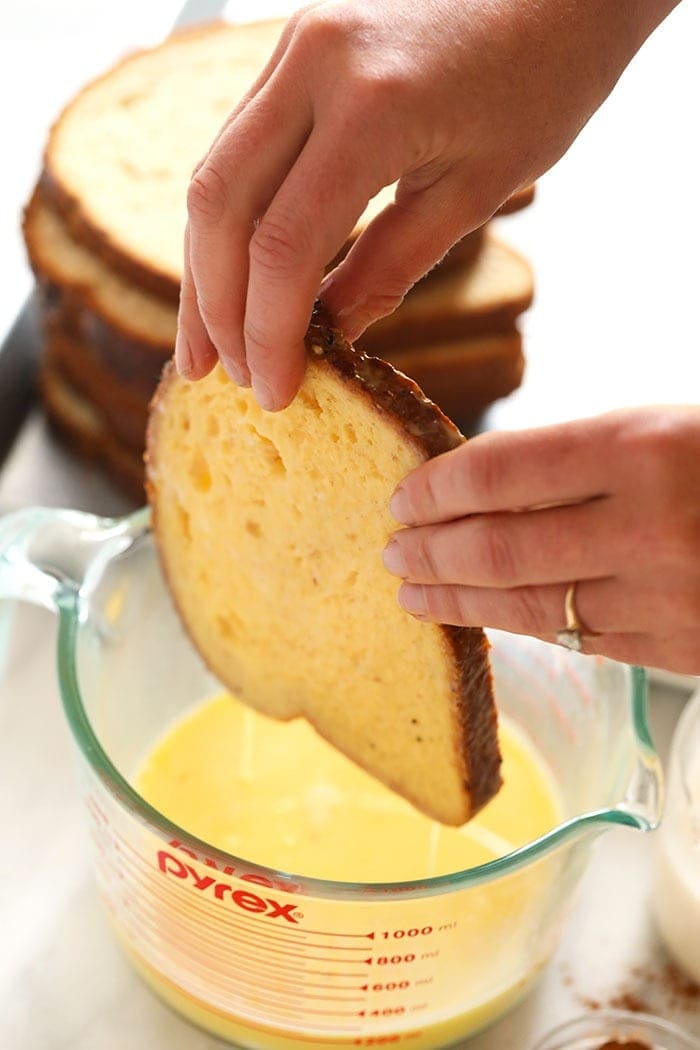 For a Crispier French Toast
Bake that French toast at 375ºF! The higher baking temperature will allow the edges of the slices to get nice and crispy. You'll bake for 8 minutes and then flip each slice. Then, place back into the oven, and bake for an additional 3-5 minutes, depending on your oven.
For a Chewier French Toast
Bake at 350ºF! The lower baking temperature will allow your French toast to cook more slowly, creating chewier French toasty goodness. You'll bake for 10 minutes and then flip each slice. Then, bake for an additional 4-6 minutes, depending on your oven.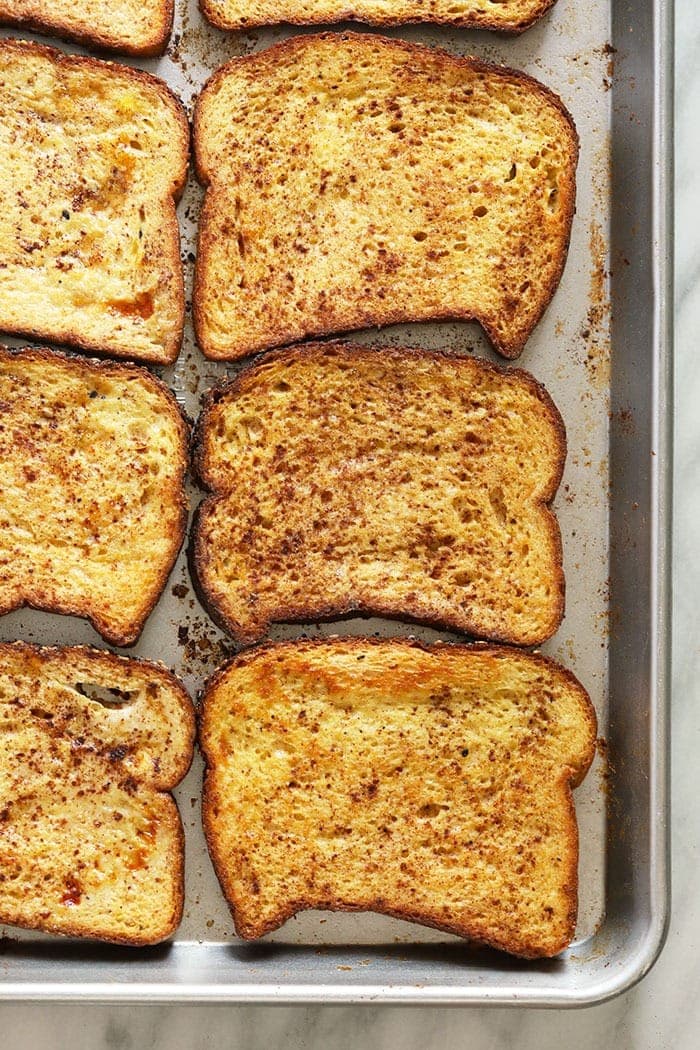 French Toast Toppings
Maple syrup (of course!)
Greek yogurt
Fresh berries
Peanut butter
Nutella
Jam
Butter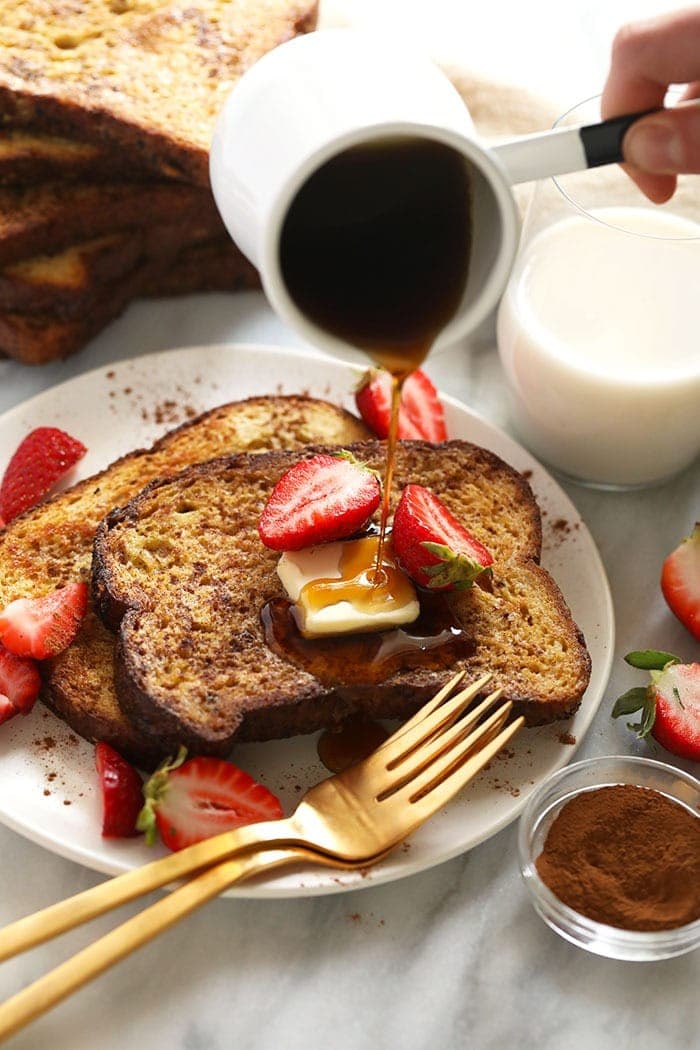 PS: learn how to freeze and thaw this French Toast for later in this Make-Ahead Breakfast Recipes Freezer Meal Prep post!
Ingredients
8

slices

whole grain bread

5

large eggs

2

tablespoons

unsweetened almond milk

ground cinnamon

to taste
Instructions 
Preheat the oven to 350ºF and generously spray a nonstick baking sheet with nonstick cooking spray. You can also line your baking sheet with parchment paper to prevent sticking.

Next, whisk eggs and almond milk together in a medium mixing bowl or Pyrex.

Carefully dip 1 slice of bread into the egg mixture. Make sure bread is fully submerged in the egg mixture. Let excess egg mixture drip from the bread and then place bread onto the baking sheet. Repeat until you have dipped all pieces of bread.

Season French toast with ground cinnamon, to taste.

Place the baking sheet in the oven and bake at 350ºF for around 10 minutes.

Then flip each piece of bread and bake for an additonal 4-6 minutes.* We suggest spraying the baking sheet as you flip, just to be safe!

Remove from the oven and serve with maple syrup.
Tips & Notes
*For a crispier French toast: bake at 375ºF for 8 minutes and then flip. Bake for an additional 3-5 minutes.
For a chewier French toast: bake at 350ºF for 10 minutes and then flip. Bake for an additional 4-6 minutes.
Nutrition facts
Calories: 275kcal Carbohydrates: 38g Protein: 16g Fat: 8g Fiber: 5g Sugar: 6g