The Best NYC (and Long Island) Museums for Kids with Disabilities
There are layers to being a parent of a child with a disability. As a mother of a 7-year-old who is Autistic, there are many challenges. One thing I have learned is that every parent's journey can have similarities yet also look different. The truth is, there are times I ace parenting Mateo, who is considered severely ASD and is non-verbal, and then there are times my whole being is tested. One of these challenges is going somewhere unfamiliar, and museums are on this list. We'll save airport and new city experiences for another issue. 
Lesson learned: a few years back, I took my son to a fantastic museum while we were visiting family in California, and while the museum was unique for kids, it was so overstimulating that there was frustration and tears all around. Most unknown spaces are still challenging to visit, but I have learned that having a game plan before we go somewhere new is essential and helps the entire family enjoy the experience. Things like having a map of the museum and picking out the area that will be safe and welcome are essential for us. If there is a quiet room or pockets of quiet nooks, that museum has visitors for life. We use the family bathrooms like an office; they are our saviors- we can regroup fast and not worry about our guy sprinting off. My family loves it when a museum has a social narrative; we can talk about the upcoming visit and what we will see and show him how to visit it. I also bring snacks, and I have never had a security guard make me toss a snack when I explain that my child will not eat the food at a museum cafe.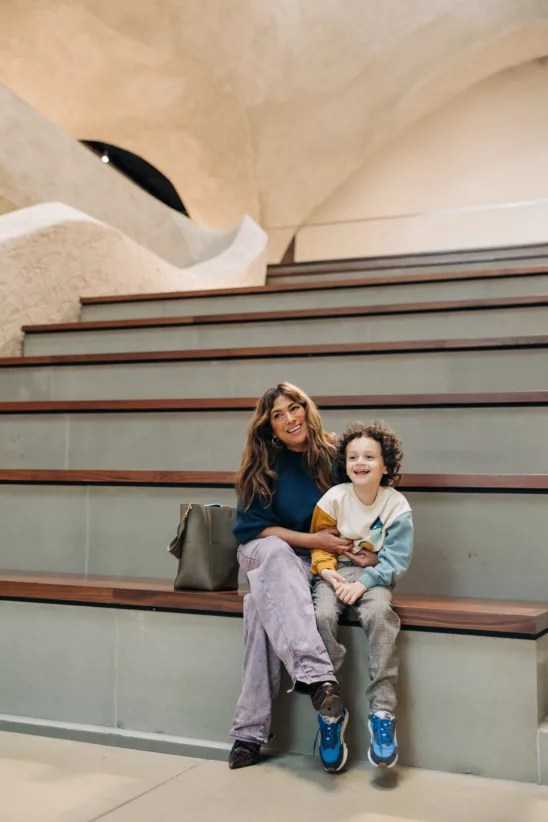 Again, every family has different needs, but this is how we navigate visiting a museum with Mateo. We compiled a list of museums that we feel go the extra mile regarding accessibility for families with disabilities. If you do not see one of your favorite museums on this list, please visit their website to check that it has what you need to support your child on your next visit. You can also find more general museum articles on newyorkfamily.com, such as our favorite children's museums, A Parents' Guide to Navigating New York City Art Museums with Kids, Best Children's Museums in New York City (that kids will love) and 48 NYC Museums to Visit All Year Round with the Family. We love our museums, and so do kids with disabilities!
Click on your region to jump to museums near you!
The American Museum of Natural History 
200 Central Park West
The Richard Gilder Center for Science, Education, and Innovation
415 Columbus Ave
AMNH is a museum that families visit regularly as it is never-ending in all it offers. This museum's adventure is endless, from the Hall of North American Mammals to the Mignone Halls of Gems and Minerals and more. For people with disabilities, the museum provides much support, and we recommend visiting the accessibility section of its site to map out your visit. The services that stand out: service animals are welcome, and there are excellent tour programs. For Autism families, The Discovery Squad, in collaboration with the Seaver Autism Center at the Icahn School of Medicine at Mount Sinai, can, on specific Saturdays, explore activities related to the Museum halls before the museum opens. Science Sense Tours for blind or partially sighted visitors can check out this monthly tour, where specially trained museum tour guides spotlight specific themes and exhibits through descriptions and touchable objects. In circling back to mapping out your visit, the museum offers an actual route app for free. The Explorer app will help you to find accessible (with directions) routes-and the best part is to see where the elevators are. Choose the accessible route and receive turn-by-turn directions. And there is more. Your admission also works for AMNH's newest addition,  The Richard Gilder Center for Science, Education, and Innovation. Fun things you can do are bug out at the Susan and Peter J. Solomon Family Insectarium, gawk at the gorgeous architecture, and, for a fee, visit the gorgeous exhibits of the Invisible Worlds and the Davis Family Butterfly Vivarium.
Museum Guide 
DiMenna Children's History Museum 
Located in the lower level of New York Historical Society
170 Central Park West
at Richard Gilder Way (77th Street)
Families can explore the nation's historical narrative and the vibrant tapestry of New York City through captivating exhibits illuminating prominent historical figures' life journeys from childhood to adulthood. The facilities, galleries, and auditorium are wheelchair accessible, with complimentary wheelchairs for visitors. For those who are blind or visually impaired, free verbal-description docent-guided tours are available by appointment in conjunction with museum admission. For deaf or hard-of-hearing museum go-ers, most exhibitions are accessible for T-coil hearing aid users. T-coil compatible audio guides are available, also free of charge with admission. ASL interpreters are available but must be scheduled to accompany docent or educator-led group tours, such as school trips. Appointments for these services can be made by contacting access@nyhistory.org. 
1071 Fifth Avenue
While the Guggenheim is an art space with its renowned modern and contemporary art collection, it is also one of the world's most famous museums. Designed by architect Frank Lloyd Wright, its building is iconic. Although the building is stunning, it may feel out of reach if you are a parent of a child with disabilities. Thankfully, the museum has helpful resources to aid parents on their museum visit. There are ADA-compliant bathrooms located on Levels 1 and 7. There is plenty of room for wheelchairs; however, the High Gallery does not have wheelchair access. The space is quite open, so if your child is sensory sensitive, you may want to download the sensory map (guggenheim.org/accessibility) that maps out the areas (usually with seating) that tend to be quiet, less crowded, and low light. For your ASD child, there is also a social narrative map. For visitors with low vision or who are blind, Mind's Eye Tours runs excellent tours that share through verbal descriptions, conversations, sensory experiences, and clever practices. These free tours should be emailed (access@guggenheim.org or call 212 360 4355. a week before the program you would like to attend. 
Intrepid Sea, Air & Space Museum
Pier 86, W 46th Street
From checking out historic planes, a prototype Space Shuttle Enterprise, a  diesel-electric powered submarine, and more, families can spend an entire day at this museum by discovering history through Interactive exhibits and artifacts through hands-on experiences while learning about American military and aerospace technology. The Intrepid Museum has a robust roster of programs for kids with disabilities -we recommend checking out their accessibility page for all their offerings. For blind and visually impaired visitors, there are verbal description and tactile guides that use raised images, Braille, and large print, as well as (ALDs) including stereo headphones, single-ear headphones, or T-coil compatible induction loops are available to borrow at no cost to something pretty cool like a talking pen. Autism kids aged 3 to 18 and their families can sign up for a free program called Early Morning Openings on Saturdays. There are also sensory-friendly evenings for teens (14+) and adults with Autism who can have a fun evening after hours. As we mentioned in the intro, it's easy for sensory-sensitive kids to get overstimulated; before you start exploring the museum, pick up a sensory bag for noise-reduction headphones and fidgets. There are also visual vocabularies, checklists, scavenger hunts, and activity sheets for all public programs at the Intrepid Sea, Air & Space Museum.
The Metropolitan Museum of Art
1000 Fifth Avenue, New York, NY 10028
People worldwide visit The Met, one of New York's most extensive museums. This is something to remember when visiting, as it can be overwhelming, especially for kids. The museum features gorgeous paintings from renowned artists like Leonardo da Vinci and Vermeer. The Met houses sculptures where kids can look at Greek and Roman statues and contemporary pieces. There is also ancient, Asian, European Decorative, modern art, and more. The Met supports many people with different disabilities. On the museums' visibility section, a parent can find helpful resources for visitors on the Autism Spectrum such as tips, social narrative, Tour Visual Checklist, Sensory Friendly Mapand more. There are also art workshops for kids, teens(and adults) who are Blind or Partially Sighted. Visitors can also find programs in American Sign Language, with Sign Language interpretation and real-time captioning. For caregivers of visitors with disabilities, head to the museum ticket counter, where you can pick up a free ticket. 
The Museum of the City of New York
1220 Fifth Ave at 103rd St.
MCNY is an excellent spot to visit and learn about the city's history, starting from its colonial days. Visitors can view paintings, maps, art, decorative costumes, and more. The museum also hosts fun exhibitions, films, and immersive installations. If your child needs noise-reduction headphones, head to the front desk; if available, you can pick up a set- free of charge during your visit. A caregiver can receive free admission at the Museum Ticket Desk. Service dogs are welcomed, but emotional support animals need to stay home. Wheelchairs are accommodated at the museum, and if available, there are manual wheelchairs available. For large print and high-contrast transcripts of exhibition texts, head to the accessibility page on the Museum of the City of New York site. There is also a QR code in the Museum Guide that you can access once you're there. Assistive listening devices are available for events, and you can find a form online for ASL interpretation guided tours on the accessibility page. 
11 West 53 Street
For modern and contemporary art lovers, New York (again) has one of the best in the world. From paintings by Jackson Pollack, Pablo Picasso, and Roy Lichtenstein to world-famous photographers (Irving Penn, anyone?), sculptures, film and media art, design and architecture, and more, MoMA is one outstanding institution to visit. For families with disabilities, you can find Sensory and Social guides. Guide dogs and trained service animals are welcome, and while the pet guinea pig may bring comfort, they must stay home. For wheelchair access, look for a security or a guest guide so you do not have to wait in line. MoMA works with Art inSight, and blind or low-vision visitors can download recorded verbal descriptions of several artworks on the free Bloomberg Connects app. Email AccessPrograms@moma.org at least two weeks in advance for a touch and description tour. Visitors with disabilities are eligible for a discounted admission of $18, and admission is free for an accompanied—care partner. A huge favorite the museum features are the QR codes placed throughout the Museum. These QR codes include maps, additional artwork information, verbal descriptions, and assistive listening for sound artworks created to enhance your visit. There is no sensory room if your child tends to be sensory sensitive, but on the MoMa site, you can find a sensory map of quiet spaces within the museum. 
99 Gansevoort St 
212 570-3600
There are many reasons to head to the West Village; one is to spend time at the iconic Whitney Museum. The Whitney focuses entirely on American art, with each floor presenting vibrant and unique art, such as Georgia O'Keefe Edward Hopper to Layla Ali. And for our kids with disabilities and challenges, this museum offers support. The Whitney gets very busy- for wheelchair visitors, there is a helpful map; for kids on the ASD spectrum, a social narrative can be downloaded (all of this can be found under the Accessibility tab on the museum's site) to help with the visit before you arrive. Service animals are welcome at The Whitney, and if your child needs an ASL-English interpretation, Live captioning, or Verbal description for their public programs and events, these services can be requested in advance. Parents with Sensory Sensitive kids will appreciate that the museum offers sensory-friendly artmaking workshops on select Saturdays before the Museum opens. Visit their events pages for postings.
180 Greenwich Street, New York, NY 10007
The 9/11 museum opened on May 21, 2014, and is a place where visitors can learn about the 9/11 attacks on a September day in 1993. At this museum, there is understandably a lot to take in. This museum has many parts; the Exhibitions are where you can see core and special exhibits. The Collection shows a permanent collection such as material evidence and more. There are also programs and events, and tours are available. For kids with children with disabilities, services dogs are allowed. Keep in mind that there is limited seating at the 9/11 museum. If you need a quiet space or your child needs a sensory time out, there is a space called Reflecting on 9/11 Studio- look for a security guard or a staff member wearing a tan or blue vest to direct you to this room. Care partners are offered one free admission ticket- email access@911memorial.org for a ticket request. Entrances are wheelchair accessible, and all public restrooms have wheelchair-accessible stalls. Many services, such as sign language interpretation and verbal description guided tours- learn more on the 9/11 accessibility page, are available. 
2300 Southern Blvd, Bronx, NY
Visiting the zoo, especially in New York, is both a fun and educational experience. It also can be an all-day excursion as there is a lot of ground to cover. First, zoos can be pretty noisy, and the areas that tend to get congested are Bug Carousel, Wild Asia Monorail, Children's Zoo, and Budgie Landing. Rhino Garden and Zebra Hill are quiet zones if you need quiet time. Working with KultureCity, you will find signage identifying quiet zones; pick up a complimentary (to be used during your visit) sensory bag that contains fidget tools, noise-reducing headphones, and more. Trained service dogs are welcome, but remember to check in with admissions when you arrive for a service dig admission pass. If you or your child needs a  Personal Care Assistant (PCA) to experience the zoo, please go online to the site's accessibility page to learn how to request a PCA in advance. All buildings are wheelchair accessible; however, certain areas require size, such as the Wild Asia Monorail. (open from May to Oct), it is accessible for manual wheelchairs up to 26 inches wide. Still, motorized scooters or wheelchairs more than 26 inches wide will need (with assistance, the staff is not allowed to transfer guests physically) to use an appropriate-sized wheelchair (available at Monorail platform) or onto a Monorail seat. We recommend downloading the access map on the Accessibility page of the Bronx Zoo's website,  as it provides helpful information from accessible routes, low-light exhibits, touch exhibits, and more. 
2900 Southern Blvd, Bronx, NY 10458
The NYBG is a true gem for New Yorkers at 250 acres, and as one of the world's most extensive and known botanical gardens, it is perfect for families to visit. It is also rich in history, where you can explore plant collections and learn about culture, conservation, and more. It is also home to the famous (usually March) Orchid and Train (November) show. For people with disabilities, you will find that ticketing booths and trams are equipped with T-coil-compatible induction loops. For large-print and regular-print transcripts of the audio tours, head to the visitor center's information booth to pick these up. Trained Service animals are welcomed; for a service dog, you must obtain a Service Dog Admission Pass. Power-driven Wheelchairs, scooters, and power-driven mobility devices are permitted, and manual wheelchairs are available on a first-come, first-serve basis. On the NYBG website, you can download the accessibility guide for wheelchair routes, a social guide to prepare your child before your visit. You can also pick the guides up in the Garden. Check out the accessibility page for free upcoming tours for people with disabilities, such as ASL and sensory experience tours.
145 Brooklyn Ave., Brooklyn 
Groups of 10 or more can access the museum on Tuesdays when it is uncrowded, as it's closed to the general public. Service animals are permitted. Check the website for more information about the museum. 
Brooklyn Botanic Garden
150 Eastern Parkway, Brooklyn
Explore this urban botanic garden, designed to connect people to the world of plants. The grounds are accessible by paved pathways throughout the garden. But keep in mind that due to the historic nature of the garden, specific paths may be narrow, rough, uneven, or steep. Accommodations for programs for visitors with disabilities can be arranged with two weeks advance notice. Contact visitorservices@bbg.org to request accommodations. Periodically, the garden offers special early-morning programs of facilitated, multisensory activities in the Discovery Garden for families who have children with disabilities. It also periodically offers free special guided tours designed for individuals with memory loss and their caregivers and free group tours for caregivers only. Service animals consistent with ADA are allowed onto the premises. 
99 Schermerhorn St., Brooklyn
The New York Transit Museum is one of the most tactile museums in the city. Most objects, including vintage train cars, can be touched. Visitors can borrow a tactile guide with graphics and images in raised-line formats and braille and a smart pen with audio descriptions. These can be requested at the admission booth or visitors can email access@nytransitmuseum.org to request a tactile guide in advance of their visit. Sensory-friendly toolkits, including noise-quieting headphones, a visual schedule, and list of quieter spaces, can be checked out free of charge. It's good to note that the best time to visit the museum when it is quiet is between 1-4 pm on Thursdays and Fridays. Service animals are welcome. 
Wildlife Conservation Society's New York Aquarium
602 Surf Ave., Brooklyn
You'll have an aquatic adventure at the New York Aquarium because so many amazing animals live here, including penguins, sea lions, sharks, and many others. In addition to being wheelchair-accessible, the aquarium has a partnership with KultureCity to improve the park's ability to assist and accommodate visitors with sensory processing needs. Sensory bags containing fidget tools, noise-canceling headphones, and other resources are available for checkout at the lobby (there's no charge, but you have to leave an ID). Service animals in accordance with the ADA are allowed in.
36-01 35th Ave, Queens, NY 11106
For the film buffs in the family, you'll want to head to the MoMI, where all things art, history, technique, and technology of film, television, and digital media come together. Guide dogs and therapy animals are welcome. This museum is fully accessible by wheelchair and is also available for free. On the first Saturday of each month until May 2024) there are free Access Mornings for families with children on the autism spectrum workshops where the kids can craft and explore the museum before it opens. A big plus is the reduced volume; videos not part of the workshop are not on. Call the museum for more info at 718 -777 6800.
47-01 111 St., Corona
Founded at the 1964-65 World's Fair, the New York Hall of Science has evolved into a center for interactive science, featuring an array of exhibits and programs. The exhibit spaces, theaters, party rooms, cafe, store, and restrooms are wheelchair accessible. Remember that the doors here are not automatic, though there is ramp and elevator access. If you need a wheelchair when you arrive, a limited number of them are available for loan, free of charge, at the main entrance. The museum provides sensory gear for children with sensory needs, including sunglasses, noise-canceling earmuffs, and fidget toys. Sensory Saturdays are every Saturday, from 10-11am, which is a time when people with sensory issues can enjoy the museum with the lights and sounds turned down. Service animals are permitted on site. 
New York City Building
Flushing Meadows Corona Park, Queens, NY
This wheelchair-accessible museum has some fun history as it was initially built for the 1964 World's Fair and housed the New York City Pavilion. Post-fair, it was turned into the Queens Center for Art and Culture but is now known as the Queens Museum. You will find beautiful art and cultural artifacts tied to the history and Queens community at this museum. For children (and families) with disabilities, you can find at the information desk large-print labels listening devices. Service animals are permitted, but not emotional support animals. A social narrative is available online. You can find more information on the museum's accessibility initiatives can also be found on the website. 
43-50 Main St., Flushing
Escape from the city into this beautiful urban oasis of gardens where you'll get immersed in nature. Since most of the pathways are paved, and the topography is flat, the Queens Botanical Garden is a great destination for kids and adults with ambulatory disabilities. But still, there are just a few periphery pathways that are not paved, so use discretion before navigating them. Braille signage is used throughout the visitor and administration building, and many learning opportunities are available for students of all abilities. Service animals in compliance with ADA are permitted. 
Wildlife Conservation Society's Queens Zoo
53-51 111 St., Corona
This NYC hidden gem has a national park feel and is home to animals native to North and South America, including sea lions, Andean bears, pudu (the world's smallest deer), sun conures and other birds, and more. The zoo is wheelchair accessible, but some exhibit areas have a bit of rough terrain, including the lynx, puma, owl and coyote exhibits. Also, the zoo's aviary–though beautiful–has steep hills, so be prepared before navigating. The zoo is compact, so most areas have noise and activity. However, there are benches near the aviary at the Nature Play area and in the farm area behind the cottage that typically have less activity and are great places to sit and regroup. Service animals in accordance with ADA are permitted.
Additional reporting by Diana Kelly Levey
Charles Lindbergh Boulevard, Garden City
Wheelchair access: Yes
Social guide available: 
Sensory map: No
Explore this aviation and spaceflight museum commemorating Long Island's part in aviation history. 
11 Davis Ave., Garden City
Wheelchair access: Yes
Social guide available: Yes
Sensory map: Yes
This fun museum has so many features that make it accessible and inclusive for visitors of all abilities. First, it hosts Friendly Hours, which are monthly museum times designed for families with children with disabilities. During these hours, adjustments are made to the museum's lighting and sound. You have to pre-register for these time slots, and you can see a schedule of upcoming friendly hours at licm.org. Then, there's a sensory room, which provides a respite for kids with sensory sensitivities who are feeling anxious or overwhelmed during their visit. Check out the LICM4all app that lets you see social guides, interactive itineraries and more. The museum and its theater is wheelchair accessible. Wheelchairs are also available at the Information Desk for visitor use throughout the museum.
The Whaling Museum and Education Center
301 Main St., Cold Spring Harbor
Wheelchair access: Yes 
Explore maritime history at this museum that focuses on Long Island's whaling heritage. Exhibits include displays about whale bones and whale evolution, scrimshaw and whalebone art, and a fully equipped 19th century whaleboat with original gear. The museum is accessible to visitors who use wheelchairs, and service animals in compliance with ADA are welcome. If you're looking for a more quiet time at the museum, you might want to consider visiting toward the end of the day. 
1 Museum Drive, Roslyn Harbor
Wheelchair access: Yes
Social guide available: Yes
Sensory map: Yes
Explore art and culture at this popular museum that is accessible to all visitors and is equipped with both ramps and an elevator. Sensory tool kits are available at the admission desk. Designed to provide a multi-sensory museum experience for people with ASD, the kits come with items including texture squares, stress balls, loofah, liquid motion bubbler, visual aids with pictures and guided prompts to help lessen the stress someone might feel during their visit. You can take the kits home, too!
Nassau Veterans Memorial Coliseum
1255 Hempstead Turnpike, Uniondale
This event venue provides access for visitors with disabilities. This includes accessible entry doors, restrooms, suites, ticket windows, drinking fountains, concession counters and seating areas. Check out the Long Island Nets basketball or the New York Riptide lacrosse teams in addition to other shows and events throughout the year.
431 East Main St., Riverhead
Wheelchair access: Yes
Dive into fun at the Long Island Aquarium, where kids will see some amazing animals, including a giant Pacific octopus, sharks and lots of other gorgeous fish, otters, eels and more. The facility is fully accessible to visitors with disabilities. There are ramps, elevators and handicap-accessible entrances and bathrooms all around. Just keep in mind, that the facility doesn't have a dedicated parking lot. But it's part of the Riverhead Parking District, so you can use free municipal parking lots throughout town, several of which have handicapped parking spaces. Service dogs are welcome. 
441 Clarke Ave., Staten Island
Historic Richmond Town is a place on Staten Island where history comes alive through architecture, period costumes, live-action trade demos, and more. The village is on a sprawling campus with many features to accommodate visitors with disabilities. The site has a quiet space (including a lactation room) offering privacy, comfort, and seating for nursing parents, babies, and anyone with multi-diverse needs. Visitors can request wheelchairs, large-print materials, and sign language interpretation in advance. While many of the site's buildings have wheelchair-accessible entrances, it's important to note that wheelchair access to many historic structures varies. Service animals recognized by the ADA are welcome. 
Staten Island Children's Museum
1000 Richmond Terr., Staten Island
Kids of all ages–and their parents!–enjoy exploring this whimsical and educational museum. It offers cultural, imaginative, and creative experiences for kids ages 1 and older. In addition to being wheelchair accessible, the museum recently opened a new sensory space designed to provide a peaceful place of respite for young visitors who may need some time to recharge during their museum visit. It features a curated assortment of sensory tools and elements, including a plush bean bag chair, textured mats on the wall for tactile stimulation, soothing sounds, calming strategies, weighted lap toys, and an ever-changing bubble wall. Service animals are permitted on site. Social Guide available.
705 Clove Rd., Staten Island
The Staten Island Zoo is a great place to visit if your kids love animals, and it offers several features for children with sensory processing needs. The zoo partners with KultureCity to accommodate visitors of all ages with sensory needs. Sensory bags with KCVIP badges, fidget tools, noise-canceling headphones, and more are available at the zoo's Clove Road entrance (NOTE: The Broadway entrance is currently closed). The bags are free to check out; you just have to leave an ID. Weighted lap pads are also available upon request. Although the zoo doesn't currently have a sensory map, there is signage that indicates where there are quiet and loud areas. There is also wheelchair access and a social guide is available.