Make this year's Thanksgiving dinner like no other with this delicious turkey roulade! Tender turkey breast is butterflied and stuffed with bitter-sweet cranberry sauce and a savory pork sausage stuffing for an easy turkey recipe that'll be an instant crowd-pleaser.
As much as we love cooking a whole turkey dinner on Thanksgiving, it can be a daunting task for even the most seasoned chefs. That's where this turkey roulade recipe shines, as it is much easier and quicker to prepare while still delivering all the delicious flavors of a traditional Thanksgiving feast.
We wanted to create a recipe for Thanksgiving that could be served to a smaller group and that is easy to prepare!
To prepare, simply brine your turkey overnight. The next day, create a simple pork sausage stuffing to fill the turkey with before rolling and wrapping it up. Place it in the oven to bake, basting it periodically, and viola! You've got yourself a delicious roasted turkey roulade.
What You Need Turkey Breast Roulade
The cut of meat that is used for this turkey roulade is a boneless, split turkey breast. Around Thanksgiving, you can usually find a turkey breast at any grocery store. When it is not the holiday season, you can usually find a frozen turkey breast or you may have to special order one from the butcher.
Other than the turkey, we make a small batch of stuffing that is rolled into the turkey as well as cranberry sauce. You can use store-bought cranberry sauce or make our homemade cranberry sauce instead!
Do not skip the turkey seasoning! The seasoning is what gives this recipe its amazing flavor.
Tools You Need for Turkey Roulade
Kitchen twine: this is to ensure that the butterflied turkey breast doesn't unroll while cooking.
Baster: you will need a baster to periodically baste the turkey as it roasts, ensuring it stays moist.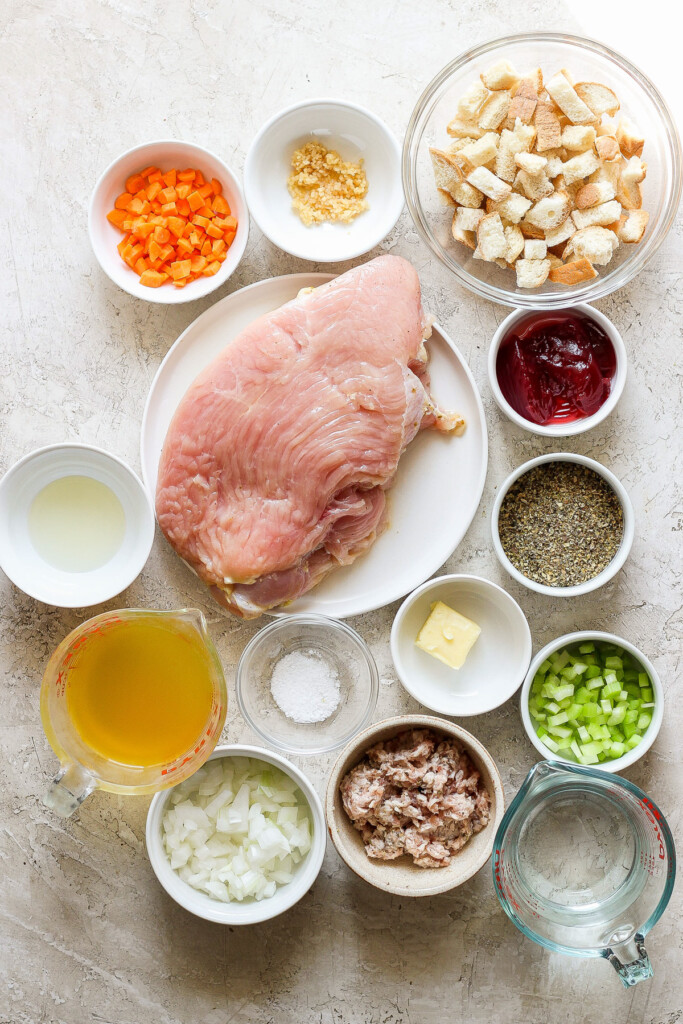 Get our Top 10 5-Star Recipes!
Join our email list for new recipes and BONUS: get our top 10 ⭐️⭐️⭐️⭐️⭐️ recipes e-book!
Variations and Substitutions
Cubed stuffing: Dried bread chunks make a great substitute for cubed stuffing.
Chicken broth: If you don't have chicken broth, vegetable broth or beef broth will work just fine. Just note that the flavor will vary.
Cranberry sauce: You can use a store-bought or homemade cranberry sauce. Up to you!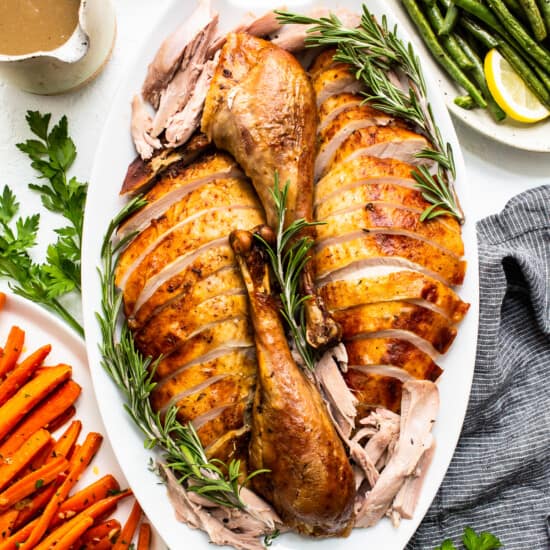 whole
Thanksgiving Turkey
This is the best Thanksgiving turkey recipe out there. Roast your turkey, make a homemade gravy, and you are all set.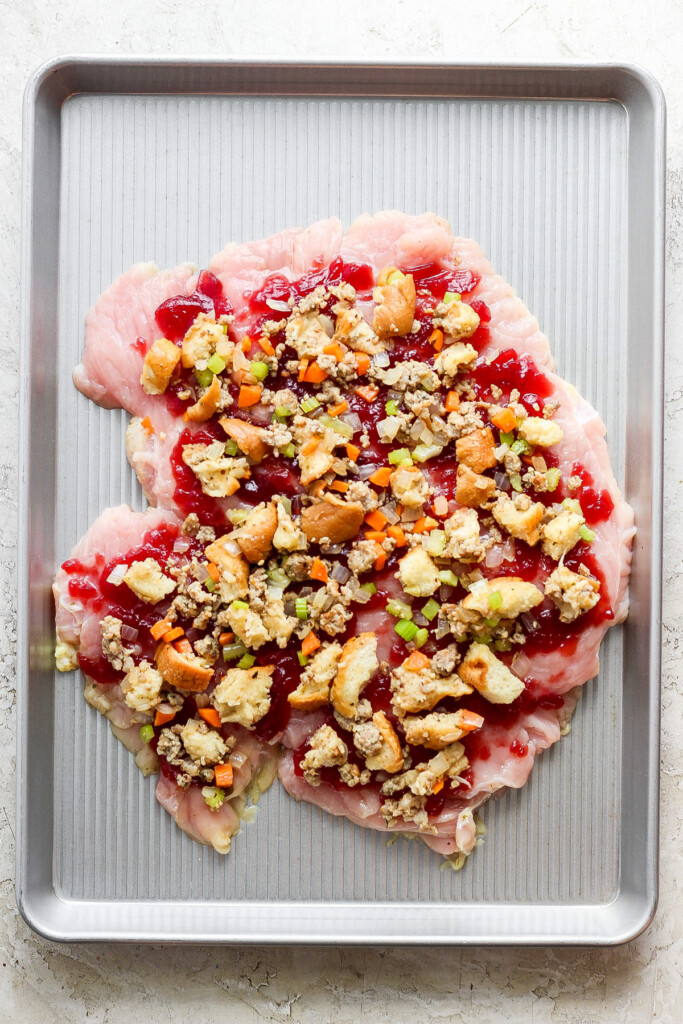 Storage + Freezer Directions
Store any leftover turkey roulade in an airtight container in the fridge for up to 3 days.
To freeze, slice the roulade into equal serving-sized pieces and layer them between sheets of waxed paper or plastic wrap in a freezer-safe bag. Store in the freezer for up to 3 months.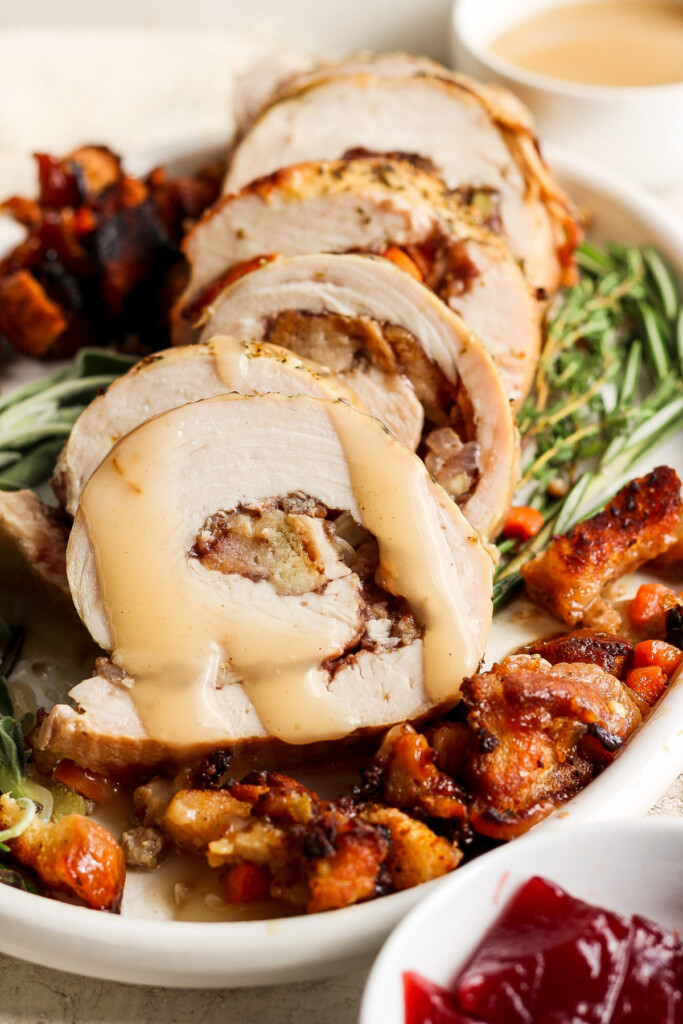 Serving Suggestions
Still got an entire Thanksgiving menu to create? Consider Fit Foodie Finds your one-stop shop for all of this year's Thanksgiving eats. From your favorite classics to more unique and delicious dishes, we've got everything you need to finish off your holiday feast. 
Favorite Classics:
Unique & Delicious:
Photography: photos taken in this post are by Erin from The Wooden Skillet.